Immediately after I turned on Michelle Wolf's new Netflix series, my roommate stood up in a combination of disbelief and annoyance to say something along the lines of "Is that her real voice?" They were referring to the shrill, almost cartoonish way Wolf spoke when introducing The Break.
The fact that her voice might put off some viewers is no shocker to Wolf, who acknowledged as much within the first minute of her debut. "I'm Michelle Wolf and yes this is my real voice," she boasted to her live studio audience. This moment is an early example of Wolf's inspiring self-awareness. In one line, she unravels how her position as a woman in comedy means something as irrelevant as pitch can be used to undermine her skill.
If you can make it past Wolf's acoustics, then you could spend the next 29 minutes watching an enjoyable mashup of skits and standup from a woman who certainly deserves to sit behind a big fancy desk in the tradition of comedians like Stephen Colbert.
Though Wolf descends from the lineage of these kinds of late-night talk shows—prior to this series she served as a writer for Late Night with Seth Meyers and an on-air correspondent for The DailyShow—the 32-year-old stands out in contrast to her contemporaries. She's different from the Trevor Noahs of the world simply because she's not here to explain or help digest the carcass of today's news cycle. Instead, Wolf offers a hilarious respite from the severity of your Twitter timeline. As Wolf explains herself, she called the show "The Break, because it's literally a break." If the world is on fire, then Wolf wants us to laugh while it burns.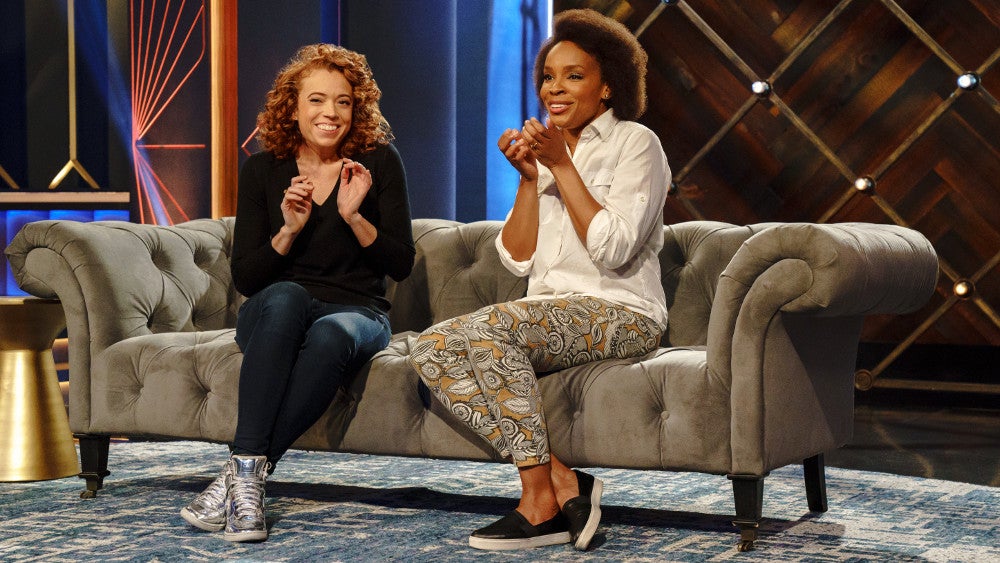 The format of her show is broken up into segments punctuated by skits. In the first few minutes, Wolf performs a short standup routine that quickly establishes why Netflix gave her a show in the first place: she's brilliantly funny. Wolf smoothly transitions from a joke about the NFL's new no-kneeling policy to a jab at police brutality. She's not spoon-feeding her audience details about how Black people are treated in this country, because her jokes, as they should, do all the work of tugging on the connection between the NFL and Black Lives Matter.
Wolf cycles through a variety of other relevant topics, throwing jabs at Elon Musk and Grimes, the Miss USA pageant, the Royal Wedding, and hosting a quick Mario Batali body-shaming session. She then transitions to a segment ironically labeled "Sports Smash." The title is Wolf's attempt to get viewers invested in talking about feminism through some comical rebranding. During "Sports Smash," Wolf poses the question: "Do women have to support other women?"
"No of course not!" Wolf booms, before carrying on a discussion about the newly appointed CIA Director Gina Haspel. Finally, Wolf addresses her "best friend" Sarah Huckabee Sanders.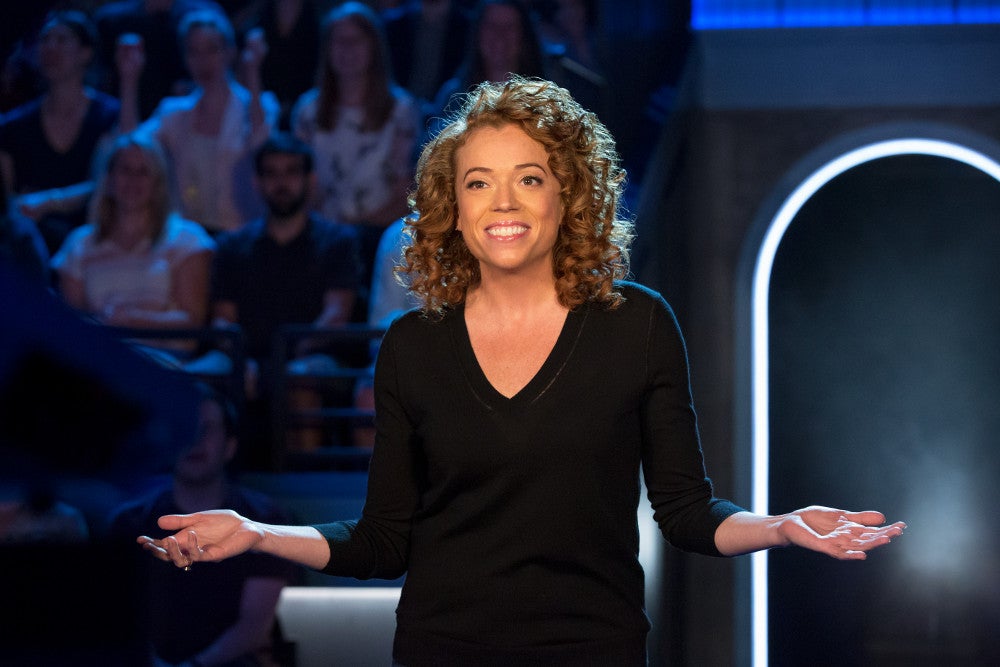 In case you missed it, Wolf made a joke about Sanders' eyeshadow during her performance at the White House correspondents' dinner. That joke set off critics claiming the comedian took a low blow at Sanders' looks when in reality Wolf's joke criticized the press secretary's tendency to lie about everything. "I actually really like Sarah. I think she's very resourceful. But she burns facts and then she uses that ash to create a perfect smoky eye. Like, maybe she's born with it, maybe it's lies. It's probably lies," went the joke.
During The Break, Wolf clarified once again that her comments had nothing to do with Sanders' looks, but rather her "ugly personality." She added another quip: "She has the Mario Batali of personalities."
In between various segments, the show includes some funny, pre-recorded skits in the spirit of Saturday Night Live. Two of the skits from the show feature a new Amazon Echo that must be fed lunch meat regularly, and another makes fun of Netflix itself for its insipid approach to making content with "strong female leads."
The first episode had its bumps and bruises. A segment called "The Breakdown" dragged on, and the skits felt somewhat disconnected from the rest of the show. Still, Wolf delivered a sharp and true-to-self premiere that didn't try too hard. The Break could easily become a brisk, weekly tradition in the vein of shows like Last Week Tonight. It could just as easily not be renewed for a second season, but that's not really a bad thing. Wolf's show is meant to give viewers a break from self-important talk TV, and it succeeds by making everything, even the show itself, feel inconsequential. "The point is, we're all going to die," Wolf said matter-of-factly at the beginning of her premiere. "So until then, we might as well laugh."
Still not sure what to watch on Netflix? Here are our guides for the absolute best movies on Netflix, must-see Netflix original series and movies, and the comedy specials guaranteed to make you laugh.