Kanye West shot the cover of his new album Thursday on his iPhone and then asked fans to download an app no one has heard of to hear it. Over in Jackson Hole, Wyoming, West flew in Chris Rock, hip-hop artists, radio employees, and journalists who accept free vacations for a listening party.
Savvy fans were welcome to jump through hoops to hear a shoddy livestream, and YouTube links are already being scrubbed of audio. But West's eighth solo album Ye has yet to land on Spotify, Apple Music, or Tidal. (As fans on Reddit pointed out, the album title was quietly tweeted by West in mid-May, and you can find uploads on SoundCloud—for now.) Over at music-annotating archive Genius, the songs and featured artists are posted but "unconfirmed" as of Friday morning; the current guest list includes Nicki Minaj, John Legend, Willow Smith, Ty Dolla Sign, Valee, Jeremih, PARTYNEXTDOOR, Young Thug, Charlie Wilson, Kid Cudi, Dej Loaf, and 070 Shake.
https://twitter.com/KimKardashian/status/1002428867334688768
"Don't diss me," Rock said to West's G.O.O.D. Music record label president Pusha T while emceeing the Wyoming event. Pusha T has been leading a weeklong feud with rap superstar Drake, but Thursday night, it felt like old news: West, the most critically heralded musician of the 21st century, was releasing new songs.
"I hope you're enjoying the bonfire—tomorrow night, that will be a cross," Rock zinged about the unexpected, rural American locale. West reportedly produced five albums in a Wyoming resort recently (Pusha's solo record Daytona, and projects with Nas, Teyana Taylor, and Kid Cudi, in addition to Ye), and pledged to release them all in May and June.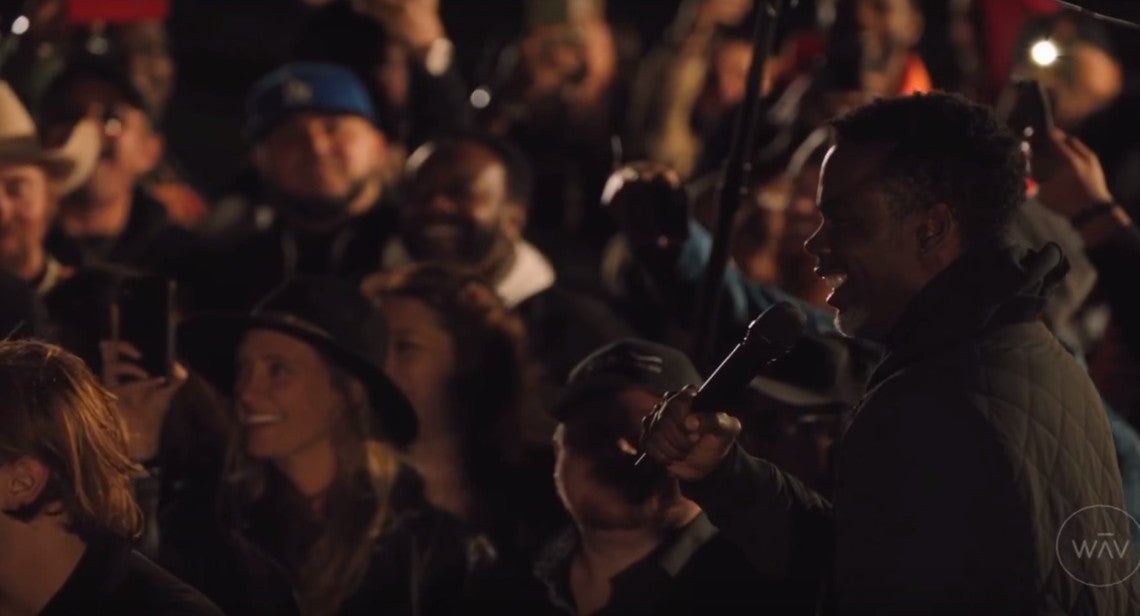 "Hip-hop is the first art form created by free Black men," Rock said. "No Black man has taken more advantage of his freedom than Kanye West… I can't wait to watch you experience what you're about to see: Listen without prejudice."
It was a preemptive defense for West, given his bizarre adoration of President Donald Trump and his indefensible comment about 400 years of U.S. slavery being a "choice" for the slaves. This week, West's wife Kim Kardashian met with Trump to talk about prison reform, though the album doesn't seem to contain explicit policy positions.
Fans on Twitter did seem divided across party lines post-livestream. Some compared Ye to 2010's My Beautiful Dark Twisted Fantasy. The West-centric podcast Watching the Throne said it was "postmodern" and really good during its obligatory reaction video.
"I think about killing myself… Sometimes I think bad things," West says on apparent album-opener "Premeditated Murder," which I heard on a SoundCloud upload.
Elsewhere he defends hip-hop mogul Russell Simmons, the man multiple women have accused of rape. I found this more repugnant than the red MAGA hat. He chimes in about NBA star Tristan Thompson cheating on West's sister-in-law Khloe Kardashian and even Stormy Daniels. I love that he's transparent about his mental health and is open about his apparent bipolar disorder.
But the album is still a question mark, given that few outside the state of Wyoming have listened to an official release. Even Tame Impala was shocked to find out during the livestream that a sample the Australian rock band had emailed to West made the final album.
Given his unpredictability and the way that 2016's The Life of Pablo evolved in real time, there's no telling when we might see a final version of Ye—or if it will ever be fully realized.
Update 7:23am CT, June 1: Around 7:00am CT, West's album landed on Spotify.