Hulu's horror anthology series Into the Dark delivers a delightfully cynical stocking stuffer with A Nasty Piece of Work. It pits the working class against its corporate overlords—and against itself. The characters are obsessed with status, while the entrenched class are obsessed with finding ways to keep themselves amused. In a year that has already seen numerous excellent "eat the rich" films like Parasite, Knives Out, and Ready or Not, A Nasty Piece of Work strikes similar notes. On a conceptual level, this is one of Into the Dark's strongest entries. The execution is sharp, and the result is a rip-roaring 80 minutes full of laughs and twists. It's a winner for an inconsistent series. 
Into the Dark: A Nasty Piece of Work
RELEASE DATE:
Dec. 6, 2019
DIRECTOR:
Charles Hood
STREAMING:
Hulu
A Nasty Piece of Work is a delightfully cynical stocking stuffer and easily one of Into the Dark's strongest entries.
The premise is simple: Ted (Kyle Howard) is a milquetoast worker bee who does everything he can to make a good impression on his boss, Steven Essex (Julian Sands). Ted is the kind of guy who runs to the boss' house to grab golf clubs because he overhears Steven talk about playing a round. Steven is the kind of guy to receive that gesture and chastise Ted for not knowing "what the winter grass will do to the platinum-plated driver" and his $75,000 golf clubs. Making a much better impression on the boss is Gavin (Dustin Milligan), with his expensive clothes, Porsche, and trophy wife. He's the more successful version of Ted, at least based on appearance. 
At the holiday Christmas party for their company, Falconheart Ventures, Steven announces that the executives won't be taking bonuses this year and neither will anyone else. Just as Ted's about to stand up for himself, Steven offers him a shot at a promotion, provided Ted comes to Steven's home for proper vetting. Once the setting moves to Steven's home, A Nasty Piece of Work hits its stride. Steven and his wife Kiwi (Molly Hagan) are a delightfully antagonistic. They make no bones about being wealthy or how much they dislike each other. Ted and his wife Tatum (Angela Sarafyan) are the most honest and good-hearted people in the group, while Gavin and his wife Missy (Natalie Hall) are perhaps the most shameless of the bunch.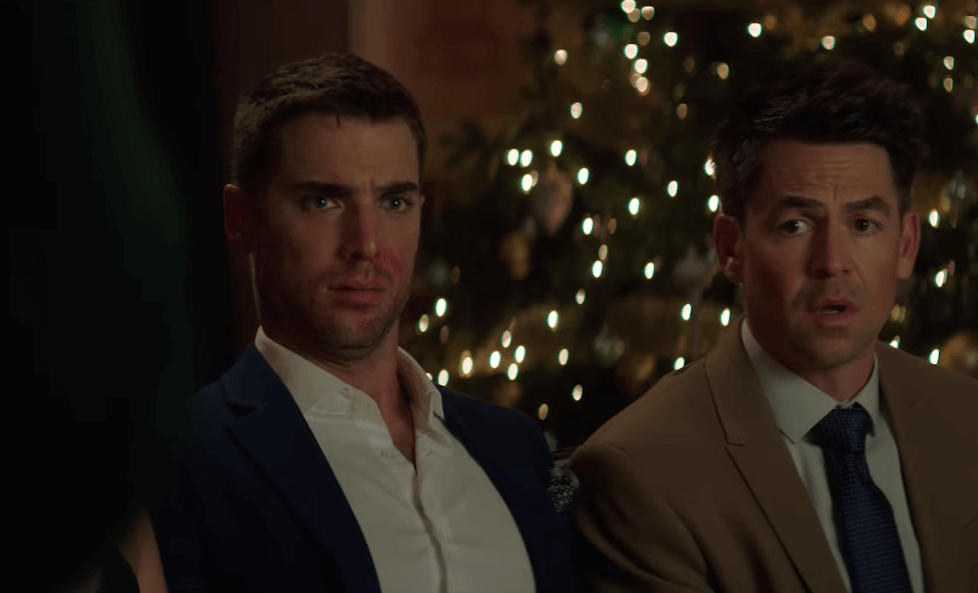 A Nasty Piece of Work embraces its cynicism, which juices the story and makes the payoffs hit harder. Steven and Kiwi know they're awful, that money has corrupted them, and they're OK with that. Sands and Hagan are absolutely hilarious here. They're playful with each other, but their open hostility makes it hard for their guests to read them. The casual contempt Steven and Kiwi show for everything makes you wonder if they've ever known happiness. All they have is money and they're well aware of the power that gives them over people like Ted and Gavin. So here they are, putting Ted, Gavin, and their spouses through a series of absurdities with serious consequences. There are numerous scenes involving gun violence played for dark laughs that reinforce just how far gone Steven and Kiwi are and, by extension, Ted and Gavin as well.
The most interesting aspect of the story, however, lies in the similarities and differences between the guest couples. Ted and Tatum are the most relatable people in the story. They work hard, but more often than not it feels like they're running in place. Tatum is unfailingly supportive and Ted does everything he can at work, including working until midnight every Friday. With Gavin and Missy, their whole life is a facade. They're in the same spot as Ted and Tatum, but they've invested in the image of success, hoping the rest will follow. At one point Gavin screams about how the fancy car, clothes, and wife are all bought with maxed-out credit cards. In the world of A Nasty Piece of Work, dreams can't be bought or earned. They're bequeathed by the malevolent executives arbitrarily.  
READ MORE:
The script, by Paul Soter of Broken Lizard fame, is attuned to the differences between the characters, but it's the similarities drawn between the characters that give the movie its edge. Director Charles Hood highlights these moments by giving each character and performance room to breathe. It would be easy to keep the focus on the action, but it feels like each scene makes room for a beat or two spent on an actor's face.  
A Nasty Piece of Work is a movie about a system that is unbeatable, played by people who can't win. If there is a way to win, the only way to get there is to completely debase yourself to the point where you become precisely what you were fighting against. The film is broken up into chapters, named after the Falconheart Ventures Rules for Success, so right off the bat the audience knows they're in the same spot as Ted, Tatum, Gavin, and Missy. We're just along for the ride. 
A Nasty Piece of Work follows in the footsteps of last year's Pooka!, making Into the Dark two for two with its Christmas episodes. Just like last year, I'm left hoping that Into the Dark's strong end of the year portends good things for 2020. We'll see.  
Still not sure what to watch on Hulu? Here are the best movies on Hulu, what's new, the best shows on Hulu, the sexiest movies you can stream on the service, and the must-see Hulu originals.