The UFC's Week of Defiance continues on Wednesday night in Jacksonville, Florida, to the delight of President Dana White. The main event, between light heavyweights Anthony Smith and Glover Teixeira, was originally scheduled for April 25 in Lincoln, Nebraska, before the world got swallowed by the coronavirus.
That they're fighting not three weeks later is both a miracle and an act of absurdity by White and company—which may be the best way to describe the reality that MMA fans will be living in for a while.
Last Saturday, the UFC broke the live-sports barrier with UFC 249, a bold move that likely earned the promotion some much-needed revenue and publicity and might have even won it some new fans. But it also risked unnecessary calamity, a point proven when middleweight Jacare Souza and two of his cornermen tested positive for COVID-19 in the run-up to the event. It's anybody's guess if there will be more fallout from the UFC's decision to move forward during the pandemic, but given the often-delayed appearance of COVID-related consequences, White is probably wise to move on to event No. 2 before the dust from event No. 1 has a chance to settle.
So, it's quickly on to Smith and Teixeira, a battle between two world-class fighters who have the misfortune of competing in a division whose champion is the world's greatest fighter. Both Smith and Teixeira had their shots at Jon Jones and put up valiant efforts, but like every other light heavyweight over the last decade, they came up short. And because neither man will likely get another chance at Jones' belt, viewers can sit back and enjoy Wednesday's fight simply for what it is: a slugfest between hard-hitting, iron-chinned knockout artists that means everything in the moment but portends nothing.
Such a fight is perfect for these strange times, when the demands of social distancing have turned MMA matches into black-box theater productions amplifying the visceral immediacy of fighting. Anyone who knows MMA and who watched last Saturday's fights must have been moved by the dead quiet of the arena. Without a crowd, viewers could hear coaches shouting instructions and fighters gasping for breath, even the sound of footfalls on canvas, giving the fights an unnerving but thrilling intimacy. And what could be heard over everything was the punches.
In an otherwise silent room, a punch thrown by a professional and landed against another's face makes a harrowing sound, and during Saturday night's main event between lightweights Tony Ferguson and Justin Gaethje, the harsh anatomical realities of the sport were heard loud and clear. There could be no hiding the gruesome reality of fighting in such a vacuum. And this will be even truer on Wednesday when Smith and Teixeira will have 50 more pounds to put behind their punches than Ferguson and Gaethje did.
Which presents a possible dilemma for the UFC as it moves forward with its pandemic schedule. Conventional wisdom would argue that having the live-sports market to itself is a boon for the promotion that will result in new fans discovering MMA. But how many first-time viewers will stick around after hearing the sound of bone crashing into bone unmitigated by crowd noise? How many will reach for their remote controls the moment they realize all their worst fears are true, that underneath all that talk about the mainstreaming of MMA and the athletic nobility of its fighters lies that other thing—that undeniable, awful, brutal, primordial thing?
Here's everything you need to know to watch Smith vs. Teixeira.
---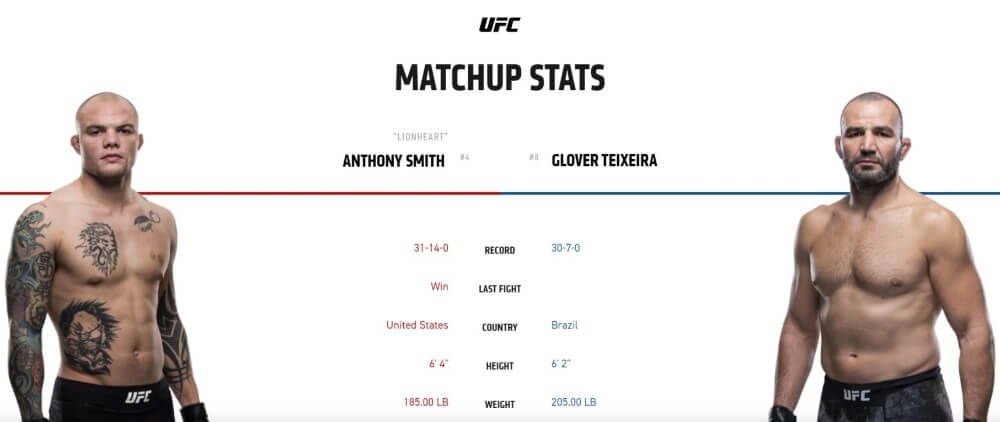 Anthony Smith vs. Glover Teixeira
When: Wednesday, May 13, at 9pm EST
Where: VyStar Veterans Memorial Arena in Jacksonville, Florida
Streaming: ESPN+
How to watch Smith vs. Teixeira without cable
This UFC Fight Night in Jacksonville is being broadcast on ESPN+—the streaming service which, as of March 2019, signed a seven-year deal with the MMA organization to be the exclusive home of UFC PPV telecasts and a plethora of UFC Fight Night shows each year.
Cost: $4.99 per month or $49.99 for 12 months
Devices: Chromecast, Amazon Fire Stick and Fire TV, Apple TV, Android TV, Roku players and TV, Oculus Go, Xbox One, PlayStation 4, Samsung smart TVs, and iOS and Android devices
ESPN+ is a fantastic way to stream all kinds of combat sports content. The service only costs $4.99 per month or $49.99 for the entire year. Given how much content you receive, that's a really good deal (you can also cancel at any time).
Subscribers can watch the entire 30 for 30 catalog on demand, for example, along with Top Rank boxing cards, daily MLB games, every out-of-market MLS game, international soccer contests, Grand Slam tennis, and thousands of college sporting events. ESPN+ works as an extension of the main ESPN app. The ESPN+ exclusive content is designated by the "E+" logo in the corner of the preview tile.
The ESPN+ app is available on Amazon Fire Stick and Fire TV, Google Chromecast, PlayStation 4, Xbox One, Roku, Apple TV, Android TV, and iOS and Android devices.
Smith vs. Teixeira live stream schedule
All times ET
Main Event | 9pm on ESPN+
Anthony Smith vs. Glover Teixeira
Ben Rothwell vs. Ovince Saint Preux
Alexander Hernandez vs. Drew Dober
Ricky Simon vs. Ray Borg
Karl Roberson vs. Marvin Vettori
Prelims |6pm on ESPN+
Andrei Arlovski vs. Philipe Lins
Michael Johnson vs. Thiago Moises
Sijara Eubanks vs. Sarah Moras
Gabriel Benitez vs. Omar Antonio Morales Ferrer
Hunter Azure vs. Brian Kelleher
Chase Sherman vs. Isaac Villanueva
For a year-round sports fix, sign up here and check the "sports" box to receive our weekly boxing newsletter. You'll hear about all the biggest fights and best knockouts from the Daily Dot's streaming sports guru Josh Katzowitz.
The Daily Dot may receive a payment in connection with purchases of products or services featured in this article. Read our Ethics Policy to learn more.