Now in its third season, Crashing seems destined to become one of those also-ran HBO shows, seen by few and loved by fewer. The Pete Holmes series based on his own beginnings in standup has been consistently watchable, but like many of the network's smaller comedies of late, has also flown under the radar. But a funny thing happened between seasons 2 and 3 of Crashing: It got really good.
Crashing: Season 3

RELEASE DATE:
January 20
CREATOR:
Pete Holmes
STREAMING:
HBO GO/HBO NOW
Pete Holmes tackles love, God, and the Me Too movement's impact on standup in the latest and best season of his HBO seriocomedy.
A much less funny thing happened between seasons 1 and 2 of Holmes' seriocomedy, when the Me Too movement exposed the sexual misconduct of the creators behind several shows that surely served as inspiration for Crashing. In her original review, the Daily Dot's own Audra Schroeder compared the series to Louie and Master of None. This year, Holmes and executive producer Judd Apatow continue to parse through the fallout from the (theoretically) seismic shift happening in comedy and culture right now. The season also focuses on Pete's evolving spiritual life, and his exciting but sometimes scary new relationship with a woman named Kat (Madeline Wise.)
Holmes' Christianity has always set him apart as a comic, and perhaps knowing his real-life faith trajectory makes watching his fictional journey a little less interesting. Still, there's something worthwhile in telling a story about someone who falls away from their faith, only to rediscover it in a deeper way. Pete's experiments with corrupting influences such as cigarettes and fedoras this season will feel honest to anyone who's ever had a minor spiritual crisis. The more religious your upbringing, the greater your transgressions feel when you stray. Sometimes those transgressions are necessary, though, to reaffirm your belief. In that way, Crashing serves as Pete's personal Rumspringa.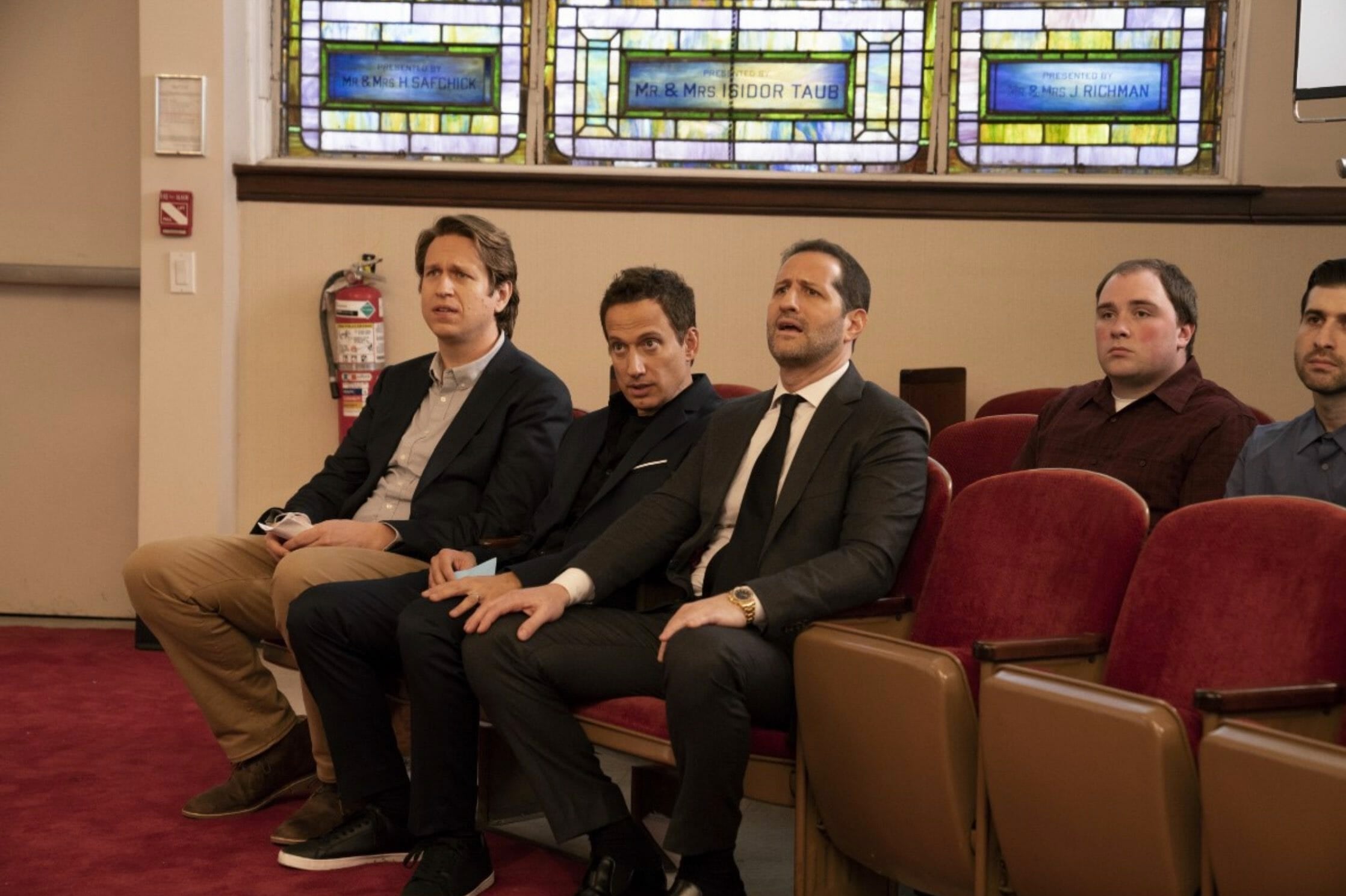 Pete's spiritual crisis pales in comparison to the crises of his personal life, though, as his initially exciting relationship with Kat turns volatile. At times, the show makes her too much of a Manic Pixie Dream Girl, coming along at just the right time in Pete's life to get him unstuck from his rut. A reading that gives Kat more agency, however, suggests that she likes Pete because she's been burned in other relationships, and thinks he's a "nice guy" who's less likely to hurt her.
But the best reading of all comes from the character herself, who confronts Pete for failing to acknowledge his complicity in the failure of their relationship, and using his nice-guyness as an excuse. "You keep talking about this like you're some little choir boy, and all of these things just happen to you," she says. "Because I'm a wild one… and I'm really shaking things up for you. But you were a part of it, Pete. You were a part of every single part of this relationship. You were behind everything."
As didactic as this moment is, it's still a more honest and rewarding spin on a type of relationship that we've all seen many times in popular media. And despite the moments when Pete and Kat's relationship rings false, Holmes and Wise are good enough together to sell it. 
Then there's the Me Too of it all. While the "ripped from the headlines" stuff doesn't dominate this season, the fourth episode, "MC, Middle, Headliner," tackles comedy's straight, white, male guard head-on. Pete finds himself on the road with his ex-girlfriend, Ali (Jamie Lee), and veteran comic Jason (Dov Davidoff,) whose old-school "comedy is supposed to be dangerous" mentality doesn't fly at the club they're playing or with Ali's more progressive sense of humor.
After Jason bombs one night and embarrasses himself by hitting on the club waitress, Ali has had enough. "What you did wasn't comedy, it was hate speech," she tells him, after he complains about how hard it is for straight white guys to get laughs right now. Jason responds by indignantly reminding Ali he's been in comedy 22 years, despite having nothing to show for it.
It's a powerful scene. Jason almost becomes a sympathetic figure, despite his disgusting behavior. But mostly, he represents a changing of the guard. Ali's comedy is the future; Jason's is the past. What was once seen as "edgy" now feels desperate. And the comics complaining about the changing business and never getting their big break now seem like sad losers, unable to adapt to the times or realize they may never have had what it took in the first place.
Watching this moment, I couldn't help but think of Louie again. At times during that show, C.K. appeared empathetic and was willing to debate all elements of comedy and life in general. Now that empathy appears to have been a facade, and C.K. has become another cynical, broken comedian, unable or unwilling to adapt. I also couldn't help but ask whether Holmes is the right person to be telling this story. As fascinating as his and Apatow's exploration of comedy's changing tides is, it's hard not to wonder whether it would've been better in the hands of somebody who wasn't a straight, white man.
Still, season 3 of Crashing is relentlessly entertaining and admirably ambitious, if not occasionally patronizing. For standup fans, the wealth of cameos alone makes it worth watching, including appearances from Jaboukie Young-White, Amy Schumer, John Mulaney, and even the embattled Artie Lange. Crashing may not be the best show about spirituality, or relationships, or even comedy to come along in recent years. But by getting more daring, the series, like Pete, has started to find its voice.
https://www.youtube.com/watch?v=j3zxD7lN5NA
Still not sure what to watch on HBO? Here are the best movies on HBO, the best HBO documentaries, and what's new on HBO Go this month.