Yet another clip from The Eric Andre Show has become a meme. Fans might recall that back in April of last year a segment from the comedy show featuring Andre shooting co-host Hannibal Buress in the chest became a popular object-labeling meme.
This is a damn good contender for best meme of the year – all of the variations are good…but this one is the best pic.twitter.com/SwpOUAuRjk

— RickyFTW (@rickyftw) April 18, 2018
Now another video featuring Buress has become a meme.
Hannibal Buress hands meme
The new meme comes from a November 2013 clip of the show, in which Buress stares at his hands. It's pretty surreal stuff, which is the show's bread and butter.
On July 27, 2019, Twitter user @ARIE77E posted a shortened version of the clip and replaced the original music with music from the 2018 horror film Hereditary.
"I made this video of Hannibal with the Hereditary music," they wrote in the post, "but i didn't know what to caption it so. here."
https://twitter.com/ARIE77E/status/1155306723944611841
Twitter was only too happy to suggest some captions.
When you touch the TV and feel the static and think you're a superhero now

— Sky (Pika pika) ⚡⚡ (@SkylarMontgome2) July 29, 2019
When my birb lets me give him a head rub

— Saturn S. (@Saturnsorbit1) July 29, 2019
The tweet was already fairly popular, but things really took off when people started taking it in a more sexual direction.
Vibrator died so you know what i have to do
pic.twitter.com/PUgf8YmXAS

— moo moo mi mi (@revelacaaa) July 30, 2019
When she cum just from me kissing and fingering her a little pic.twitter.com/vePtHZMBD8

— Jay. (@Jeyonuh) July 29, 2019
When you finally find that one porn video you saw months agopic.twitter.com/NXc4YyZgFq

— ❄️Thicc Boi❄️ (@thicccc_boi) July 31, 2019
Hannibal Buress himself found out about the meme and seemed pretty perplexed by the whole thing. He tweeted, "Why ?????" and "What is this???" in response to it.
https://twitter.com/hannibalburess/status/1156680075607236608
What is this??? https://t.co/SYREKUMQZj

— Hannibal Buress (@hannibalburess) July 31, 2019
It's doubtful that Buress was really all that confused. He was probably just playing along with the gag. At any rate, he's now selling shirts and hoodies with an image of the clip.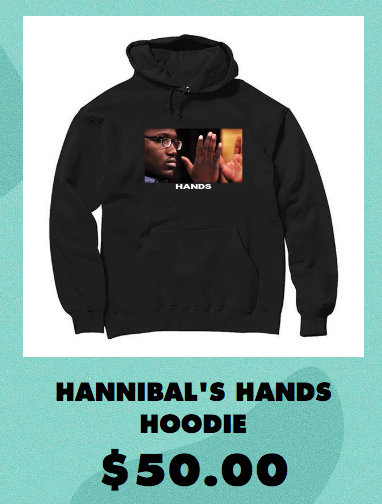 It's somewhat interesting to note that while a lot of memes take something fairly mundane out of its original context and make it weirder, Buress' hands meme does just the opposite. The segment from The Eric Andre Show was purposefully a strange non-sequitur. It wasn't until the clip became a meme that it gained some sort of context.
Of course, that makes perfect sense. Even in the surreal world of memes, it's going to be tough to out-weird The Eric Andre Show.
READ MORE: