George Takei knows a thing or two about the internet.
For years now, the actor, LGBTQ advocate, and political activist has used the web to capitalize on his brand, cultivating a sprawling fanbase through a distinct online persona. He weds wisdom with dry humor and celebrates modern culture with earnest curiosity. He's the dank web's dignified, trusted curator, and Takei's virtual savvy has turned him from "George Takei, actor" to "George Takei, internet icon."
"Isn't that something? I'm 81," he tells the Daily Dot. He adopted the internet early as a blogger in the '90s. "I discovered that Star Trek fans are really fantastically devoted, and Star Trek conventions are all over the world," Takei says.
"Fans have always existed, but I think technology is really what's facilitated the development of 'nerd' culture," he says. "The power of social media is fantastic, in developing a genuine community. People who share a common passion. And that devotion to each other and the subject."
Takei's interest in the internet and social media has gone beyond fandom. In 2008, he started developing a musical called Allegiance about the WWII Japanese-American internment camps, a story he knows all too well. "My mission in life has been to raise awareness about that shameful chapter in American history, which so many Americans still didn't know about. When I told people I bumped into in the Midwest, or on the East Coast, people who I consider intelligent people, they are aghast… This is Americans being rounded up and put into barbed wire prison camps," says Takei, who was sent to the camps when he was only 5.
He realized he could harness the power of the internet to draw attention to his passion project.  "I could go on speaking tours. We founded a museum, called the Japanese-American Museum, which today is a member of the Smithsonian. But all that is intellectual. The best way to reach people is through the heart," he says. Takei wanted to do something creative, and eventually, he found the right outlet.
This is when the internet-popular, social media-savvy Takei we know today started to emerge. He had Star Trek fans at the time but wondered how he could grow his following beyond the show's community. "I decided social media…  It was essentially a device to raise awareness on the internment story, and then to let people know that we're developing this musical."
His work paid off. "When we first had our premiere at the Old Globe, in San Diego… We broke all records in their 70 years of existence," Takei says. "Social media helped us do that. And from there we went to Broadway…  So I've been constantly growing with social media from back in the 20th century, as I say."
TraceMe recently came calling, and Takei was among the first to sign on. A platform designed to connect fan communities with their favorite celebrities, TraceMe essentially creates a pipeline for fan engagement between artists, athletes, and entertainers. Those who sign up get direct access to exclusive content directly handpicked by whichever famous people they're following. As a prominent social media user with a dedicated fan base of followers, TraceMe is exactly up Takei's alley—and it comes at a convenient time for him.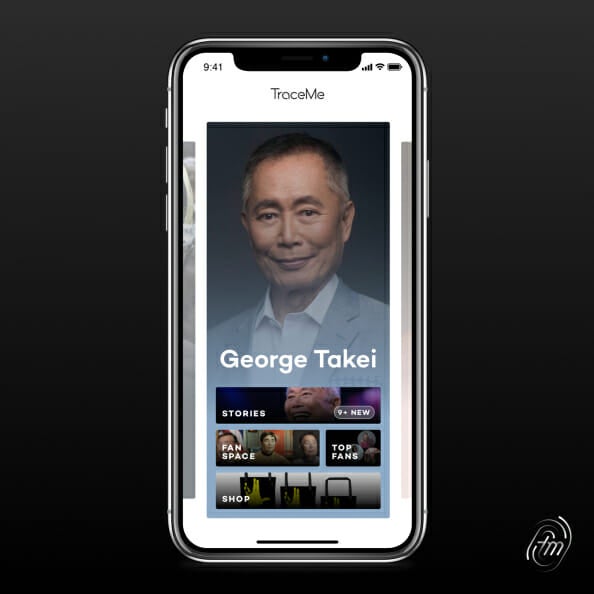 Last year, Takei became swept up in a sea of unfolding controversies when a former model and actor accused him of sexual assault back in 1981. The man later walked back his claims, and Takei's name was unofficially taken off the increasingly long list of Hollywood men who've been accused of sexual misconduct.
"Yes, that happened. And it's been discredited, thank God. Brad [Takei's husband] and I are moving on," he says. For Takei, the fact that the next chapter in his social media career will be limited to fan interaction is what makes TraceMe so appealing. "It's a troll-free zone so that you can build a positive community," he says.  
Yet Takei does concede that increasingly, social media isn't just a place for positive communities. It's a central tenet of American democracy. "It's international now, nations hacking each other," he says. "It's at the core of our systems, of our elections."
Takei was always political, even before he became a vocal critic of President Donald Trump. Unsurprisingly, it's hard for him not to make parallels between everything happening in our country right now ad his own experiences growing up. "It's horrific right now," he says. "I was a child… I didn't experience it as my parents did. For them, they lost everything. Everything that they had worked for in their lives. My father's business, his savings, the bank account. Our home… So that was pretty dark, but this is pretty dark now… it's even worse if you're going through it as a parent who's had your child taken away from you. We were kept intact."
Takei adds a warning: "History is cyclical."
Still, he's hopeful for the future. "There are people who are resisting this administration," he says. "I always think there are solutions to problems. And that we will come up with a way to deal with that kind of evil."
And in dealing with that evil, he returns to the defining relationships of his professional life: His one with the Star Trek fandom and his one with the internet. "I think we are living in that brave new world, with both its positive and its negatives," Takei says. "But the development of a community on this scale is really a strong positive. Particularly with Star Trek."
As Takei sees it, the iconic sci-fi show can teach us something about how to live our lives. "The common ground for Star Trek fans is really an optimistic view of our future," he says. "Seeing our strength in our diversity. Coming together to work to build a better society. And to use that cliche, boldly going where we've never gone before."