Broad City's latest season returns in a different America, and a different TV landscape. In June co-creator Ilana Glazer said that President Donald Trump's name wouldn't be audible on the new season, it'd be bleeped out like a swear word. They deliver on that and more.
The first episode of season 4, which debuts tonight via Comedy Central, mirror's the beginning of season 3 in its parallel views, but gives us something more important: The fateful meeting of Abbi (Abbi Jacobson) and Ilana (Glazer) in 2011. "Sliding Doors" reminds us this was a more innocent time, and gives us the Abbi and Ilana meet cute two ways. It's not the most original storytelling device, but it offers more of an origin story to work with and it's one of the sweeter episodes they've done. In that same episode, a homeless man in the subway station says something incomprehensible as they try to make the train. Played backward, he utters a prophecy that's still chilling even though it's now a reality.
New seasons of TV are reacting to Trump in different ways: BoJack Horseman's faux governor's race, Difficult People's Mike Pence-branded "conversion therapy kit." Broad City went all in on Hillary Clinton in season 3, which, in hindsight, was probably a bad idea. But thankfully they don't dwell there. In the three new episodes available for review, one in particular sees Broad City exploring the physical effects of our surreal new political reality.
In episode 3, "Witches," Ilana seeks professional help for what is the first TV-documented ailment from a Trump presidency: "dead pussy." A secondary plotline is devoted to Ilana's inability to orgasm since the election—something she uncharacteristically hides from Abbi—and we watch as she pushes through a montage of distressing Trump soundbites to finally clear her vision. Images of powerful female leaders and entertainers finally help her climax.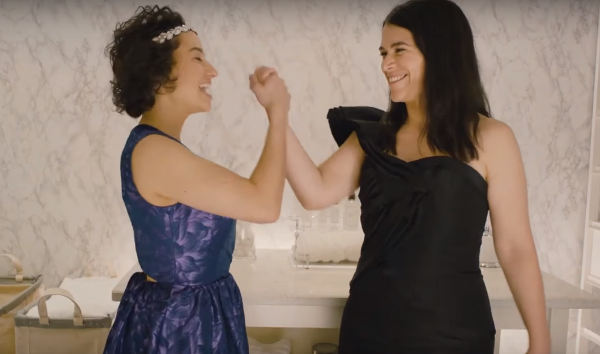 While Broad City has been influential on pop culture, it's also faced criticism for some of the liberties its two white, female protagonists take in terms of appropriating language and culture. (In the year-and-a-half since Broad City last aired, its "yas kween" catchphrase has certainly devolved into parody.) It faced criticism for announcing it would bleep Trump's name, as if that would make him disappear. As Glazer and Jacobson have started getting bigger roles outside the show, there was a fear that season 4 might feel unfocused. The first three episodes don't suffer that fate.
This is a more mature Broad City. Glazer and Jacobson had to do major rewrites after the election to mirror the country's mood. In an interview with the Los Angeles Times, Jacobson explained: "The way we were feeling was just so overwhelming that it felt like it had to be infused into the show as an overall undertone." In doing so, Broad City has subtly shifted from a show about BFFs who get into wacky, awkward adventures to something more contemplative. And that's what a show about growing up has to do.