You don't need a Netflix or Amazon Prime subscription to enjoy great Western movies. You'll find hundreds of free Western movies on YouTube, from classics to cult curiosities. Whether you're in the mood for brutal action or lighthearted comedy, YouTube has something to satiate your needs. Here's a roundup of the best Westerns on YouTube that you can stream for free.
The best Westerns on YouTube
This six-hour, Emmy-winning miniseries is a massive time investment, but one that's well worth viewing on a lazy afternoon. Starring Robert Duvall, Tommy Lee Jones, Danny Glover, Diane Lane, and Anjelica Huston, Lonesome Dove might have the best cast of any Western, period. Two retired Texas Rangers seek out adventure by joining a long and treacherous cattle drive from Texas to Montana. Full of action and romance, Lonesome Dove is one of the finest Western sagas committed to film, and certainly one of the best Westerns on YouTube.
Incredibly violent for its era, Death Rides a Horse is an atmospheric Spaghetti Western steeped in revenge. As a child, Bill Meceita watched as a gang of brutal outlaws murdered his family. Now an adult, he spends his days hunting down the killers. When he crosses paths with a recently released convict, Bill finds the ally he never knew he needed, a man with a dark past of his own. From start to finish, Death Rides a Horse is a tense affair and one of the most riveting Westerns on YouTube.  
Westerns are a surprisingly dark genre, but they're also ripe for comedy. The Shakiest Gun in the West stars comedy legend Don Knotts as Jesse W. Haywood, a recent college graduate who heads west to become a frontier dentist. Tricked into a fake marriage with beautiful outlaw Penelope Cushing, Jesse gains a reputation as a deadly shot after he gets credit for her kills. The film's caricatures of Native Americans are frustratingly racist, but when it sticks to cowboys, The Shakiest Gun shoots straight.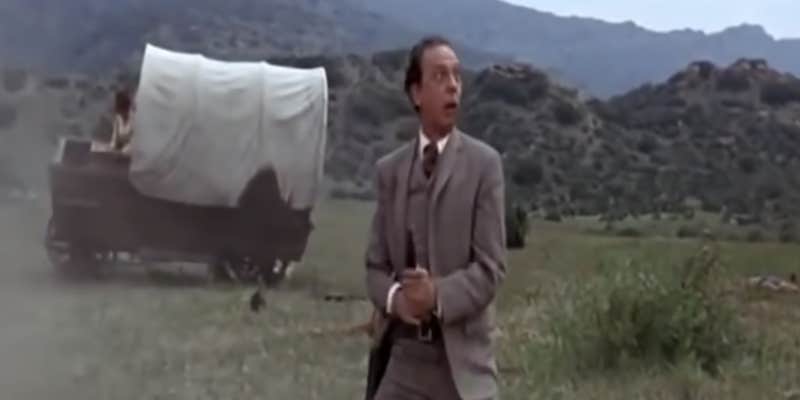 From The Good, the Bad, and the Ugly assistant director Giancarlo Santi comes The Grand Duel. Philipp Wermeer has been framed for the murder of a powerful businessman known as the Patriarch. After escaping from jail, he seeks the help of the gruff ex-sheriff who lost his job defending his innocence and sets out for revenge. Quentin Tarantino later used parts of the film's score for Kill Bill: Vol. 1.  
READ MORE:
Something Big isn't a good movie, but man, it's a fun one. The basic plot involves a man who makes a deal with a black market gun runner to kidnap a woman in exchange for a Gatling gun. It's only after he kidnaps her that he discovers she's the wife of a cavalry officer, now hellbent on revenge. Surprisingly funny and not as problematic as its plot might suggest, Something Big is a crowd-pleasing B movie and one of the sillier Westerns on YouTube.
Marlon Brando's lone directorial effort is an oddity in the world of Westerns, a thoughtful character study that puts drama over action. Full of incredible cinematography and performances, particularly by Karl Malden and Pina Pellicer, One-Eyed Jacks treats Westerns as high art. The plot tells the standard tale of a man seeking revenge on a former partner who betrayed him, but Brando's acting and direction bring an extra level of nuance to the proceedings.
Set during the Mexican Revolution, A Bullet for the General is an action-packed blend of Spaghetti Western violence and epic scope. During a train robbery, an American named Bill Tate saves the bandit El Chucho. Tate proves himself a useful ally, but what are his true motives, and how many bullets will be spent finding out? The violence comes fast and furious in A Bullet for the General, and it even includes a charming, small role for cinema icon Klaus Kinski.
When a member of the vicious Boyd Family is murdered, Tod Lohman is mistakenly blamed. Fleeing the family's promise of vengeance, Lohman eventually settles down, falls in love, and starts a new life. But the past has a way of catching up, and soon everyone's lives are in danger. From Hell to Texas blends romance, action, and drama to create a Western that will appeal to cinephiles of all stripes.
READ MORE:
9) Yuma (1971)
From super-producer Aaron Spelling comes 1971's Yuma, starring Clint Walker as Marshal Dave Harmon, a man with a tragic past sent to Yuma and tasked with bringing order to the lawless town. Yuma is a short film, clocking in under 80 minutes, but a solid trip into the past. If you're looking for free Western movies on YouTube with low time commitments, Yuma will be right up your alley. —Eddie Strait
Grandfathers and similarly aged men everywhere will be delighted to know the selection of free Westerns on YouTube includes John Wayne movies. In this Western riff on Shakespeare's The Taming of the Shrew, Wayne plays G.W. McLintock, a wealthy rancher who struggles to keep local racial tension at bay and reconcile with his estranged wife. In today's climate, McLintock! is woefully un-PC, and the cringe factor is high. But as one of Wayne's most popular films, it's worth considering, warts and all. —E.S.
Still not sure what to watch or what service to choose? Here are the 60 best movies on Amazon Prime, 35 best movies on HBO, 50 best movies on Hulu, 105 best movies on Netflix, 15 best movies on Showtime, 25 best movies on Starz, and 45 free movies on YouTube.