Since Ariana Grande dropped three singles with accompanying visuals ahead of her fourth album Sweetener, details about her next release have been minimal. The hush has left fans antsy to scrape together any information they can about the project.
With only two weeks left ahead of the expected Aug. 17 release of Sweetener, the pop songstress posted a tweet that sent fans into a fit of excitement.
happy sweetener and queen and bloom month

— Ariana Grande (@ArianaGrande) August 1, 2018
"Happy sweetener and queen and bloom month," she wrote, seemingly referencing her coming Pharrell Williams-produced album, as well as Nicki Minaj's long-awaited fourth album, Queen.
Minaj, who recently came under fire for her feature on controversial rapper, Tekashi 6ix9ine's song "FeFe," appeared on Grande's single "The Light is Coming," released in late June. The two also connected for "Bed," which is set to appear on Minaj's forthcoming album.
"Prepare to be fed," Grande continued in a later tweet, playing into the hype of the 16-day countdown initiated by her fans, aka Arianators.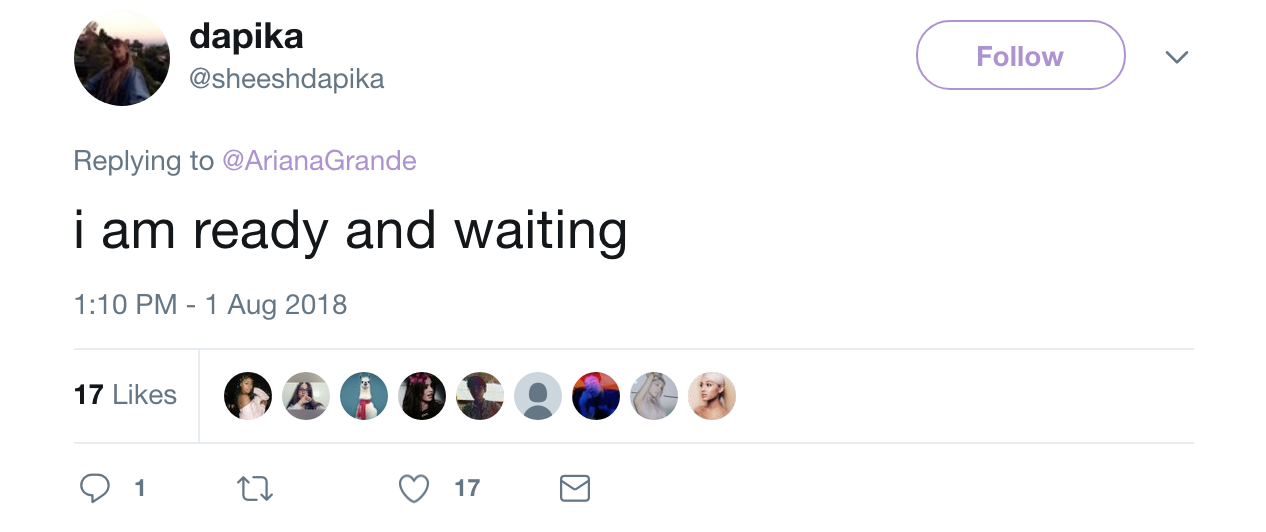 Grande kept the momentum going in another Tweet, saying "Me and Nicki laughed at dat." Minaj's album is also expected to drop on Aug. 17.
me n nicki laughed at dat

— Ariana Grande (@ArianaGrande) August 1, 2018
It's been a busy summer for Grande. In addition to starting the roll out of her new album, she got engaged to Saturday Night Live comedian Pete Davidson and was also featured on Reebok's "Be More Human" campaign. The release of her album will be the icing on the cake.