New York-based rapper Nicki Minaj is facing backlash after she collaborated with fellow rapper Tekashi 6ix9ine on his newly released single "Fefe."
While the song's video has amassed over 24 million views on YouTube since its release Saturday, it sparked outrage from Minaj fans who felt the partnership directly compromised her stances on feminism and women's empowerment, given 6ix9ine's history of sexual misconduct, Nylon reports.
In 2015, 6ix9ine, whose real name is Daniel Hernandez, pleaded guilty to the use of a child in a sexual performance, according to court documents obtained by Jezebel. In a March interview with The Breakfast Club, 6ix9ine attempted to excuse himself, saying that he only pleaded guilty to the accusations out of fear.
"I was just scared," he said at the time. "I didn't have no money, I was poor … me, going through the jail system for the first time, my life changed like this."
Rapper Azealia Banks posted on Monday to express her disgust with Minaj's decision to collaborate with 6ix9ine despite his conviction.
"Wow. A new queen of rap is coming very very soon," she wrote. "The new criteria for being queen of rap is: As queen of rap you are responsible for protecting the rights, safety and well beings of young women of color, and as such, thou shall not with or lend your voice to known pedophiles as you send the message that it's okay for 18 year old boys to fondle 13 year old girls and get away with it."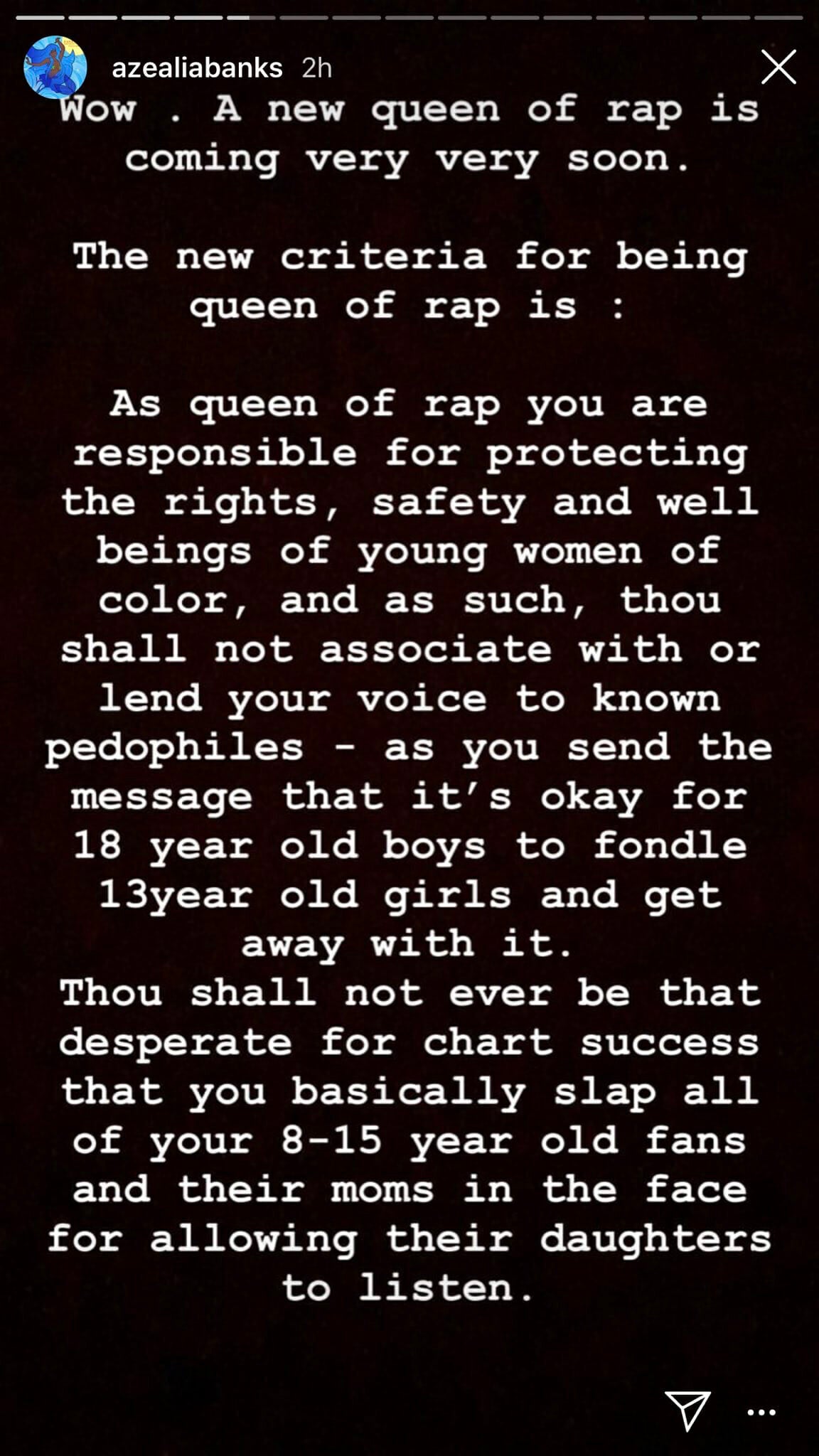 She elaborated that "Fefe" seemed like a shallow attempt at "chart success," while also calling attention to the rampant misogynoir (misogyny toward Black women) in hip-hop.
Other Twitter users have weighed in on the video in the past few days, condemning Minaj's decision to work with a sexual predator.
What the hell is wrong with Nicki Minaj? Tekashi 6ix9ine is a paedophile and used a 13 year old in a sexual scene. WHY are you collaborating with him? Sies.

— Lilith's Kin (@Bad_Bunny97) July 22, 2018
I've never been so disappointed in Nicki Minaj, how could you make music with Tekashi? Really? Disgusting.

— fine china (@alexkultgen12) July 23, 2018
I love Nicki, but I'm really disappointed that she did a song with 6ix9ine. Given his history (he plead guilty to engaging in sexual acts with a 13 y/o) and the fact that he CONSTANTLY uses the n-word, I would've hoped that she would've thought twice before working with him #FEFE

— Jojo (@jojoxara) July 22, 2018
Correction: Banks criticized the collaboration on Instagram Stories.
H/T Nylon