Humor is tragedy plus time. That quote, often attributed to Mark Twain, suggests that making light of misfortune can help individuals cope with the harshness of reality. But on the internet, comedy means waiting just hours after disaster strikes to make any horrible comment you want.
Twenty-two concertgoers were killed Monday night after a suicide bomber targeted an Ariana Grande concert in Manchester, United Kingdom, and the jokes began almost instantaneously. Journalist David Leavitt, who would later apologize after deleting the tweet, posted on Twitter as the story broke: "MULTIPLE CONFIRMED FATALITIES at Manchester Arena. The last time I listened to Ariana Grande I almost died too."
What Leavitt wrote was reprehensible, but sadly it is far from the worst thing that has been said about the attacks. Posters on /pol/, a 4chan message board devoted to right-wing politics, claimed that Grande "had it coming." The 23-year-old singer, an outspoken supporter of Hillary Clinton during the 2016 election, has never been shy about her left-leaning, feminist views. When President Donald Trump claimed that "no one has more respect for women" during the presidential debates, Grande posted a video of herself laughing to Instagram.
A popular meme circulating since the tragedy describes the former Nickelodeon star as a "pro-refugee, pro-Muslim, Trump-hating, America-hating, pussy-hat wearing, Women's March-organizing, Hollywood liberal," suggesting that her politics mean others should deny her sympathy. Following the tragedy, Grande tweeted that she feels "broken" and subsequently scrapped the remainder of her tour.
The lowest of the fruit, however, comes from subreddits like r/TooSoon, which have treated the murder of 22 girls like a national holiday.
On Tuesday, awkward_irishman posted an ironic warning to r/MemeEconomy, a message board where followers can trade memes and GIFs with one another, treating Pepe the Frog like a stock investment. It's a weird place. As if he had the hottest tip on the market, the user quipped, "Ariana Grande memes about to blow up." The post featured a YouTube screenshot of Grande's "Bang Bang," a 2014 pop single she recorded with Nicki Minaj and British singer Jessie J.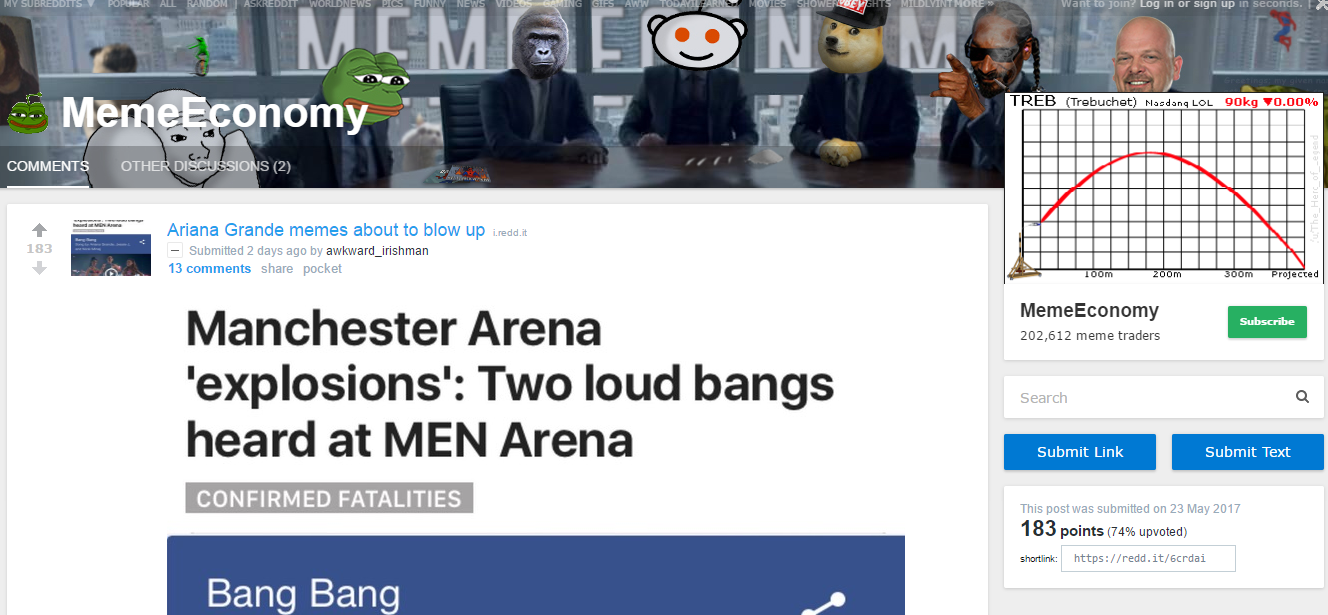 Tellingly, other users didn't chide the original poster for mocking the victims, some of whom were as young as 8 years old. They told him to wait 24 hours. This post from r/DankMemes comments on that "rule" of troll etiquette by depicting the struggle of waiting even one day to make fun of murdered little girls. "Soon, brothers," the photo's caption reads.
To a certain extent, this kind of behavior is both healthy and common. After the Challenger explosion, joking about the NASA explosion that killed seven astronauts helped the nation process what would normally be unfathomable. You've certainly heard a Challenger joke before, and maybe you've even laughed: "Q: Why did they have Pepsi on the Challenger? A: Because they couldn't get 7-Up!"
But there's a level of vitriol in the resulting memes that's unmistakable, even for the most passionate fan of gallows humor. The following memes take aim not just at Grande but also at the perceived conservatism of Islam, the religion to which the bomber reportedly belonged.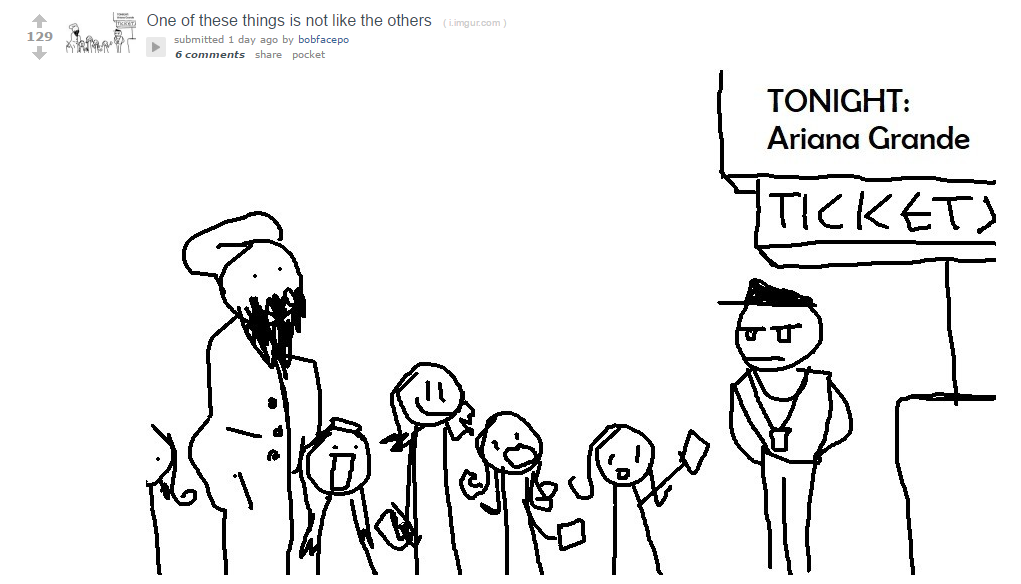 The point of these memes, of course, is to offend the "oversensitive," and there's no doubt that a post like this plays into it. But even beyond the intended goal, there's a stunning lack of empathy that's truly remarkable. The feelings of those who have lost a loved one (and could conceivably see these posts) appear to be less important than getting a couple upvotes on Reddit.
These renderings are not merely tasteless. They are graphic in a way that speaks volumes about the ways in which internet culture can strip us of even basic humanity.
View post on imgur.com
You might defend these as a byproduct of free speech. When people are given the freedom to say what they want, it means that they can use that voice however they like. But even if you've somehow been fine with everything you've seen above, you should draw the line at the below posts, which put Grande herself in the crosshairs.
Remember: These people are praying for the death of a real person, not a CGI avatar of celebrity.
The internet is known for being a place that brings out the worst in people, a medium that allows movements like Gamergate and the alt-right to find a breeding ground for violent hate. But all of us have the power to make digital media into whatever we want it to be—to be a platform that inspires what is good, what is worthy, and what will heal us in times of unimaginable pain.
Nothing about these memes is good. Nothing about them will bring us together. They only cause more hurt and despair at a time when the world has enough to go around. If you are the creator of one of these, do us all a favor: Smash your laptop to pieces and never go on the internet again. The world will be better for it.