Amazon has grown from a tiny online bookstore to a digital behemoth that's swallowing the world whole. Thankfully, as Amazon rapidly expands, it's unleashing a steady stream of programs and deals designed to help you save money. Now the company hopes to bring your magazine reading into the fold with Prime Reading and Kindle Unlimited, which allow subscribers to read a wide selection of new magazines for free each month. 
Here's everything you need to know about Amazon Prime magazines, from how much they cost to the differences between Kindle Unlimited and Prime Reading. 
How to access Amazon Prime magazines
In keeping with the company's theory that it should sell everything, Amazon sells both digital and physical magazine subscriptions. Simply find the title you want to read in the store and select whether you'd like to subscribe physically or via Kindle. Amazon offers big discounts on yearly subscriptions, making it a great option if you pay for your magazines. 
If you don't want to commit to a subscription, fear not: Amazon allows users to digitally read the latest issues from a selection of today's hottest magazines, provided you have Prime Reading or Kindle Unlimited.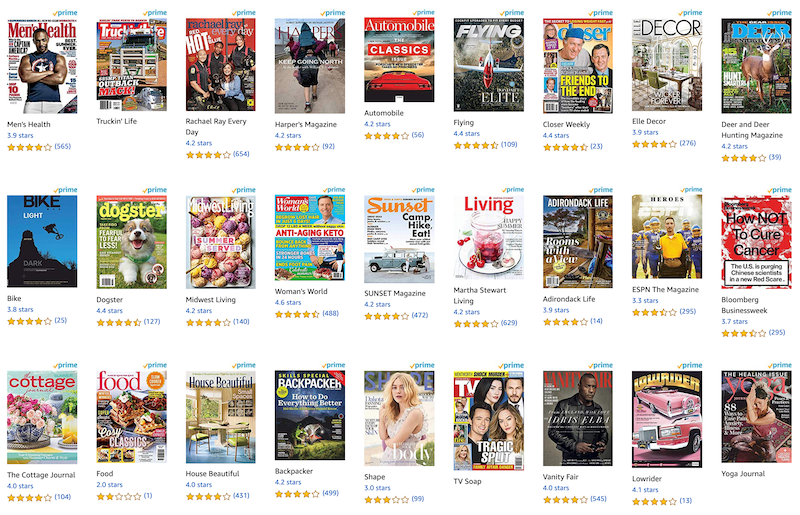 Prime Reading vs. Kindle Unlimited
When it comes to content, there is currently no difference between Prime Reading and Kindle Unlimited. Both services feature the exact same selection of 61 magazines. The difference lies in how you pay to access that content. 
Prime Reading is a feature of Amazon Prime and is available to anyone with a Prime membership. A Prime Membership costs $12.99 per month or $119 per year. 
Kindle Unlimited offers the same magazines but doesn't require a Prime membership to access. The standalone service boasts more than 1 million titles in the Kindle store, including the same 61 magazines as Prime Reading. Kindle Unlimited only costs $9.99 per month. 
It's important to note this could change in the future. Amazon is known for expanding its services, as anyone who used Prime Video in its early days can attest. We wouldn't be surprised to see Kindle Unlimited expand its paid magazine offerings in the future as the Prime Reading selection that comes with a Prime membership stays the same. 
READ MORE:
What magazines come with Kindle Unlimited and Prime Reading?
Every month, Amazon picks a selection of today's top magazines for Prime and Kindle members. While the selections rotate, they always include a variety of topics, themes, and genres. You'll regularly find titles like Vogue, Allure, Vanity Fair, and even Martha Stewart Living. Sporting fans can check out Bike, Deer Hunting Magazine, ESPN The Magazine, and Backpacker. Both services also include health-focused titles such as Yoga Journal, Men's Health, and Women's World. You might not find the same titles every month, but you'll always find high-quality magazines to read. 
Just don't expect to find back issues. Prime Reading and Kindle Unlimited only offer the most recent issue of each title. If you want to collect an issue forever, you'll need to purchase a copy for yourself. 
How much do Amazon Prime magazines cost?
Even if you don't end up using Kindle Unlimited or Prime Reading, Amazon is one of the best places to buy digital magazines. Prices range from just $3 per year for Allure to $7.99 per month for the weekly New Yorker. It gets even better if you order a print subscription, which comes with a complimentary digital edition of each issue. If you find the "free" offerings that come with these services aren't enough, Amazon still has a way to keep you neck deep in magazines without breaking the bank.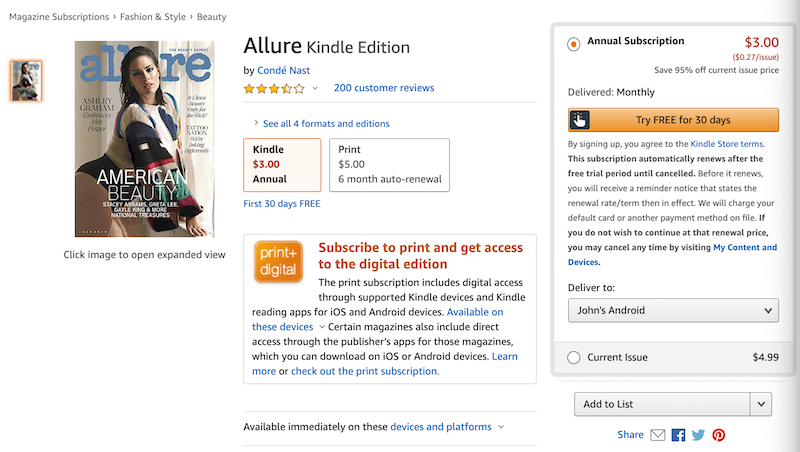 Why should I read Amazon Prime magazines?
You might be skeptical about digital magazines at first, but that will change seconds after you crack open (figuratively speaking) your first issue. Digital magazines allow you to pinch and zoom on photos, revealing details you'd miss on a printed page. You can enhance the typeset if you've forgotten your glasses. In every instance—except perhaps reading in the tub—magazines take on a great new dimension on a digital screen. Don't believe us? Try Prime Reading or Kindle Unlimited for yourself. If you already have a Prime membership, you've got nothing to lose. 
READ MORE: