It used be that entertainers relied on comeback specials, pivotal movie roles, and reality television to get a second chance at the spotlight. Now all they need is a Twitter account and something to say.
Here's a look at nine celebrities who've once more hit the limelight thanks to social media.
1) The Iron Sheik
Old feuds die hard. Fans of '80s pro wrestling may remember Iron Sheik as a villainous former WWF champion. Fans of the Internet may know him better as a wonderful, acerbic tweeter. "Sheikie baby" treats more than 160,000 followers to rants about pop culture, politicians, and more. He's always looking for someone to "humble" with his signature Camel Clutch finishing move and a chance to attack his old nemeses Ultimate Warrior and Hulk Hogan.
"gaddafi dead i am happy. fuck the hulk hogan he have no dick"
2) Betty White
White never really disappeared from the public eye, but a Facebook campaign with more than a half-million backers propelled her to a Saturday Night Live hosting gig in 2010, driving the show to its best ratings in a year and a half. She dabbled with Twitter earlier this year and took part in a live Facebook chat last month, though her social media efforts appear largely limited to basking in the glory of superstardom.
"Hey @RyanSeacrest – my new show airs tomorrow and I hear we're in the same time slot. I've always dreamed of sharing a night with you…"
3) MC Hammer
A big rap star thanks to hits like "U Can't Touch This," Hammer's was one of the earliest big names to join Twitter, signing up in May 2007. A little over five years later, he has 2.9 million followers on his fun account, and is an investor in a number of tech companies.
MC Hammer is more concerned with computers than cargo pants these days. The rapper, born  Stanley Burrell still performs on stage, though he's focused on building a deep search engine to make more sense out of all the data that's on the Web. He's clearly tech-savvy, having joined Twitter early and spent time with YouTube's founders. Hammer also used Twitter to speak out against the Stop Online Piracy Act.
4) Alyssa Milano
Like White, Milano never really faded out of the limelight. She's scarcely been away from TV and movie screens over the last 30 years. With a Web-savvy, mom-friendly approach to curating some of the most interesting information on the Web, Milano's been able to cultivate more than 2 million Twitter followers through tweets about everything from cosmetic procedures to the latest Twitter logo. She's happy to post photos of herself in award ceremony attire too.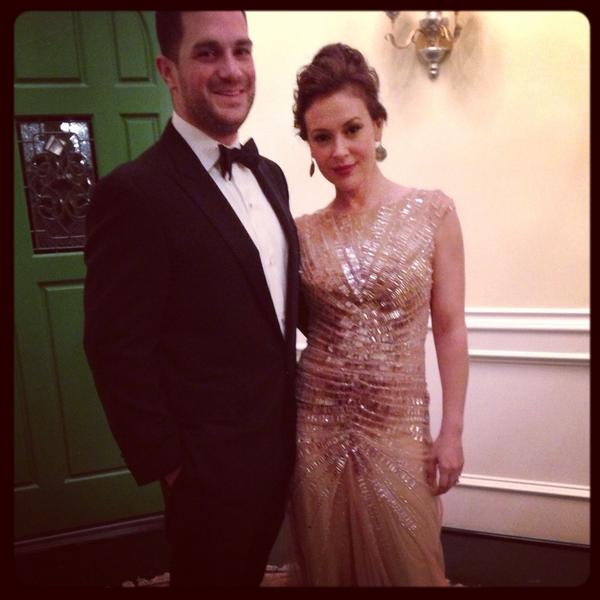 5) George Takei
The former Hikaru Sulu (Star Trek) has the Midas touch on Facebook. Everything the actor posts seems to go viral. Takei seems right at home on the Internet, regularly updating his Facebook page with amusing images, inspirational quotes, and jokes about fellow stars (like Betty White). He's also an active pinner on Pinterest. It's easy to imagine him exclaiming his signature phrase, "Oh my," as he sends posts like this to millions of fans: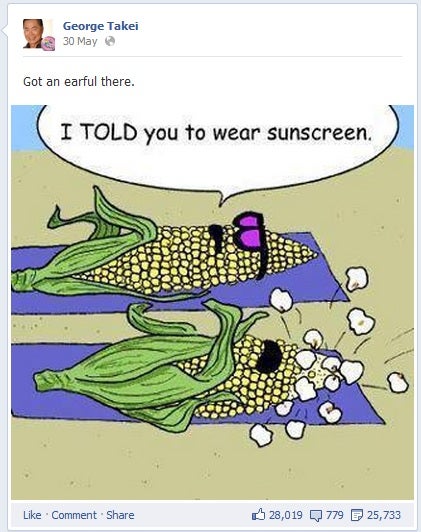 6) Jose Canseco
The former Oakland Athletics outfielder posts downright ridiculous statements on Twitter. He—or an absurdly good ghostwriter—has tweeted about becoming a vampire, offered skewed logic on the Titanic's sinking, and claimed HBO comedy Eastbound & Down is based on his life. His never-dull feed has more than 483,000 followers and had the world wondering what happened when he went quiet for a couple of days this year. Thankfully, he's back swinging for the fences.
7) James Van Der Beek
Thanks to an excellent GIF Tumblr of him reenacting various memes last year like Super Sad Sobbing" and "Deal With It," it's easy to "share your own Van Der Feelings." The former Dawson's Creek star maintains an entertaining (albeit slightly self-promotional) Twitter account and is currently playing a fictionalized version himself in sitcom Don't Trust the B—- in Apartment 23.
8) Mara Wilson
Wilson's pretty far removed from Matilda these days. She gained fame as a movie actor in her childhood before growing up and moving to the stage. She's a hilarious (though infrequent) writer too. With sparkling wit, Wilson has amassed more than 14,000 Twitter followers and 11,000 Facebook fans, thanks to posts like this one.
"The only downside I can imagine to dating Joseph Gordon-Levitt would be the times he'd announce 'Zooey's coming over!' And then you'd have to spend an evening listening to her cutesy ukulele songs about the feelings you get when you share a piece of gum with someone, or compliment her on her new dress made completely out of Perler Beads."

9) Wil Wheaton
At this point, we can pretty much denote Wheaton as the godfather of geek. The star of Stand By Me and a mainstay of Star Trek: The Next Generation in his teens, Wheaton's gained a galaxy full of fans thanks to his consistently humorous and intelligent outpourings on his blog, Twitter, Reddit, Tumblr, YouTube, and Google+. Most recently, he's become Sheldon Cooper's nemesis on The Big Bang Theory.
Photo via Mara Wilson Writes Stuff/Facebook