Nintendo has a reputation for avoiding the slightest hint of controversy in its U.S. releases. They've censored nudity, drugs, alcohol, death, and crime … but there's one crime Nintendo can't cover up. Yoshi the dinosaur, the trusted friend of Nintendo mascot Mario, has committed tax fraud. How could this dinosaur role model let everyone down?!
Yoshi's status as a tax cheat isn't official Nintendo canon, but it's become a big enough meme that it might as well be. The story of Yoshi's taxes first popped up on Tumblr circa 2016. A poster called drn-000 posted a screenshot of a YouTube video called "64 things wrong with Yoshi," followed by a list of Yoshi's faults. It just said "nothing" 64 times.
"Yoshi has committed tax fraud," joked another poster called druddigon.
"Give me proof or I will find you for accusing Yoshi of breaking the law!!!!!!!!!" responded bigtime Yoshi fan drn-000.
And here it is, the "proof" that launched a beautiful meme: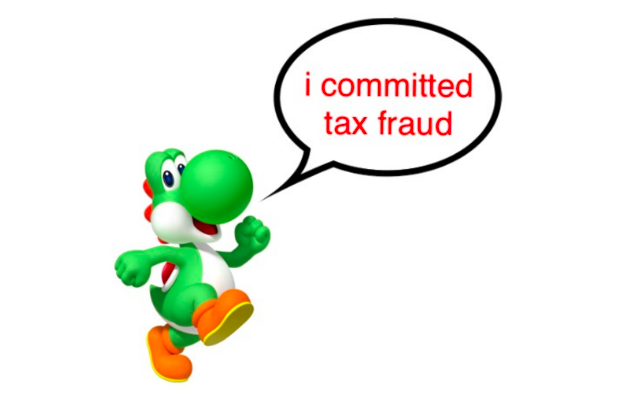 The post got some attention on Tumblr, but it didn't really become a meme until April 2018—right around Tax Day in the U.S. That's when SilvaGunner, a popular "weird YouTube" remix artist, started releasing a soundtrack for an imaginary Nintendo game called "Yoshi Commits Tax Fraud." Tracks like "Tax Break" and "Up on Mt. Money Laundering" have been played tens of thousands of times.
That seems to have sparked a meme that's still going. "Tax fraud" is just part of Yoshi's character now, and people talk about the "Yoshi Commits Tax Fraud" game as if it's a real thing. Sorry, Nintendo!
https://twitter.com/Kaleigh_Mac/status/988967364808138754
I'm kinda worried about Yoshi making it in to Smash 5. I mean… tax fraud is a pretty big deal.

— Mike-O (@LucarioOcarina) May 7, 2018
I hope Yoshi Commits Tax Fraud comes to Switch soon, am I right?

— The Nintendude's (@_Nintendude_) May 7, 2018
https://twitter.com/Iairiel/status/993314113404260352
Here are some of the most iconic Yoshi Tax Fraud images from Reddit and Twitter:
https://twitter.com/itmeirl/status/988452992570490881
— 20BC (@TheYearIs20BC) April 17, 2018
https://twitter.com/ItMeIRL/status/992442670135087105
https://twitter.com/Crashems/status/993599827882725382
The evidence is all here. Let's face it: it's only a matter of time before Yoshi is locked up for defrauding the state. At this point, Nintendo might as well release the Tax Fraud game for real, as a way of forcing the bad ethics dinosaur to perform community service.
READ MORE: