Tina Turtle, who rose to prominence on TikTok with her viral "work bae" videos, is distancing herself from the coworker she features in them.
"Idk what it is, but hearing a non-black person opinion rn IS NOT IT. Stay silent or help by donating or signing petitions bc whew y'all privileged is showing," Turtle tweeted at the end of May.
While Turtle didn't reference who she was alluding to, she mentioned her "work bae," Mitch, by name in a follow-up tweet.
"And y'all go head and cancel Mitch," she wrote.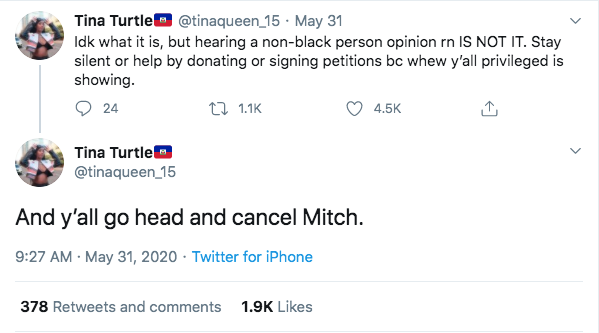 A viral tweet on Monday is highlighting the work bae drama. It features a screenshot of the video that started the work bae saga and the screenshots of Turtle's tweets. Turtle urged fans to "cancel Mitch" at the end of May, however, many are just now finding out about the rift due to @THONGSONGREMIXX's viral tweet.
"Welp," Twitter user @THONGSONGREMIXX wrote along with the screenshots.
Turtle responded to @THONGSONGREMIXX's tweet by saying she and Mitch weren't the "best of friends" in the first place and that she only knew him from work.
"I just ain't like how tweeted such a distasteful / tone-death tweet during a sensative time. And people kept tagging me. I said what I said to him and life goes on lol Face with tears of joy ain't the end of the world," she wrote.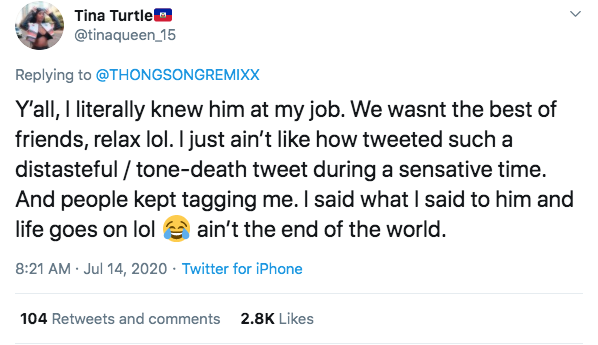 It's unclear which tweet Turtle is referencing, but some are pointing to a social media post by Mitch featuring a black cat and white dog. "These two can get along why can't the rest of us?" he captioned the image.
In a TikTok video, which was posted on the same day in May that Turtle denounced Mitch, she also alluded to him not supporting the Black Lives Matter movement.
"A lot of people are showing me their true colors. At a time like this—it's just so crazy how you look at someone differently," she says. "If you are not supporting Black Lives Matter, you are not supporting me, or anyone you know that's Black. I'm a little sad 'cause I had to cut a few people off who were deciding that they didn't want to speak on it."
In the comments section of the video, Turtle liked and responded to several users who mentioned Mitch directly.
In response to one fan, who wrote, "you MADE him sis, he's cancelled now," Turtle said that she wants to leak text messages between her and Mitch "so bad" but is refraining because she's "not petty." She said in a follow-up that he was being "ignorant" via text and refused to remove the meme in question because he "didn't want to be silenced."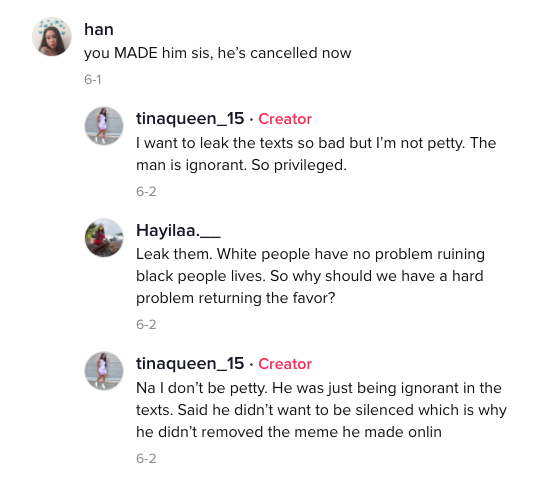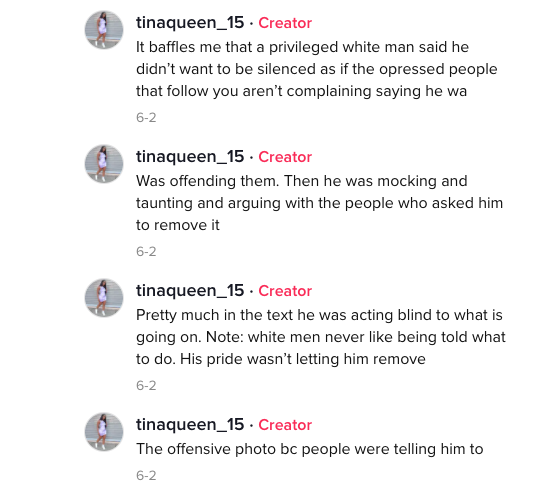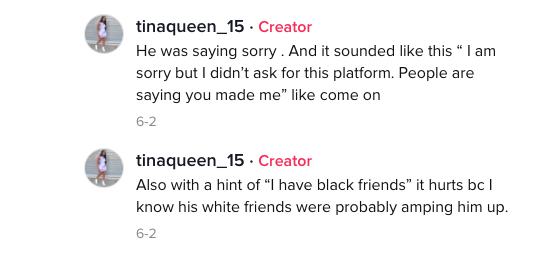 Mitch's Twitter account has since been removed.
READ MORE: