Sue Gardner, who took the nonprofit that runs Wikipedia from a tiny group working out of a shopping center in St. Petersburg, Fla., to a fundraising behemoth with nearly $50 million in assets, is stepping down as the Wikimedia Foundation's executive director.
Gardner will shift to a career in online advocacy—though not for at least another six months, which is how long she estimates the foundation will need to find a replacement. The specifics of her post-Wikimedia plans are still murky, but in an email sent to the foundation's public listserv Wednesday night, Gardner suggested she may launch an Internet freedom nonprofit, join an existing group, or write a book.
It is not an entirely surprising career move.
In January 2012, Gardner led the once staunchly apolitical and neutral Wikipedia in its first political act, a blackout in protest of the Stop Online Piracy Act. Proponents said the Hollywood-backed protection legislation  would help end piracy and protect copyright holders. But opponents like Gardner warned the bill would compromise the structural backbone of the entire Internet. Wikipedia's protest drew major headlines and helped foment a groundswell of anti-SOPA public opinion online. The bill died before reaching the House in January, 2012, but activists worry it was just the beginning of an onslaught of corporate-backed measures intended to dampen on Internet freedom .
"I feel an increasing sense of urgency around this," Gardner wrote in her letter. She added that she was leaving the foundation in a "a strong place."  In terms of the site's fiscal health, and its traffic, she's absolutely right.
After Gardner took over at Wikimedia's helm in December, 2007, the foundation saw a more than tenfold increase in assets, from $3.5 million to nearly $50 million at the end of last year. Meanwhile, she moved the foundation's offices from a cramped room in that Florida shopping center to a downtown San Francisco office building. Staff increased from a skeleton crew of ten to more than 160 in 2012. Only five sites in the world receive more visitors than Wikipedia.
Gardner made it her personal mission to fix some of Wikipedia's biggest problems, including its glaring gender imbalance and dated, clunky editing software that creates a high barrier of entry for new users.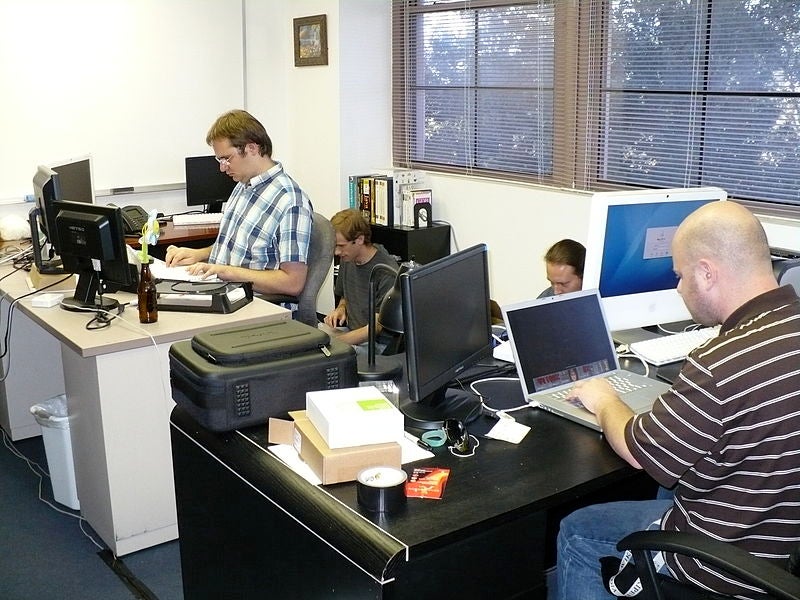 The state of the Wikimedia's offices around the time Sue Gardner joined as executive director.
Photo by Florence Devouard/Wikimedia Commons
"When we hired Sue, we knew it was for a tremendous task, one that we could hardly have asked of anyone, especially at the stage in our history while we were small and struggling," Kat Walsh, Wikimedia's current chair of the board, wrote in an email to the same listserv. "We had no idea how lucky we were to connect with her, someone who had the unusual mix of skills needed to take us from where we were as an organization to where we are now."
Underneath Wikimedia's massively successful surface, all is not calm, however.
Gardner's efforts to start a conversation on women in Wikipedia are laudable, but as she leaves the problem is nowhere close to being solved. Only fifteen percent of Wikipedia's editors are women. The largest encyclopedia in the world, which anyone can edit, still has a debilitating gender bias.
Though Wikipedia is finally running tests of a more modern, visual editor, the implementation process has been glacially slow, having already lasted more than two years. And the site's editors—the volunteers who fix errors, check sources, and battle vandalism—are trickling away in a slow exodus. The encyclopedia's most rewarding work has already been done. There is a Wikipedia article for almost anything of import you can imagine. The encyclopedia is finally nearing completion. What work remains is often janitorial: Fixing errors and protecting articles from vandals.
Gardner took over Wikimedia at a crucial moment in its history. She's leaving at an equally important crossroads. Whoever fills her very big shoes will have to steward the encyclopedia past its biggest challenge yet: Its own success.
Photo  by Victoria Will/Wikimedia Commons