Only 4,000 people signed it, making "America's" petition to make today a national holiday in honor of the high noon (Eastern Time) showdown between the United States and Germany a massive failure, but you've got to admire the anonymous individuals who created it. That's a fightin' spirit they've got. That's an American spirit they've got. And by golly, here's hoping these American futbollers take heed when they tango with the Germans in Recife, Brazil, in just a few hours.
The actual literature, posted to the White House's We the People website Monday, notes how "Americans all over this great country won't get to the see [the] game, won't get to enjoy the fraternity of their fellow citizens, because it is scheduled during the middle of the day."
"We'll be sneaking out for long lunches, refreshing browsers, calling in sick," it writes.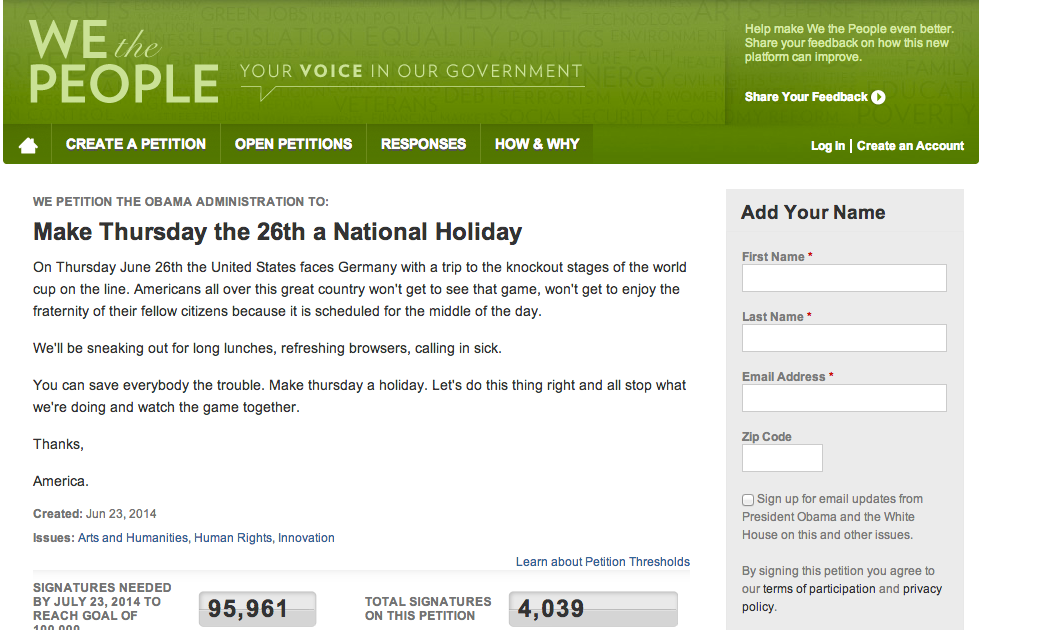 "America" claims "Obama" can "save everybody the trouble" by making Thursday a national holiday. "Let's do this thing right and stop what we're doing and watch the game together."
Right? Right?! Eh, maybe. With kickoff scheduled for T-minus three hours from now, and, more importantly, with most work days on the East Coast beginning presently, the petition still needs 95,900 signatures before the Obama Administration's required to address it in any form. 
In any event, go USA. We'll be watching you make us proud from our office chairs.
Photo via MaskedPatriot1/Facebook