A popular Tumblr-based GIF artist and editor has been forced by the company to change the name of his blog for violating its trademark guidelines.
Despite running his blog under the name Gnumblr for more than 10 months with no interference, 19-year-old GIF artist Slater received a cease-and-desist letter Monday from the email address [email protected].
That email address, as well as the URL tumblrenforcement.com, are registered to Tumblr Inc., and apparently used to enforce its community and brand guidelines.
"Don't use other trademarks, service marks, designs, trade dress or logos that might be confusingly similar to the Tumblr Marks or the look and feel of Tumblr's services," Tumblr states on its Trademark Guidelines page. "For example, using three-or-more-letter aspects of the word "Tumblr" as the name of your product or service may be confusing to some users, like 'Rumblr' or 'Tumbroll.'"
Slater has since renamed his blog to nuggetlandslide, removed months worth of content, and deleted about 500 followers. Slater described these changes in a Tumblr post he has since deleted. The following image is what Gnumblr looked like before Slater changed it.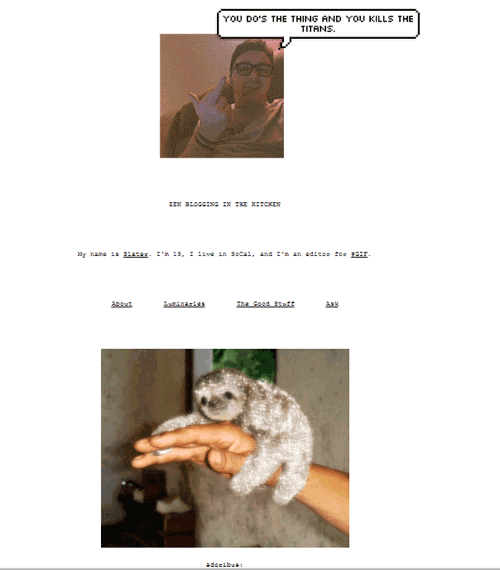 While Tumblr was certainly justified in sending Slater the notification, the timing of it implies that Yahoo is meddling with Tumblr more than it's letting on.
Since Tumblr was purchased by Yahoo in May for $1.1 billion, the company has given paid advertisers more visibility on the site. Last month, Tumblr also controversially censored more than 29 NSFW-friendly tags from its mobile app, a move that ultimately forced founder David Karp to weigh in.  
After Yahoo inked its blockbuster deal, CEO Marissa Mayer promised to not "screw up" Tumblr and to let the company operate independently.
Illustration by Jason Reed