Over the past couple of years, Netflix's ubiquity hasn't been tied to prestige dramas. Now, it's all about the streamer's original reality programming. In 2020, shows like The Circle, Too Hot to Handle, and Love Is Blind took audiences out of their mandated lockdown and into another type of lockdown—the quest to find fame or love, the two pillars of reality television. Since then, Netflix's reality TV has expanded over seasons, international versions, and a myriad of spin-offs. Its most recent, The Ultimatum: Queer Love, which came out at the end of May, took the premise of the original—in which couples come onto the show to test their relationship for marriage by having a trial marriage with one-half of the other couples on the show—but just queered it. Aside from satiating many of the beats of Netflix's other shows, it also shows the need for more queer reality TV. (May I recommend the queer season of Are You the One?)
The DNA of all these shows call back to reality TV of yore, much of which is still on, like The Bachelor, The Bachelorette, and Bachelor in Paradise. But there's one OG reality program that doesn't get enough credit for its impact on current reality television shows—Fox's Temptation Island.
Back in the early 2000s, Fox had absolutely batshit reality programming—much of it which would be unairable today. Like plastic surgery nightmare The Swan and gold-digging nightmare Joe Millionaire. But Temptation Island, despite still receiving controversy over its premise at first, had a format that seemed to click. Several couples, in order to test their relationship, decide to live with a group of singles of the opposite sex to see if they can "resist temptation." Its first episode, which aired in January 2001, had 16 million viewers. While it only lasted three seasons on Fox from 2001-03, it spawned international versions over the years. In 2019, USA Network revived the show and tweaked the format.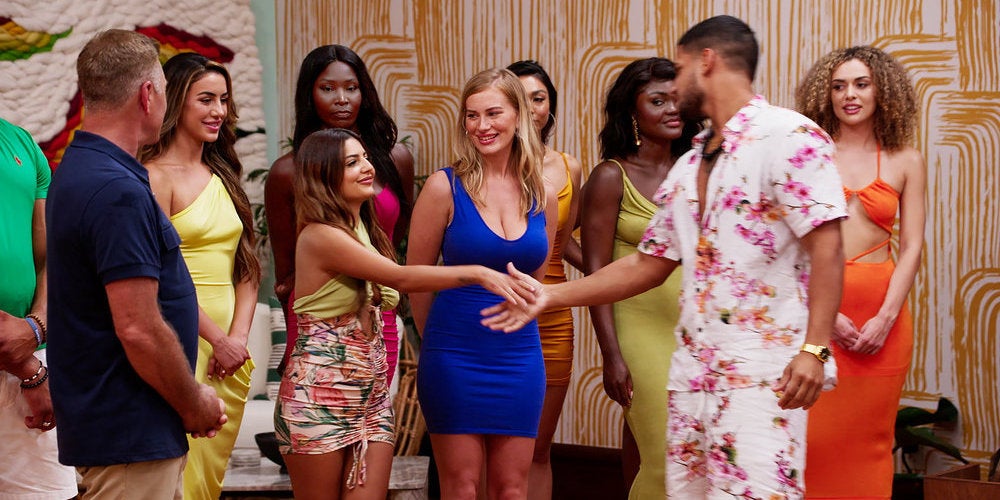 Watching the 2001 version, not a ton has changed. Once the couples go to their respective islands, they are constantly tempted by sexy suitors and have wild parties. They also meet with longtime host Mark L. Walberg, a pillar of wisdom, during bonfires where they can see video of what their partners are doing. Contestants send video messages to their partners while they are separated.
Aside from the obvious aesthetic differences between 2001 and 2023 like thin eyebrows, white women with box braids, bad camera angles, and much more misogynistic attitudes, the main changes to the modern Temptation Island format have allowed it to grow with current attitudes about sex and dating. Gone is the ability to block a partner from seeing someone they seem to have a connection with, as is voting off singles with an "island inspired" necklace that veers into cultural appropriation. Now they just vote them off, usually with kindness, unless that person has proven to be a nightmare.
Temptation Island has now run for 5 seasons since 2019 on USA. The first episode of the 5th season kicked off on June 14. And with the Ultimatum recently wrapping up its latest season, Temptation Island is the show that should be next on any reality fanatic's list because it created many of the ingredients that can make a great show. 
Every reality show needs an anchor. I'm personally not sure if Nick Lachey is that for me, but Mark L. Walberg has managed for two decades to deftly manage chaotic personalities and even more chaotic pairings. He also gives actually sound-seeming advice to people who have decided to go on television to sort out their problems. Even though Walberg creates a grounded center for the show, it never lacks drama or unexpectedly hilarious moments that one craves from reality TV. Previous seasons have included suitors serenading the coupled women (who embarrassingly swoon) with an acoustic guitar and a threesome on the first night. This new season delivers with a coupled man describing himself as a "respectable whore" and another coupled man revealing that his girlfriend is bisexual—which paves the way for a heated argument between the two. (He's in the wrong here, obviously.)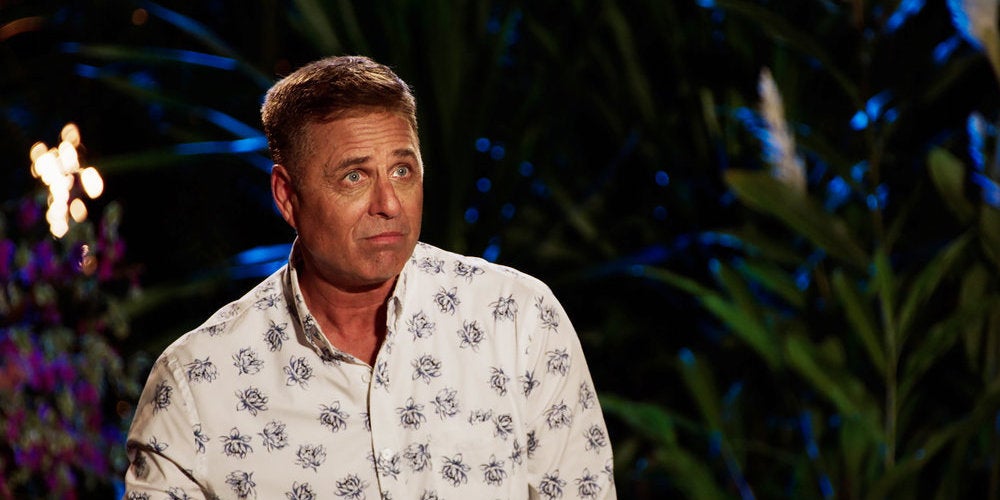 Watching Temptation Island makes it clear that it's a show way ahead of its time—given how much of the show's roots can be seen in so many other reality shows. But it still manages to have tricks up its sleeve to continue to evolve and compete in the now cluttered reality TV scape. This season gives extra time to understand the dynamics of the relationships coming into the show and why they've reached the point where they need to be tempted by 24-year-old medical assistants to reconsider their relationships. It's a silly saying to put into writing, but you can teach old dogs new tricks. Temptation Island is now learning from its younger generation of shows to add elements that will further the drama.
For the first time, the couples mingle at a party with all the singles instead of immediately going to their separate islands. Now, as they continue their journeys, they will have an idea of exactly who their partner might be canoodling with. And speaking of getting under the metaphorical covers, the horny light from Too Hot to Handle, which let contestants know who was fooling around and chipping away from their shared sum of money, makes a new and likely pot-stirring debut on Temptation Island. This amazing technology (which is likely just a lamp from IKEA) is placed in both homes and when it lights up, there's something sexy happening in the opposite home.
For a show that's long been a cult reality TV favorite, created much of the tropes of current reality TV, and seamlessly resurrected itself to fit into the modern reality TV space, it's a travesty that its praises haven't been sung wider. But Temptation Island's next-day availability next day availability on Peacock now should hopefully rectify this legendary piece of reality television legacy.


We crawl the web so you don't have to.
Sign up for the Daily Dot newsletter to get the best and worst of the internet in your inbox every day.