2017 was an awful year by nearly all measures, a depressing assembly line of misery that produced one damn atrocity after another. Despite being battered by natural disasters and mass shootings, courageous Americans did muster the will to out dozens of powerful and sexually predatory men. Through it all, Americans tried to make sense of it the only way they know how: by Googling it.
To create this map of 2017 Google searches, we compiled a list of the biggest news stories, lists of people who drew our attention, celebrities who passed away, as well as the issues, trends, and events that made Americans pause. Then we ran them all through Google Trends to find out which states searched for these things more frequently than any other state.
We learned Hawaiians were busy researching Bitcoin and keeping an eye out for North Korean nukes; Minnesotans investigated their locally produced creeps; Georgians learned the truth about Usher's cold sores; and through all the noise, Mississippi still found the time to learn how to make slime.
It was a hell of a year, and one we'd probably like to soon forget. Perhaps we can take a lesson from New Jersey, which has been Googling "2018" more than any other state.
Below, you'll find the things each state searched for more frequently than any other state in 2017.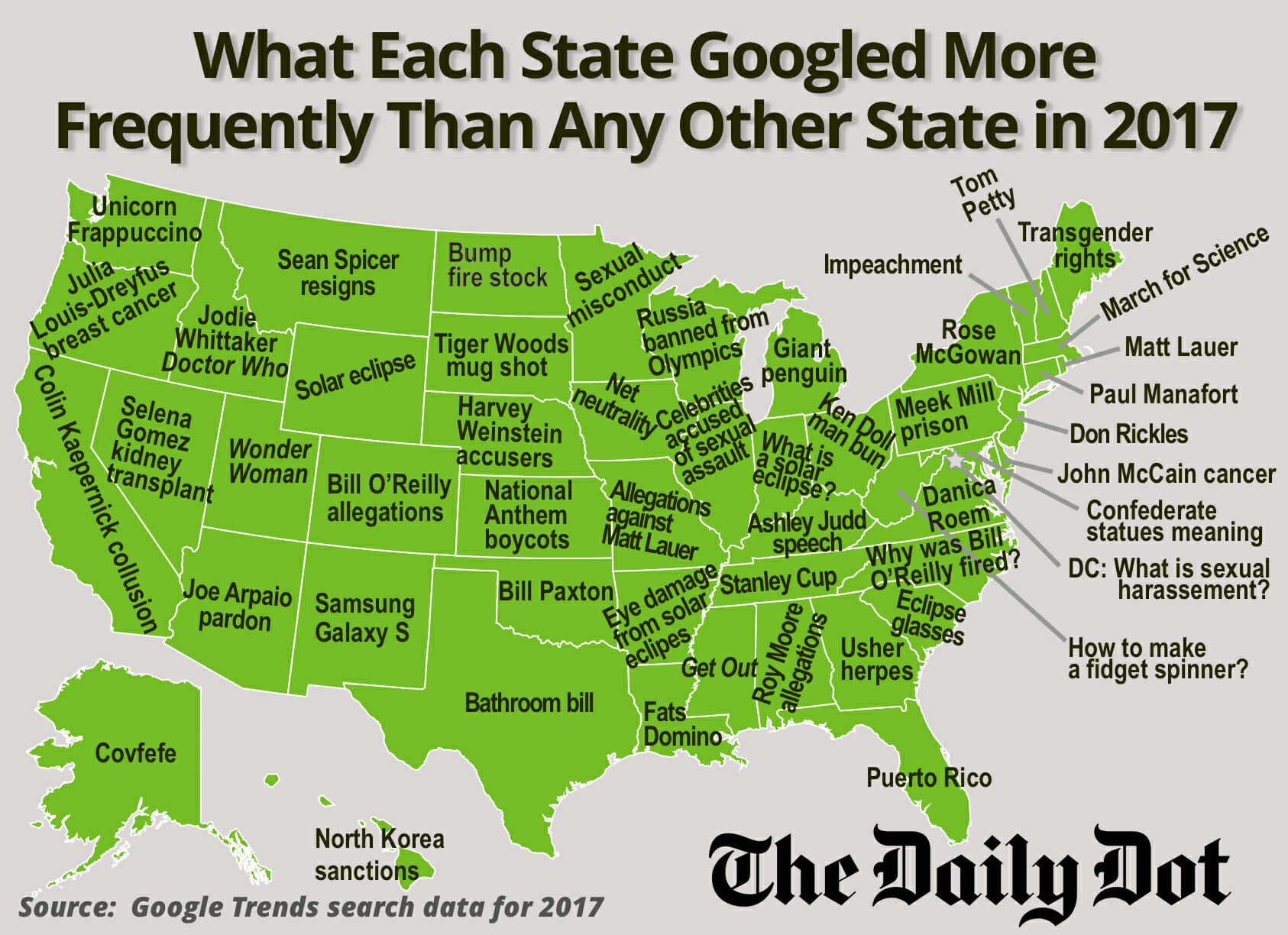 ALABAMA: eclipse glasses WalMart / Della Reese (actress/singer who passed in 2017) / Roy Moore allegations / Niger soldiers killed
ALASKA: cryptocurrency / United Airlines meme / Lady Gaga Super Bowl / What is a dotard? / John Hurt (actor who passed in 2017) / Rick and Morty (TV series) Trump fires Comey / Paris Climate Accord / tax reform bill / USS Fitzgerald collision / covfefe / Susan Sarandon (actress)
ARIZONA: Chester Bennington (singer-songwriter) / Joe Arpaio pardon / Lil Peep (rapper who passed in 2017) / Alyssa Milano me too
ARKANSAS: eye damage from solar eclipse / what in tarnation meme / Glenn Campbell (country singer who passed in 2017)
CALIFORNIA: iPhone X / Flynn pardon / UC Berkeley protests / Lil Pump (hip-hop artist) / Best Picture 2018 / DACA (Deferred Action for Childhood Arrivals) / Trump DACA / Brad Bufanda (actor who passed in 2017) / Ed Westwick allegations / Brett Ratner allegations / John Conyers allegations / Colin Kaepernick collusion / Wilbur Ross Paradise Papers / John Lasseter allegations
COLORADO: Tour de France / Michael Flynn guilty / Bill O'Reilly allegations / How can I help Puerto Rico
CONNECTICUT: Aaron Boone (MLB manager) / Muslim ban countries list / Puerto Rico news / Puerto Rico electricity / opioid addiction / Paul Manafort
DELAWARE: elf on the shelf meme / Mariah Carey (singer) / Roy Halladay (former MLB pitcher who passed in 2017) / Warren Beatty Oscars 2017 / Cosby trial / John McCain cancer
DISTRICT OF COLUMBIA: / Lupita Nyong'o (actress) / Asia Argento (actress) / Cosby trial verdict / What is sexual harassment? / Anthony Scaramucci (short-lived White House communications director) / DC shooting 2017 / Uber sexual harassment
FLORIDA: Hurricane Irma / James Comey (former FBI director) / Chelsea Manning (soldier, analyst) / Venezuela coup / Venezuela travel ban / Hurricane Maria / Puerto Rico /
GEORGIA: Georgia special election / Gregg Allman (singer-songwriter who passed in 2017) / Usher herpes / wiretapping Trump Tower
HAWAII: Bitcoin / How to buy Bitcoin / Matt Lauer accuser / North Korea / Gal Gadot (actress) / Iron Fist (web TV series) / Tabata workout / complicit ((Merriam-Webster's #2 Word of the Year for 2017) George and Amal Clooney Twins / Rob Kardashian revenge porn / North Korea sanctions / Uber hack
IDAHO: Jodie Whittaker Doctor Who
ILLINOIS: calories in a Unicorn Frappuccino / celebrities accused of sexual assault / NHL champions / Keystone Pipeline leak 2017 / Chicago murder rate / Danny Masterson rape allegations
INDIANA: Paul George (NBA player) / What is a solar eclipse? / Erin Moran (actress who passed in 2017) / St. Petersburg subway blast / Navy Seal killed in Yemen raid / Blake Shelton Sexiest Man Alive
IOWA: net neutrality / Keurig boycott
KANSAS: Samsung Galaxy S6 / National Anthem protests / How many mass shootings in 2017 / Louis CK allegations
KENTUCKY: How to watch Mayweather vs McGregor free / Harry Dean Stanton (actor who passed in 2017) / Ashley Judd / Ashley Judd speech
LOUISIANA: Robert Guillaume (actor who passed in 2017) / Fats Domino (musician who passed in 2017) / Al Sharpton selfie
MAINE: monkey selfie / Sam Shepard (playwright who passed in 2017) / Martin Landau (actor who passed in 2017) / Charlie Rose allegations / Blake Farenthold pajamas / #MeToo / me too / Mueller investigation / transgender rights / Michael Flynn immunity
MARYLAND: Meghan Markle (actress engaged to Prince Harry) / Nadia Toffa (Italian TV presenter) / Kaia Gerber selfie / recuse (Merriam-Webster's #3 Word of the Year for 2017) / Mugabe resigns / Russell Simmons allegations / Jeremy Piven allegations / Danica Roem band / Trump inauguration crowd size / Usain Bolt last race / Confederate statues meaning / Time's Person of the Year
MASSACHUSETTS: March for Science / Ariana Grande (singer) / Ed Sheeran (singer-songwriter) / Boston free speech rally / Joyner Lucas (hip-hop artist) / Ben Affleck rehab / Mario Batali sexual harassment / Super Bowl champs / Kushner investigation / South Sudan famine / transgender bathroom law / Grenfell Tower fire / Yemen famine
MICHIGAN: symptoms of eye damage from eclipse / Did North Korea launch a missile today? / Giuliani Muslim ban / human trafficking / giant penguin (prehistoric penguin bones as tall as a human discovered in New Zealand)
MINNESOTA: Mary Tyler Moore (actress who passed in 2017) / sexual misconduct / Al Franken allegations / Leeann Tweeden Al Franken / Garrison Keillor allegations
MISSISSIPPI: How to make slime? / Cardi B (hip-hop artist) / Get Out (2017 film) / Janet Jackson baby / Donald Trump LaVar Ball / Nelly arrested
MISSOURI: St. Louis protests / Jeremy Piven allegations
MONTANA: Lady Gaga (singer-songwriter) / Russia investigation / wildfire / Sean Spicer resigns
NEBRASKA: Harvey Weinstein accusers
NEVADA: iPhone 8 / Las Vegas shooting / Mayweather vs McGregor fight / Linkin Park (band) / Floyd Mayweather Jr. / dotard (Merriam-Webster's #5 Word of the Year for 2017) / Ralphie May (comedian who passed in 2017) / Jerry Lewis (comedic actor who passed in 2017) / Adam West (actor who passed in 2017) / Selena Gomez kidney transplant / Kylie Jenner pregnant / United passenger dragged off plane / Colin Kaepernick
NEW HAMPSHIRE: Matt Lauer allegations / Sally Yates fired / How to make solar eclipse glasses / Tom Petty (musician who passed in 2017) / SpongeBob mocking meme / Malcolm Young (AC/DC guitarist who passed in 2017) / Roy Dotrice (actor who passed in 2017) / Kevin Spacey allegations / opioid crisis / Paradise Papers / Presidential pardon
NEW JERSEY: Iota (cryptocurrency) / 13 Reasons Why (TV series) / Frank Vincent (actor who passed in 2017) / John Heard (actor who passed in 2017) / Qatar blockade / #MeToo movement / Don Rickles (comedian who passed in 2017) / Dustin Hoffman allegations / Kurdish referendum results / Manafort indictment
NEW MEXICO: Samsung Galaxy S*
NEW YORK: Harvey Weinstein (American film producer/sexual misconduct) / German federal election / Rose McGowan (actress) / Jeffrey Tambor allegations / obstruction of justice Trump / Rebel Wilson defamation / Iranian presidential election / Martin Shkreli jailed / Anthony Weiner sentenced / French election / Emmanuel Macron (French president) / Presidential pardon limits
NORTH CAROLINA: Why was Bill O'Reilly fired?
NORTH DAKOTA: immunity / bump fire stock (gun attachment used by Las Vegas shooter) / Xbox One X (video game console) / What is DACA? / syzygy (Merriam-Webster's #6 Word of the Year for 2017) / Glenne Headly (actress who passed in 2017) / Judge Joseph Wapner (Judge on The People's Court who passed in 2017) / Slobodan Praljak (war criminal who poisoned himself in courtroom) / Equifax hack
OHIO: Trump travel ban blocked / Otto Warmbier / Ken Doll man bun / U bum (LeBron James tweet about Trump)
OKLAHOMA: Bill Paxton (actor) / Hugh Hefner (Playboy publisher) / Nia Jax selfie / Patty Jenkins (director) / Serena Williams baby pics
OREGON: Olivia Newton-John cancer / Harvey Weinstein allegations / Julia Louis Dreyfus breast cancer
PENNSYLVANIA: This Is Us (TV series) / Meek Mill prison / What are Beyonce twins names? / Mario Batali allegations / Trump transgender military ban / Putin Trump handshake
RHODE ISLAND: Matt Lauer (TV host/sexual misconduct) / / Aaron Hernandez (deceased NFL player) / TRX workout / Chuck Low (actor who passed in 2017) / Prodigy dies (rapper who passed in 2017) / Pepsi Kendall Jenner ad / Where is Richard Simmons? (fitness instructor)
SOUTH CAROLINA: eclipse glasses / bungee workout / R. Kelly Buzzfeed / Who is George Papadopoulos
SOUTH DAKOTA: Where is Guam on the map? / Mariah Carey New Years performance / What is net neutrality? / Christopher "Big Black" Boykin (reality TV star who passed in 2017) / Katch Griffin Donald Trump photo / Tiger Woods mugshot / Amazon buys Whole Foods / Oumuamua (interstellar asteroid being investigated for signs of alien technology)
TENNESSEE: Where to buy solar eclipse glasses? / Gal Gadot "Wonder Woman" salary / Aaron Carter mugshot / Obamacare skinny repeal / Stanley Cup / white supremacist rally
TEXAS: World Series / Hurricane Harvey / Who are the Rohingya? / bathroom bill
UTAH: Nintendo Switch (video game console) / Wonder Woman (2017 film) / Beauty and the Beast (2017 film) / Justice League (2017 film) / Stranger Things (web TV series) / Gordon Hayward injury video (NBA player) / Riverdale (TV series) / Star Wars: The Last Jedi (2017 film) / Taylor Swift (singer-songwriter) /
VERMONT: impeachment / Louis C.K. (comedian/sexual misconduct) / cash me outside meme / Michael Flynn (former national security adviser) / feminism (Merriam-Webster's #1 Word of the Year for 2017) / empathy (Merriam-Webster's #4 Word of the Year for 2017) / June Foray (voice actor who passed in 2017) / women's rights / Trump speech Boy Scouts / UK election
VIRGINIA: Charlottesville protests / independence vote Catalonia / George Foreman Steven Seagal (Foreman challenged Seagal to a fight) / Danica Roem (Virginia politician)
WASHINGTON: Chris Cornell (musician) / Unicorn Frappuccino / Chris Pratt Anna Faris divorce / Shohei Otani (Japanese baseball player) / Westminster Bridge attack / Daniel-Day Lewis retires / Trump approval rating / white supremacy / Mogadishu blast / Vault 7 WikiLeaks
WEST VIRGINIA: Bill Skarsgård (Swedish actor) / How to make a fidget spinner / Jason Aldean (singer-songwriter) / eclipse selfie / What is ANTIFA? / Jennifer Garner divorce / Quebec mosque attack / Bill O'Reilly fired / Confederate statues
WISCONSIN: Tony Romo announcer (former NFL QB turned announcer) / Russia banned from Olympics 2018 / Randy Bryce
WYOMING: solar eclipse / Meryl Streep (actress) / ANTIFA / anti-fascism (political ideology) / Murphy CrossFit workout / coup in Turkey / Alyssa Milano (actress) / Otto Warmbier coma / Yemen raid