Earlier this month, 20-year-old Shane Missler of Port Richey, Florida, won the fourth-largest Mega Millions jackpot of all time: $451 million dollars. Missler opted to take the lump sum, which, after taxes, amounts to $211,406,249.25.
Then this appeared on Twitter: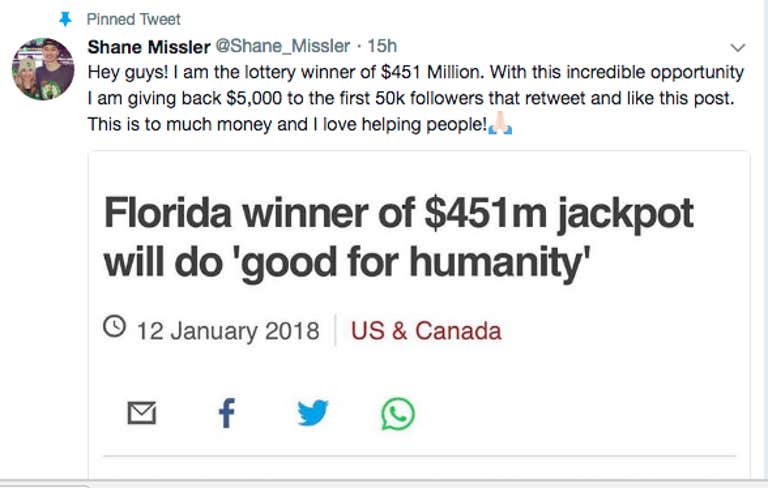 As you might have guessed, the account, which features a picture lifted from the real Missler's Facebook page, is fake, and the tweet is a scam. One clear giveaway: The account was created in the last 24 hours. The account was also deleted while this article was being written, so that's another fairly damning piece of evidence.
The real winner noted on both his Twitter and Facebook accounts that he knew people were stealing his identity.
Again, thank you all for tuning in. This journey has only just begun, mark my words. Unfortunately many fake accounts have already circulated. My only active and real accounts are Instagram and Twitter both @TheShaneMissler 🙏🏻 💯 #GratefulBeyondWords

— Shane Missler (@TheShaneMissler) January 13, 2018
But that didn't stop people from doing the fake Missler's bidding. Before the account was deleted (whether by Twitter or its creator, we don't yet know), he had over 32,000 followers, and the tweet was quickly approaching the 50,000-retweet mark.
He even threw in a retweet as "evidence" of his generosity.
MY DUDE @Shane_MissIer pic.twitter.com/2z6f2aBBWS

— Christopher (@KnightmareSR_) January 16, 2018
Interestingly, this guy allegedly received his money before the goal had been reached and, in fact, before the initial tweet offering the money had even been posted.
For the most part, people were skeptical, but many found it hard to resist the chance that a few simple clicks could get them $5,000. It's also odd because it's not clear what the fake Missler was hoping to gain, other than a bunch of Twitter followers. Possibly he was hoping to somehow gain access to to people's Paypal, Venmo, or bank accounts. Maybe he just wanted a few moments of viral fame. Maybe he's among the huge number of people on the internet who don't know the difference between a "prank" and a lie.
While there's no free $5,000, there is a least a bit of entertainment to be had from the story. The Tampa Bay Times did uncover one of Missler's Facebook post from 10 months ago. It shows the young man posing next to a statue of wrestling legend Hulk Hogan. Missler is striking a pose but it also kind of looks like he's gesturing towards the name of a store in the background. A store called "Filthy Rich."