Posterous, the blogging platform that was once hyped as Tumblr's biggest competitor, is shutting down on April 30, but it's not too late to save all your posts. 
Eleven months after Posterous was acquired by Twitter, its CEO Sachin Agarwal revealed it was closing its doors so the team could work on its parent company's services. Posterous gained popularity as an easy way to blog; you could post simply by sending an email. The last time Posterous made its stats public, back in 2011, it had more than 12 million users.
When Posterous closes, posts will no longer be visible or editable. It's more than just text posts that will disappear. Photos will vaporize. Videos will vanish. Podcasts will dissipate.
Unless you act quickly, the only way to view your posts will be via Archive Team, a group of volunteers racing to archive all public Posterous posts. Assuming, that is, that volunteers will be able to grab all the data in time.
Thankfully, you can raid your own blogs (or "spaces" as Posterous started calling them) to take your posts to WordPress, Squarespace, Tumblr, or Blogger.
Depending on which platform you're moving to, you may need to grab a backup of your posts (which is a good idea no matter the method you're using). Go to the Backup page after you've logged into Posterous and hit the Request Backup button. You'll get an email once a .ZIP file of your backup is ready to download. The .XML file in the zipped archive is what you'll need.
Moving to Tumblr
Importing your Posterous account to your Tumblr is easy. A service called Justmigrate will take care of it.
After you've input your Posterous URL and email address, Justmigrate will ask if you want to allow it to access your Tumblr account. It will then ask you which of your Tumblr blogs you'd like to export your posts to. If you have fewer than 50, you'll be able to switch for free, otherwise, you might need to shell out for the privilege.
That said, if you have more than a couple hundred posts on your account, you might lose the remainder. A note appended to the bottom of the Justmigrate homepage reads:
Because of Tumblr's daily api limits we move only 60-70 posts per day. If you feel your migration has stopped since 2 days please contact support immediately. Also do remember to turn off "Post to twitter" option in Tumblr before you start migration.
One more thing: make sure you disable Tumblr from autoposting to Twitter whenever you add a new post there. Don't spam your Twitter followers with dozens of tweets. Don't make the same mistake I did.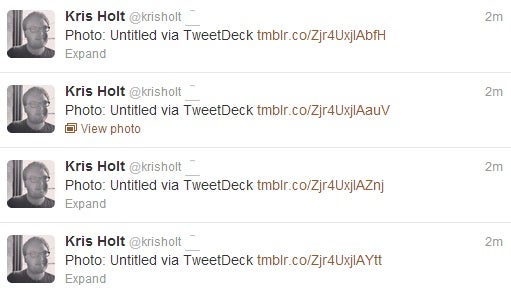 Moving to WordPress
If you're moving your blog to WordPress.com, there's a tool that will import your posts, comments and categories from your backup file. You'll need to set up which people have access to the blog manually, and move over any pages you might have yourself by copying and pasting the contents.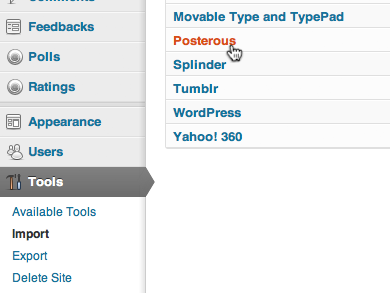 Screenshot via WordPress
If you're hosting a WordPress blog elsewhere, there's a plugin that should care of the process for you without having to download the .ZIP file.
Moving Anywhere Else
Website building service Squarespace has an importer tool as well. It's as easy as entering your Posterous credentials.
Blogger has a tool similar to the WordPress one for importing from .XML files.
Moving to Typepad is a little more complex, as you can't import using a standard .XML file. If you're set on using that platform, perhaps the easiest way to shift your Posterous blabbings is to import your .XML file into a temporary WordPress.com blog. Then, export the content using Typepad's import tool.
However, if you're using LiveJournal or Jux, there's no easy way to shift your posts over.
There you have it. You can take care of moving day yourself. Sure beats paying a couple of burly guys way too much to drop your things on the way to the moving truck.
Illustration by Jason Reed