Most fashion writing is about judging people, whether you're analyzing the quality of the designs in a runway show or who wore them best on the red carpet. Even street style blogging—the Internet's most successful contribution to the fashion world—involves determining who looks cool enough to be awarded a place on The Sartorialist or Street Peeper.
Fashion by He, however, takes it one step further. Billed as the "#1 fashion blog from a guy's point of view," the blog is written by an anonymous photographer named He with a biblical capital H. With impressive self-confidence, he proclaims himself: 
The King of Fashion—He will be going through life commenting on fashion as He sees it. He comes here with no formal training in the matter, but He still does not think that makes him unqualified for the position.
A clueless straight guy writing about fashion is, potentially, an entertaining idea. Plenty of fashion trends are ripe for lampooning and could be hilarious when written about from an outsider's perspective. Sadly, Fashion by He doesn't really do much fashion blogging at all. It's women's bodies, not their outfits, that are picked apart.
While Fashion by He markets itself as a street style blog, it's more like hotornot.com, subjecting women on the street to unwitting games of f**k/marry/kill. ("Not quite yet in tight body shape," He notes about Girl No. 1.) In a "Who Wore It Best" post, He compares the skirt length and shoe height of three women: "Goes for guys with money, loves the attention. … Goes for guys with money, also loves the attention, is the hot girl so gets a lot of it. … great ass, good legs."
And then there are the women who aren't "He Approved." A number of posts are tagged with "bad bad bad," where women in perfectly normal outfits like leggings and minidresses are criticized for leaving the pricetag on the sole of their shoe, or having a FUPA ("fat upper pubic area," via urbandictionary.com), or wearing jeans that look like "vomit," or getting a tuft of fabric stucking on their pants ("Something is growing between her legs… (puke)"), or not having perky breasts, or showing scrapes on their legs.
Fashion by He has more in common with Reddit's "creepshots," a forum devoted to candid sexualized photography. It was banned after underage images were uploaded without consent and reported. Soon after, the creepshots reboots came pouring in; one even disguised itself as a fashion police blog.
Unlike most street style sites, where the amateur models are posed casually but in obvious view of the photographer, most of the women on Fashion by He seem unaware that their photos are being posted online. "Girls who stop and wait for cabs really make He's life so much easier," He writes in a recent post, adding, "P.S. He sees your big fine booty."
Or this post, titled "Shorts Are Not Meant to Be Worn by Everyone":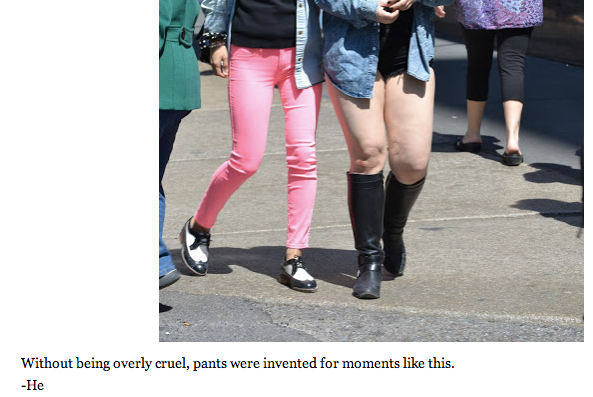 I was surprised to find that Fashion by He seems to have quite a few female readers. In among posts mocking women for looking "chunky" or wearing flat shoes, He interviews "HottHes" and hosts giveaway contests on behalf of his advertisers. On top of that, his Facebook page has more than 4,500 likes, and He runs spinoff blogs with titles like "No Bra Revolution." The revolution, of course, wants you only if you're young and thin, with a "nice rack."
Fashion by He's popularity makes sense. Many mainstream women's magazines thrive on body-shaming and "Who Wore It Best" contests, but usually, it's only celebrity bodies being judged by the general public. Blogs like Perez Hilton have normalized the practice of drawing MS Paint circles around Madonna's cellulite or Ke$ha's stray eyebrow hairs. 
It's alarming when everyday women are subjected to the same treatment. But this may simply be the next step in fashion blogging: amateur paparazzi, unsuspecting models, and overt body-shaming, undiluted by positive headlines, bright colors, and glossy tabloid pages.
Photo via Fashion by He/Tumblr