Graphic designer Courtney Andujar is New York's preeminent pug paparazzo. 
Only instead of capturing the short wrinkly pooches exploring the concrete jungle with a camera, Andujar uses a sketchpad and pencil.
Andujar is the creator of the Tumblr blog Every Pug in New York, which features beautifully simple comics of pugs buying booze with their owner, grinning outside of a pet store, and licking Andujar's leg. 
Each comic features a cute sketch of the dog and a witty description of either what it's doing or potentially thinking. It's been two years since Andujar posted a comic but thanks to a pile of nachos, that changed one week ago.
"I recently started making illustrated nacho reviews for a friend's website, so I've been carrying a sketchbook around with me," Andujar told the Daily Dot. "Last week, I stopped by Brooklyn Bridge Park on my way home from work. I was on a bench reading a book when I heard a jingling noise, looked up and saw a beautiful black pug heading right toward me. I instinctively grabbed my sketchbook and added her to the blog soon after. It felt totally natural to jump right back into it."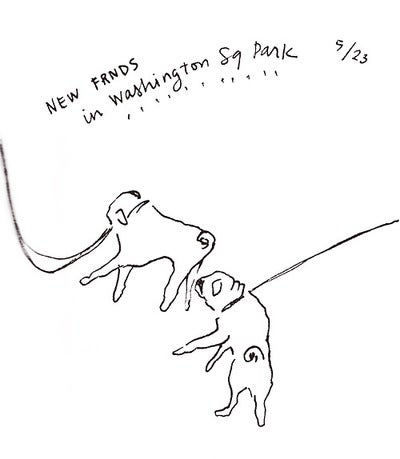 Before going on hiatus in May 2011, Andujar produced 20 different comics of pugs she saw in her daily travels. Her comics were a way for her to channel her pug excitement into something creative. 
"I think every pug is worthy of a comic and try to document every pug I see," Andujar added. 
"There are so many pugs here, and they all have so much personality and style—a certain walk, a perfect curly tail, sometimes an outfit or accessory (it is New York after all). Pugs' faces are so expressive; I love how they react to what their owners are doing."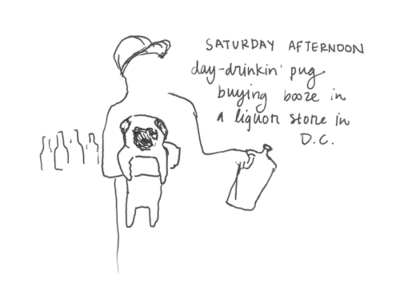 When she's not drawing pugs, Andujar is a production manager at OR Books. She's also a freelance graphic designer who has illustrated book covers for Yoko Ono and Andrew Smart.
One of Andujar's favorite comics to date was inspired by a rainy day in SoHo one year ago.
"The pugs looked so unhappy to be outside in a hailstorm, but their matching raincoat outfits were perfect," she said. "Their owner looked equally miserable and had on a very '90s raincoat with race car-style flames on it. I thought that was such a good catch—totally worth braving the bad weather."
Illustrations by Courtney Andujar