A Staten Island, New York, high schooler has been suspended for pointing out a teacher's lousy parking job in a tweet.
Curtis High School teacher John Pillarella (@pilster67) found a tweet from Erik Nielsen (@nielsen25_) criticizing him for leaving his car near a "No Parking" sign.
Pillarella responded: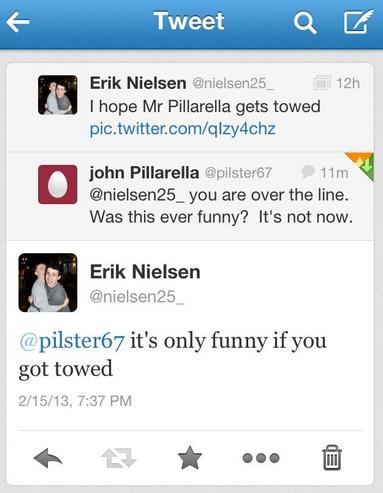 Pillarella has since deleted all his messages from Twitter.
Nielsen fired back at his school: "[T]hey obviously don't know the rules they're supposed to be upholding," he tweeted. "[T]hey violated so many rights it's insane. … DOE [Department of Education] employees are not to review any personal social media accounts created by their students, it says right in the rule book."
Officials at Curtis High School would not confirm how long Nielsen is suspended for. The school would not release any more details on the suspension at this time.
Nielsen has a meeting scheduled with principal Aurelia Curtis Tuesday. 
In solidarity with Nielsen, dozens of students have been tweeting their support, using the hashtag #tweetforerik. One student is selling bootleg #tweetforerik hoodies for $3:
The popular Twitter parody account @NotBillWalton has also weighed in on the drama.
"I find @nielsen25_ comments immature but harmless (would like to see original pic)," @NotBillWalton tweeted. "I find @pilster67 Twitter feed dubious.#TweetForErik."
Photo via @mattdiaz4life/Twitter