Combine the endless fun of summoning spirits from the great beyond (Ouija) with the addictive nonsense of icon-based communication (emoji) and what do you get? Don't even act like you don't know: EMOUIJA, a must-own product for your 21st-century seance.
The Kickstarter project, a collaboration between Taylor Moore, a.k.a. @chillsitch, comedian/ghost-whisperer Ryan Williams, and Viner/emoji designer Avery Monsen, needs just $2,200 to get off the ground, and who are you to withhold cash in the face of this marketing: 
Why in the underworld would a modern ghost want to communicate with the living one letter and one number at a time? The freshly dead and impatient spirits of yesteryear need a better way. Now, they have one. The Emouija Board is here. Or, it almost is. The board you see below is but a shadow of what we can build together. The final Emouija Board will be an encyclopedic tour of the most useful emoji for modern spirit communication, all laid out on a beautifully designed 18 x 18 quad-fold board and accompanied by a bespoke spectral hand planchette.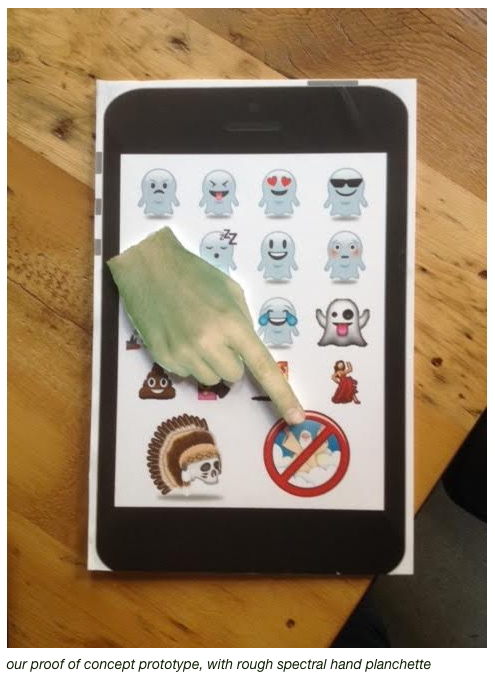 Screenshot via Kickstarter
With contributor rewards that include a "glossary of custom emoji" and the chance to help design your own bespoke emoji for the board, there's really no excuse not to chip in. Unless an old gypsy fortune teller warns you not to.
Photo by David Masters/Flickr (CC BY 2.0)