There are few, if any, stranger Internet phenomenons than Dogecoin. The virtual currency based on the surreal Doge meme should have been a flash in the pan—it's practically worthless on purpose and is shared mostly as tips—but since its inception in December, it's accomplished the incredible: sponsoring a Jamaican bobsledding team's trip to the Olympics, sending clean water to Africa, and wrapping the #98 NASCAR vehicle with its trademark image of a Shiba Inu. 
Dogecoin's also become serious business. It's worth about $21 million in total, and Alex Green, the mysterious CEO of Moolah, has made a series of high-profile moves to take the currency mainstream. 
There's now an emerging Dogecoin culinary scene in London, with a number of food stalls accepting the currency. Curious and hungry, I tried everything I could buy with Dogecoin to see what was worth writing home about in Comic Sans font. 
…
Bit Burgers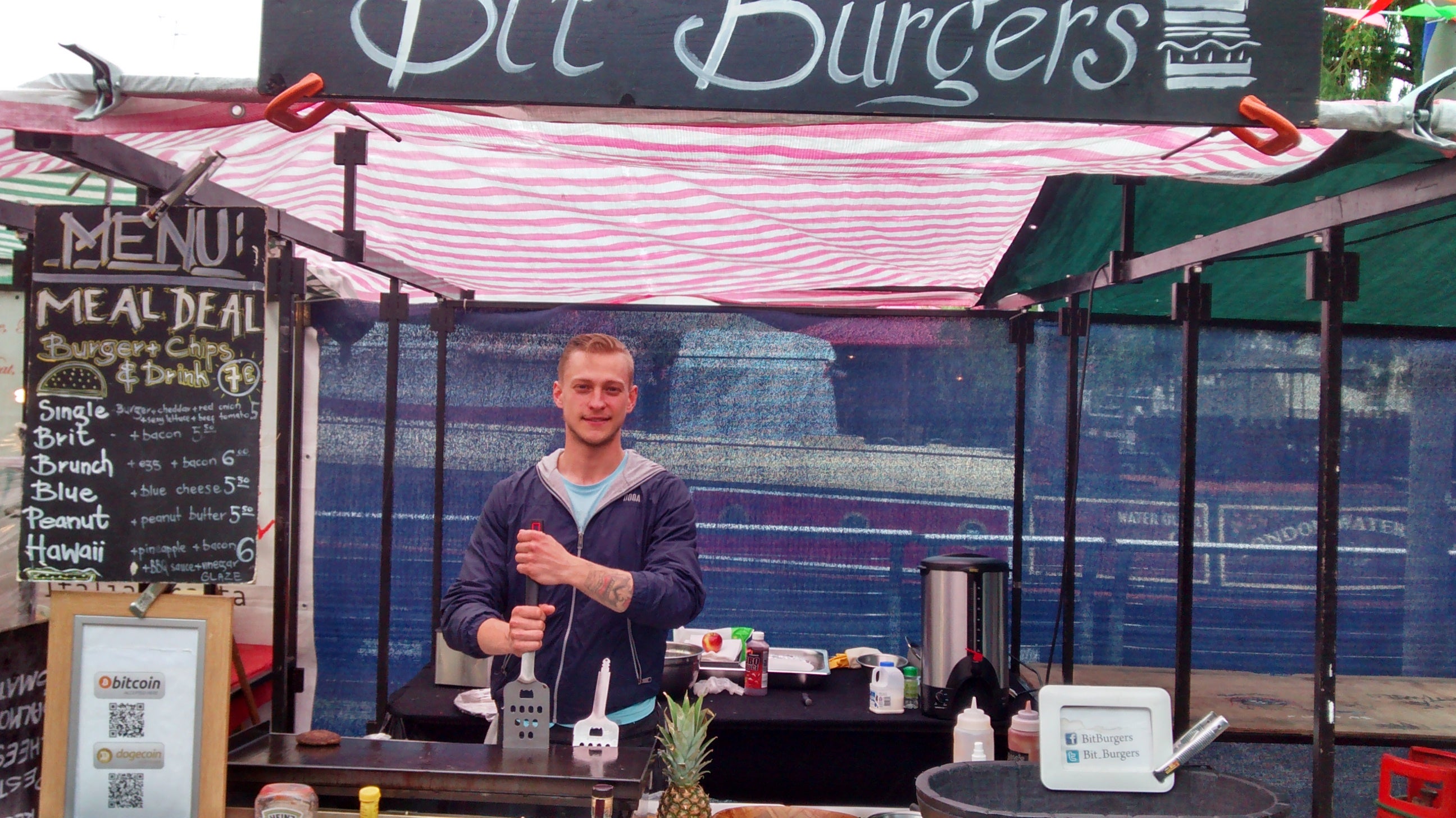 Olivier Rynkiewicz at Bit Burgers
 
Olivier Rynkiewicz made headlines back in February when he became one of the first physical retailers to accept Dogecoin (along with Bitcoin, its more serious and established counterpart) at his Bit Burgers stand in Camden, North London. 
Before I could visit, however, I first needed some actual dogecoins. While iOS users face restrictions on installing "wallet" apps to store their coins, no such hindrances exist for Android: It's as simple as adding credit to your Skype account. All you have to do is install the Dogecoin Wallet app from Google Play.
I opted for the (recently closed) DogeForSale.com, where I bought $10 in Dogecoin from a seller and sent it to my wallet. I met Rynkiewicz on a glorious day at Camden Lock, a riverside open market in North London. 
This was, I'll confess, my first time buying anything with cryptocurrencies, either online or off, and I had gone into it with some trepidation. But it was an incredibly swift and simple process. I scanned the Bit Burger barcode, entered the correct amount, and fired it off—with Rynkiewicz receiving it almost immediately.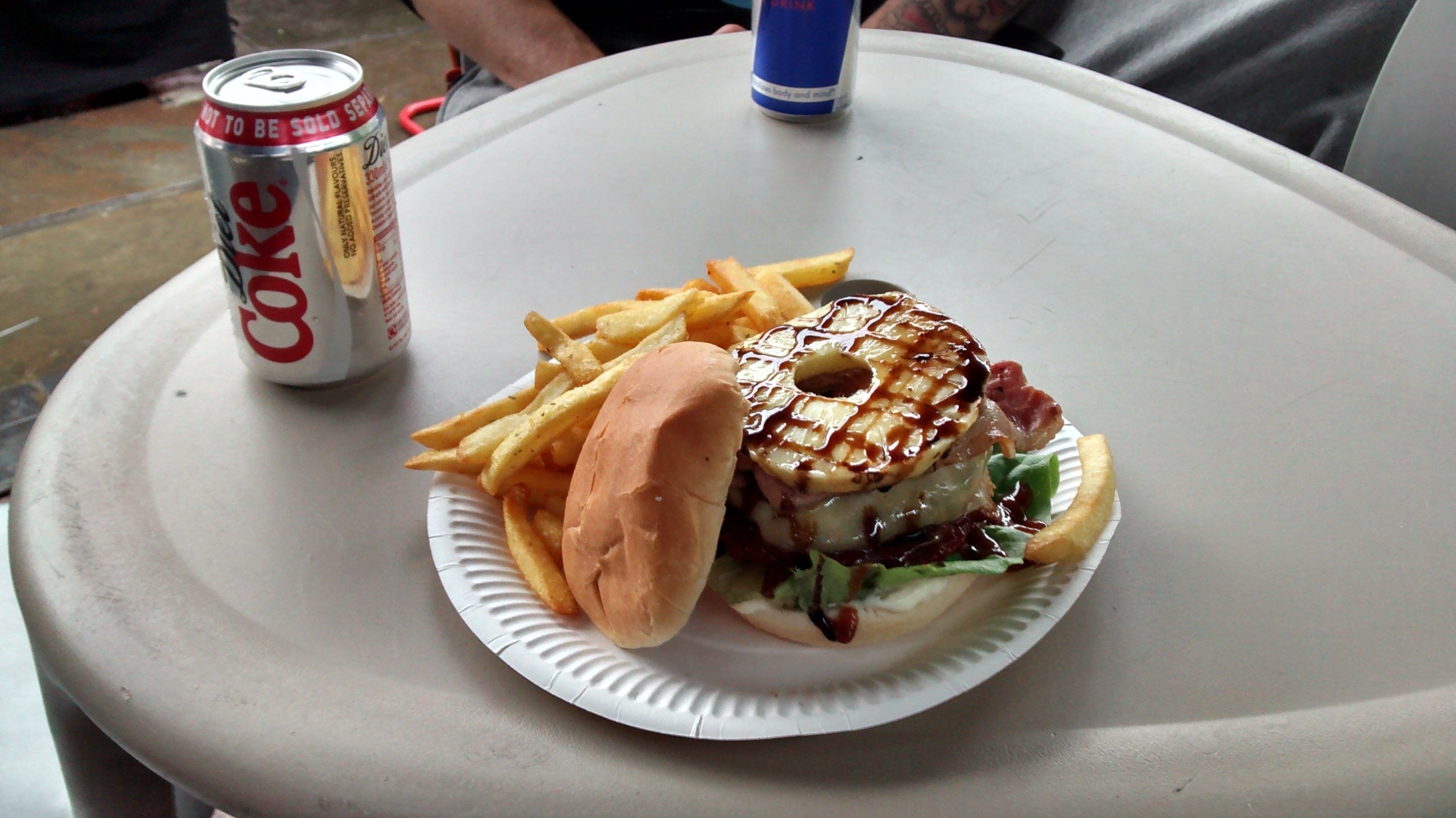 My first Dogecoin burger
 
Over a delicious and very messy burger—with added BBQ sauce, bacon, and a pineapple ring—the Polish tattoo artist turned chef explained his vision for Dogecoin in London. Rynkiewicz's brother first introduced him to it shortly before he opened his stall. Emboldened by his initial success with it, Rynkiewicz now envisions a future in which the entire market—and beyond—accept dogecoins, and he plans to hand out "paper wallets" containing dogecoins to customers as a kind of novel loyalty scheme. 
"We need to spread the world and love of the Doge," he told me in a later email. "Lets start the Doge-revolution!!!"
Well, you have to appreciate his enthusiasm. 
Burger rating: Such wow. 
Maize Blaze

Ruth Christianson at Maize Blaze
 
I'd found paying with the Dogecoin app a swift and agreeable experience—but the same cannot be said of the aforementioned paper wallets. 
They are essentially a way of storing and transporting dogecoins "offline" without the need for technology, and I had opted to try using one to pay at Maize Blaze. I printed my wallet from Dogecoin Paper Wallet, stashed sufficient funds to buy my share of Colombian fusion cuisine, and set off.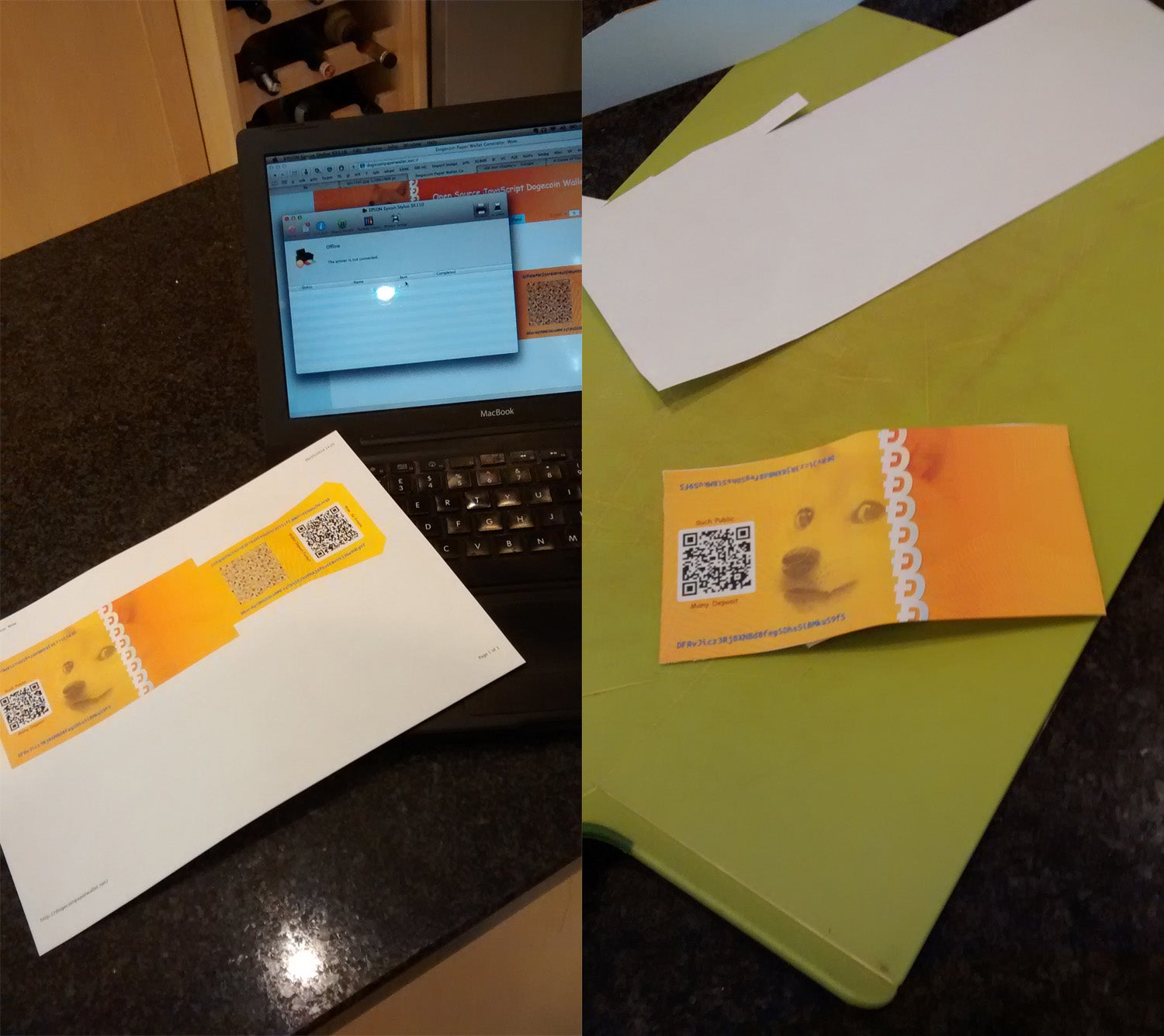 Printing the Dogecoin wallet
 
Owner Ruth Christianson was less clued up technically than Rynkiewicz and struggled to access my dogecoins on the wallet; at one point she almost sent all her dogecoins to me by accident.
Eventually I emptied the paper wallet's contents using my phone, then paid with the app wallet. Christianson may have been making a simple mistake—but it's also telling of how cryptocurrency technology still remains complex and inaccessible for many people.
The good news is, however, that it was well worth it: I went for a pulled chicken, spicy onion and crumbly Wensleydale cheese empanada, and it was just as good as it sounds. Moist and succulent, it's making me hungry just thinking about it—and at £6 ($10) for two, I came away more than satisfied.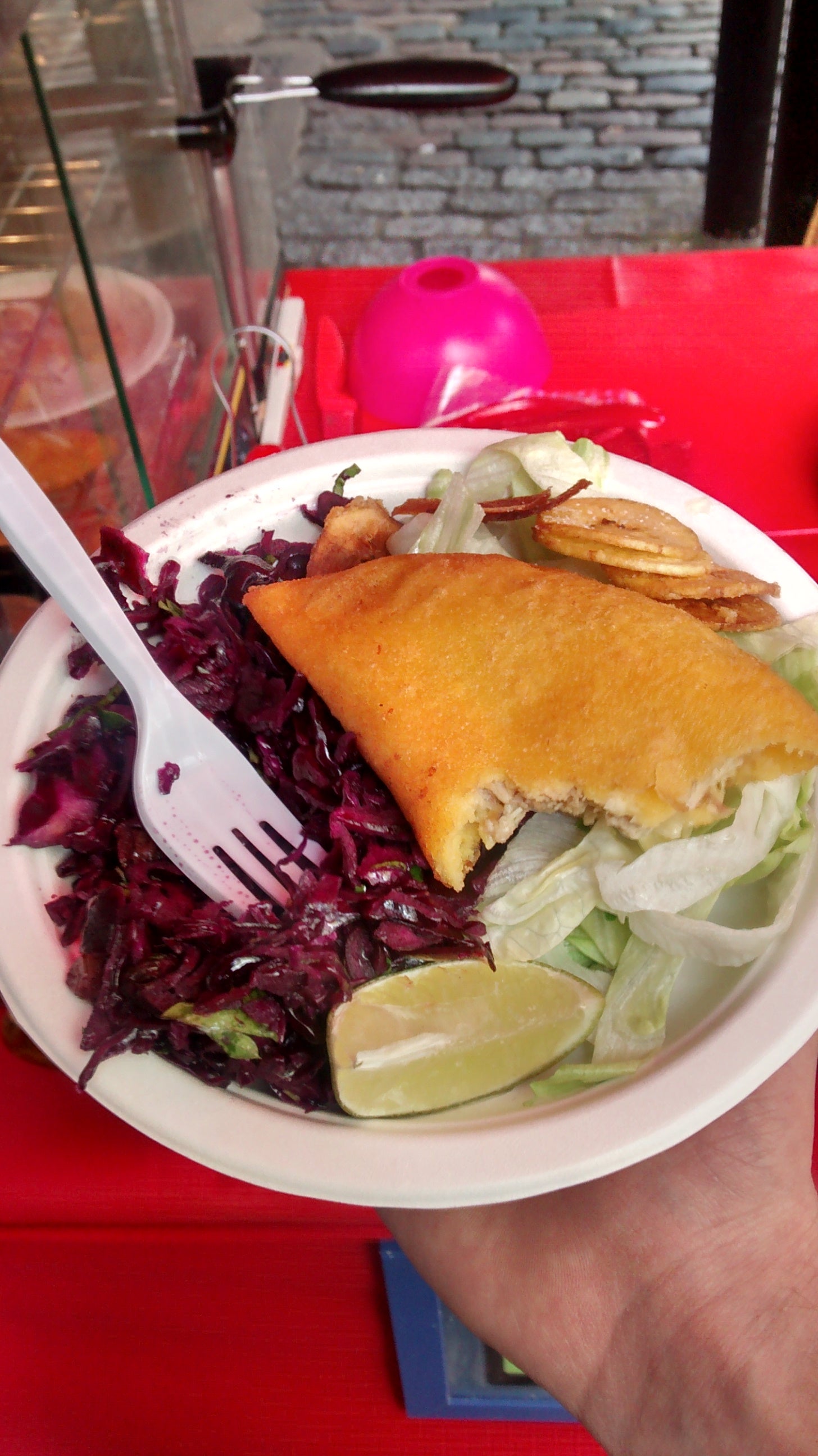 While Rynkiewicz has had some great success with Dogecoin, the response to Maize Blaze has been more muted.  I was Christianson's second-ever customer to use Dogecoin—and when I returned later with my Dogecoin dealer Michael Tabner, we were the third and fourth.
Tabner, who runs the Dogecoin-accepting T-shirt website yipptee.com, thinks the alt-coin marketplace is getting incredibly saturated, but he believers Dogecoin can succeed in the long term: "It has a lot going for it with the strong community element, speed of transaction, fluffy mascot and so on."
Rating: Much tasty. Amaze. 
La Porca
Beautiful day in Camden town @MrsMarketUK @MostYummyToday @StreetFeastLDN @RealFoodFest pic.twitter.com/n0PS19e0xp

— laporca (@la_porca) June 17, 2014
Technical issues abound when I reached my final stop, La Porca. A nightmare of miscommunication with the owner Neelu Jagz prior to my visit was capped off with an issue with Dogevault—a free online wallet for dogecoins—in which she potentially lost all of her coins. When I finally made the visit, she was unexpectedly not there, leaving me to deal with an assistant who barely even understood what Dogecoin was, let alone how to accept it.
The learning curve of cryptocurrencies is always going to be relatively steep, and the issues La Porca has faced in implementing Dogecoin highlighted the challenges faced by non-technical enthusiasts—and the lack of accessible infrastructure to bring it to the mass market.
That said, the pulled pork wrap I bought was great, and covered in a homemade Jack Daniels BBQ sauce—just not quite as good as the empanadas.
Rating: Wow. 
… 
The London Dogecoin scene isn't moving anywhere soon, but there are some promising signs. 
Tom Reaney's Burger Bear, which operates pop-ups throughout Shoreditch and recently succesfully crowdfunded a new headquarters, accepts Dogecoin, along with Bitcoin and Litecoin. But such enterprises are clearly the exception, not the rule. 
As evidenced by the scene at Maize Blaze, Dogecoin seems to be caught in a Catch-22: Shops won't go through the effort of implementing Dogecoin payment if there's not enough interest from customers, and customers won't start using Dogecoin if there isn't anything to buy with it.
Cryptocurrencies are fundamentally digital, of course. Their real-world implementation is always going to be tricky: What if you're somewhere without signal? What if your phone battery dies? 
Nonetheless, I still have 15,000 dogecoins to my name, and I'll be hanging on to them, looking—searching—for my next great meal. 
Photos by Rob Price