It's cloudy with a chance of system-security failure at the BBC Weather department.
You can chalk another high-profile Twitter hack up for the Syrian Electronic Army (SEA): The Bashar al-Assad loyalist group claimed to have compromised the official account of BBC Weather. The collective has sent eight tweets from the account at the time of writing.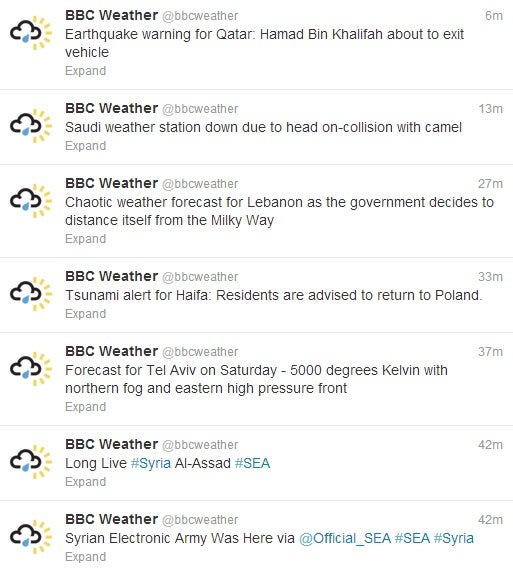 The SEA has targeted several high-profile media social networking profiles over the last couple of years, though few attempts have done so in a funny way. That camel tweet is almost ridiculous enough to be believable, for instance:

The @bbcweather takeover allowed the SEA to share its message with the account's 57,000-plus followers. Syria has been in civil war for two years, resulting in as many as 70,000 casualties, according to the United Nations.
Earlier this month, the SEA compromised two accounts belonging to French outlet FRANCE24, sending tweets to more than 405,000 followers before getting locked out of the accounts again. 
The SEA gained access to news organizations Al Arabiya's English Facebook page last March, and forced LinkedIn's blog offline a few weeks later. In June, the group also comprised an Al Jazeera Twitter account, and last month put in its crosshairs the nonprofit Qatar Foundation and newswire service Agence France-Presse.
UPDATE: It's not just @BBCWeather that was under SEA control. As Twitterer James Cook pointed out, @BBCArabicOnline is compromised as well, with tweets dating back a few hours. @BBCRadioUlster was hacked too, but has deleted the tweets.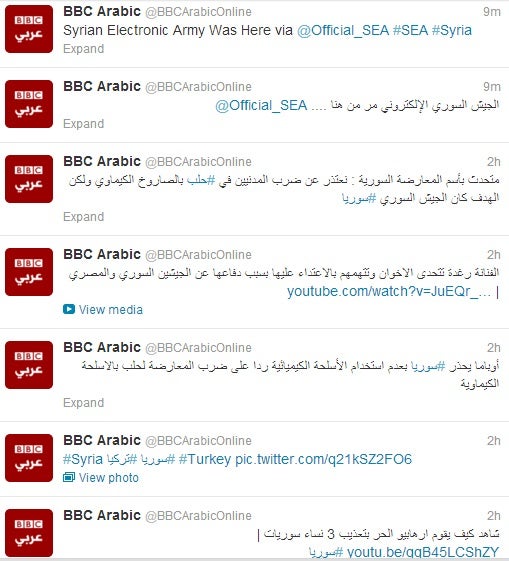 Photo via @BBCWeather/Twitter