A member of the Anonymous hacker collective appears to have been killed in the ongoing violence in Israel.
In a photograph by the Israel-based photographer Abed Qusini, proteser Tayeb Abu Shehada, 22, can be seen throwing a rock at Israeli soldiers while sporting a Guy Fawkes mask, the unofficial symbol for Anonymous.
Shortly after the first photo was taken, Shehada (the name is also spelled Shehadah in different accounts) was killed in the West Bank town of Huwara, near Nablus, maannews and humanizepalestine reported. The second photograph of the bloodied mask was taken by photographer Ahmad Talat Hasan, who also posted it on Facebook with Shehada's name.
A third photo (which is extremely graphic) taken by an unknown photographer allegedly shows Shehada with his mask off after being shot. It was tweeted by @redhackeditor.
Qusini's photograph of Shehada circulated around Twitter on Saturday, with the help of London-based doctoral student Ramy Abdu.
Tayyeb Shehadah throws stones at Israeli soldiers before he was shot dead under his eye as you can see in the mask pic.twitter.com/zdE0PF3QEU
— Dr. Ramy Abdu (@RamAbdu) July 25, 2014
Abdu stated in an email interview with the Daily Dot on Saturday that the photograph is authentic.
"Israeli forces repeatedly use an excessive force, including unlawful lethal force, against Palestinians who did not pose an imminent lethal threat," Abdu added. "Israel's violations against the Palestinians has never stopped for the past 66 years. Israel commits different crimes and violations without being bothered. This is not the first time, won't be the last time, as long as the international community provides the immunity and give Israel the feeling that it is a above law country."
The Daily Dot has reached out to Qusini and Hasan for further confirmation regarding the authenticity of the photos. Numerous other messages have also been sent to Reuters, whom Qusini claims to be employed by on LinkedIn.
The news of Shehada's death has had a chilling effect on the Anonymous community. On cyberguerrilla.org, a song was posted and dedicated to his memory.
"[Shehada] wasn't only wearing a mask, he was Legion. 1 of us," blogger Doemela states. "Today Israel murdered a Anonymous. To them We shall join their struggle: nor shall We deprive them of the fruit of anything of their works, lower your weapons humbly for them, with mercy, peace and blessings be upon them who seek love."
On 4chan, where Anonymous was founded in 2003, users paid tribute by repeatedly posting, "His name was Tayyeb Abu Shehada," which was inspired by a scene from Fight Club featuring members of Project Mayhem repeating the name of one of their fallen.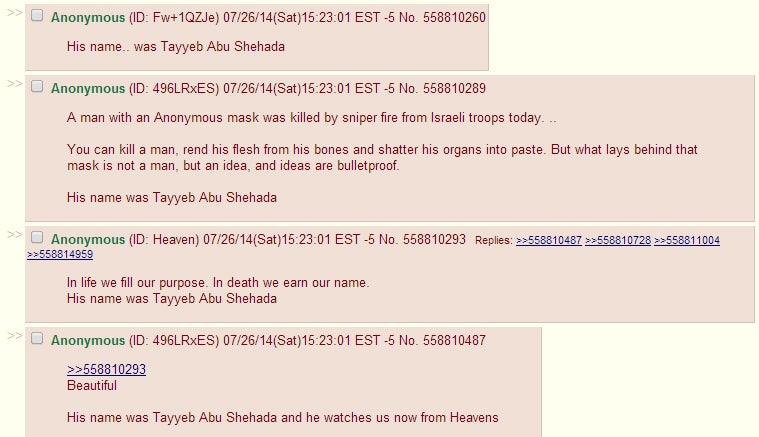 Since the conflict in Gaza between Hamas and Israel began 19 days ago, more than 1,000 people—most of which are Palestinian civilians—have been killed, the Los Angeles Times and the AFP reported. The conflict began in June, after three Israeli students were kidnapped and ultimately found dead. Blame was unofficially laid on Hamas, a "Palestinian Islamist political organization and militant group that has waged war on Israel since its 1987 founding," Vox reported. Tension rose steadily since then, and has resulted in an all-out war between Hamas and Israel. Thousands of missiles have been shot from either side, and on July 18, the Israeli military invaded Gaza.
A temporary humanitarian cease fire was being discussed between both sides Saturday, but the length of it is uncertain.
Update: Hasan responded via Facebook, confirming his photo is real: 
I am glad that my photos are spared everywhere to show the truth. Well, they are real and each incident I captured happened in front of my eyes. A lot of Israeli settlers pass through this street and use in order to go to their settlements which seem so close to that street. One of these settlements is Yahatsar; it is built up on a Palestinian land refers to Palestinians citizens. A demonstrations aimed to condemned and act about the anger of the war on Gaza was set out from the mosque and it was held on the main street while a car for one of the settlers enters the street; this car included the settlers and his wife who fired four bullets on the demonstration and four people were injured and taken to the hospital. One of those injured dead after half an hour only. As a result, Clashes and confrontations between the Palestinians and Israeli soldiers started in the same town; at that point one of the Israeli soldiers fired bullets on the Palestinians guy who wears the white mask on his face; the bullets comes to his head exactly above the eyelid on the right eye and he died directly.
Photo via Abed Qusini/Twitter