Warning: This article contains mild spoilers for The Umbrella Academy series.
The Umbrella Academy, the latest superhero show to make a splash, is now streaming on Netflix, giving fans plenty to examine and analyze. But whether you're already finished the series or are curious as to where it all came from, its source material is more than worth checking out.
Created by Gerard Way and Gabriel Bá for Dark Horse Comics in 2007, The Umbrella Academy tackles the trauma that can come with a family of superheroes brought back together after a massive rift. It's dark without the feeling that it's trying to be a "gritty" series. It doesn't shy away from its violence, and although some of the comic's plot points haven't aged particularly well, it encompasses the kind of superhero story we're not used to seeing on the small screen. And with Ellen Page, Tom Hopper, Robert Sheehan, Emmy Raver-Lampman, David Castañeda, and Aidan Gallagher making up the Umbrella Academy, it's got a hell of a cast.
For those who might not frequently read comics or have heard of The Umbrella Academy before Netflix adapted it into a series, hearing that Way—best known as the frontman of rock band My Chemical Romance—wrote comics might come of something as a shock. But he's been making a name for himself in comics for more than a decade. He and Bá won an Eisner for best limited series in 2008; Way wrote The True Lives of the Fabulous Killjoys (also for Dark Horse); he co-founded a DC Comics imprint and wrote on two of the series; and he's also the co-creator of Peni Parker, who you might recognize from a little indie film called Spider-Man: Into the Spider-Verse.
A beginner's guide The Umbrella Academy comics
The Umbrella Academy has a lot going for it in large part because it won't take long at all for you to catch up on reading it. In a landscape full of comic book shows and superhero shows involving characters that potentially have decades' worth of source material, it's not an insignificant factor.
Way and Bá have released 17 issues of The Umbrella Academy to date with at least two additional issues on the way, which are spread out over three trade volumes; Way plans to write a fourth volume. Each volume contains a complete arc as well as a number of short stories.
The first two story arcs—Apocalypse Suite and Dallas—were released in 2007 through 2009, but it took nearly a decade for fans to read the third story arc, which is still ongoing and available as single issues. (A trade of Hotel Oblivion, will be released Aug. 20, 2019.)
The Umbrella Academy origins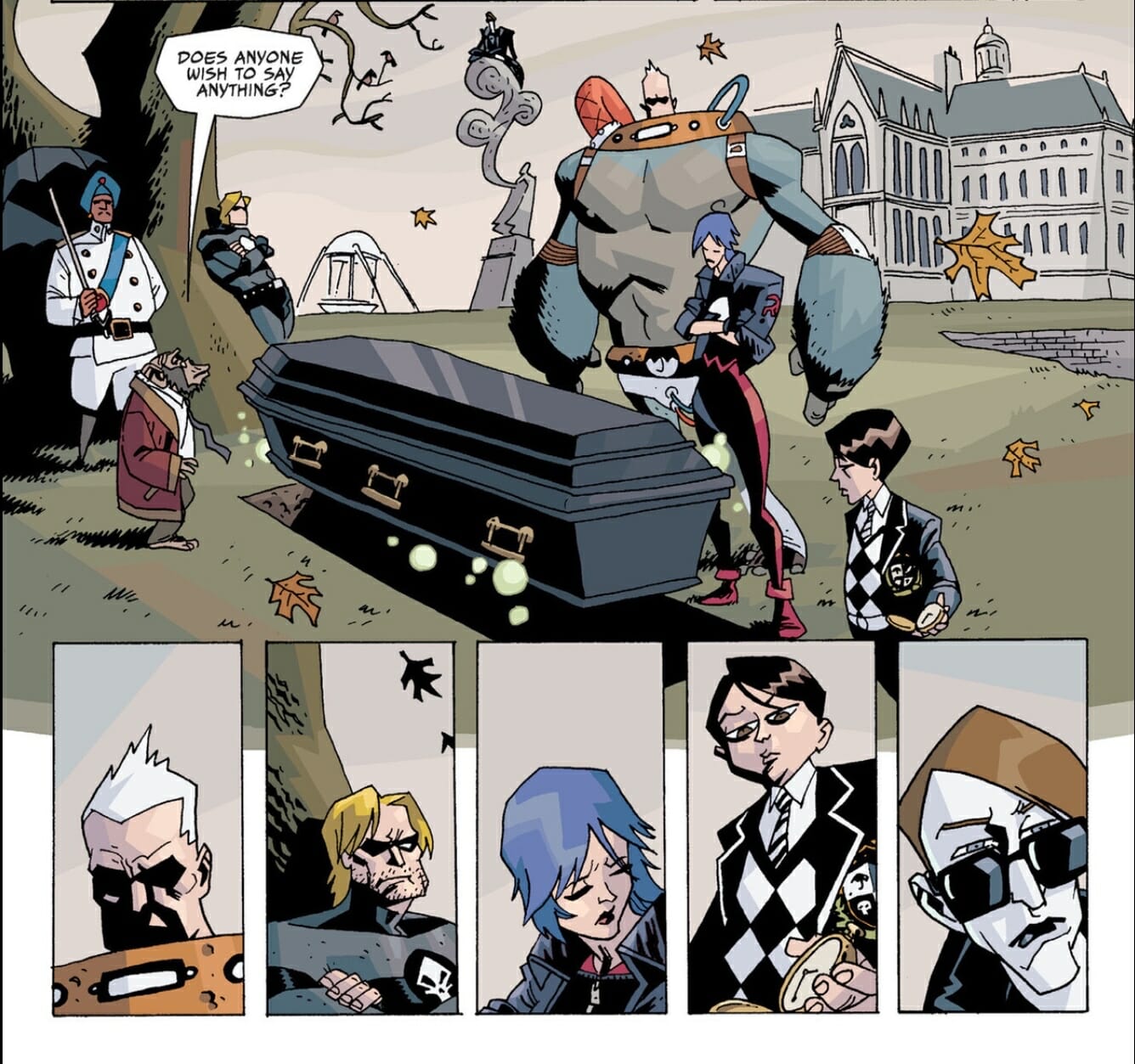 Like any superhero comic, The Umbrella Academy has a pretty key origin story. In an alternate universe where President John F. Kennedy was never assassinated, 43 children are born on the exact same day to women who previously didn't show any signs of pregnancy. Seven of those children who were tracked down by Sir Reginald Hargreeves (an alien who also goes by the Monacle). When he was asked why he adopted those children, he responded, "To save the world, of course."
READ MORE:
A decade later, six of those children have developed powers, which the Monocle has them use to fight crime. And several years after that, one of the seven children is dead, another disappeared, and the others are all estranged from each other; for some, much of the ill-will came after Vanya Hargreeves—the only sibling without any powers of her own—wrote a memoir about her time with the Umbrella Academy. They also lived with Mr. Pogo, a talking chimpanzee, the Monocle's bodyguard Abhijat, and a talking mannequin that the children called "Mom."
And when it all begins in an alternate 1977, the Monocle is dead and Number Five has returned from the far future looking like he hasn't aged a day (even though he is much older than all of his siblings) with a warning about the apocalypse.
The Umbrella Academy characters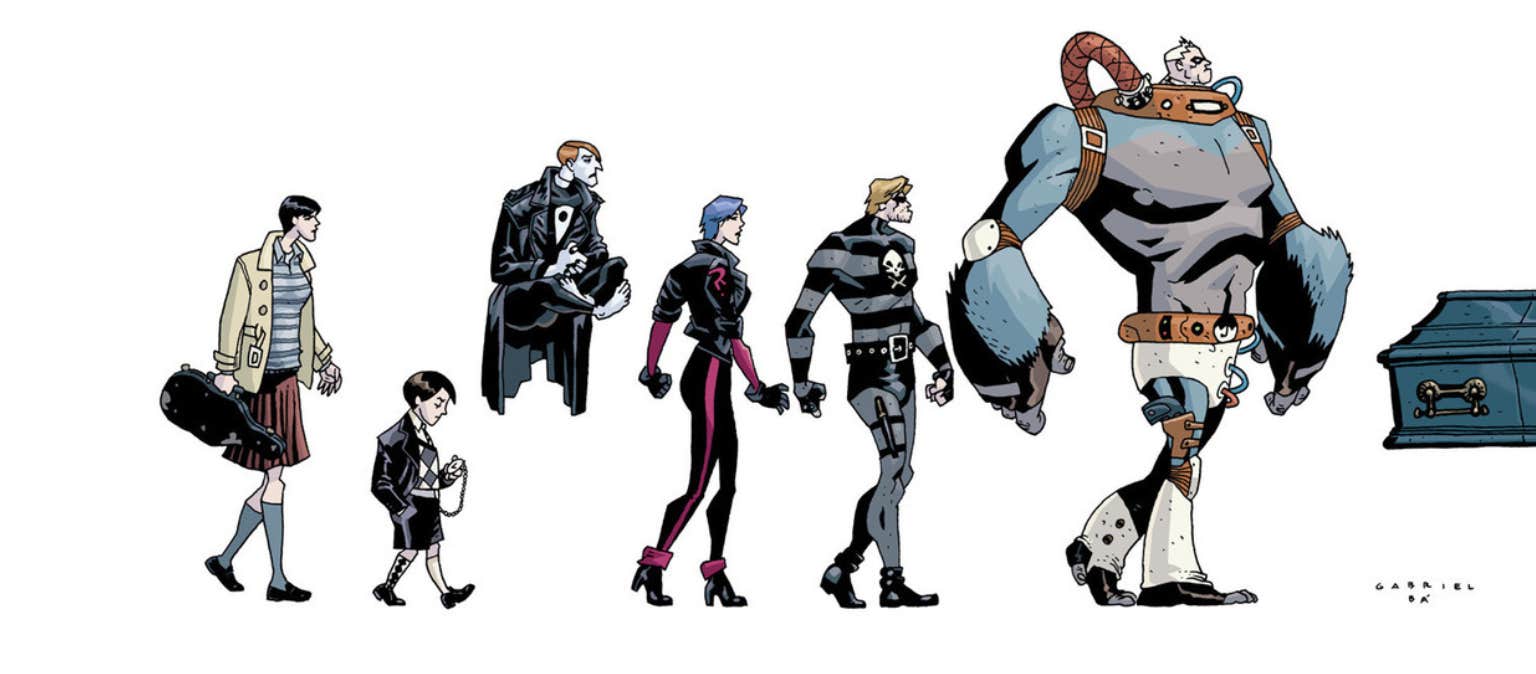 Although the Monocle adopted seven children, he was never much of a father. He was often cold and distant, even refusing to call any of the children by their names; instead, each of them had a numerical designation. But during their life of fighting crime, each child also had a superhero alias.
Needless to say, their feelings on the Monocle's death are complicated when they're all brought together for his funeral.
Number 1: Luther Hargreeves, aka Spaceboy
When we first meet Spaceboy, he's living on the moon away from the rest of his family. He has the head of a man and the body of a Martian gorilla (that can withstand space), which came as a result of surgery following an ill-fated mission to Mars. He has super-strength and can pick up just about anything he tries to learn.
Number 2: Diego Hargreeves, aka the Kraken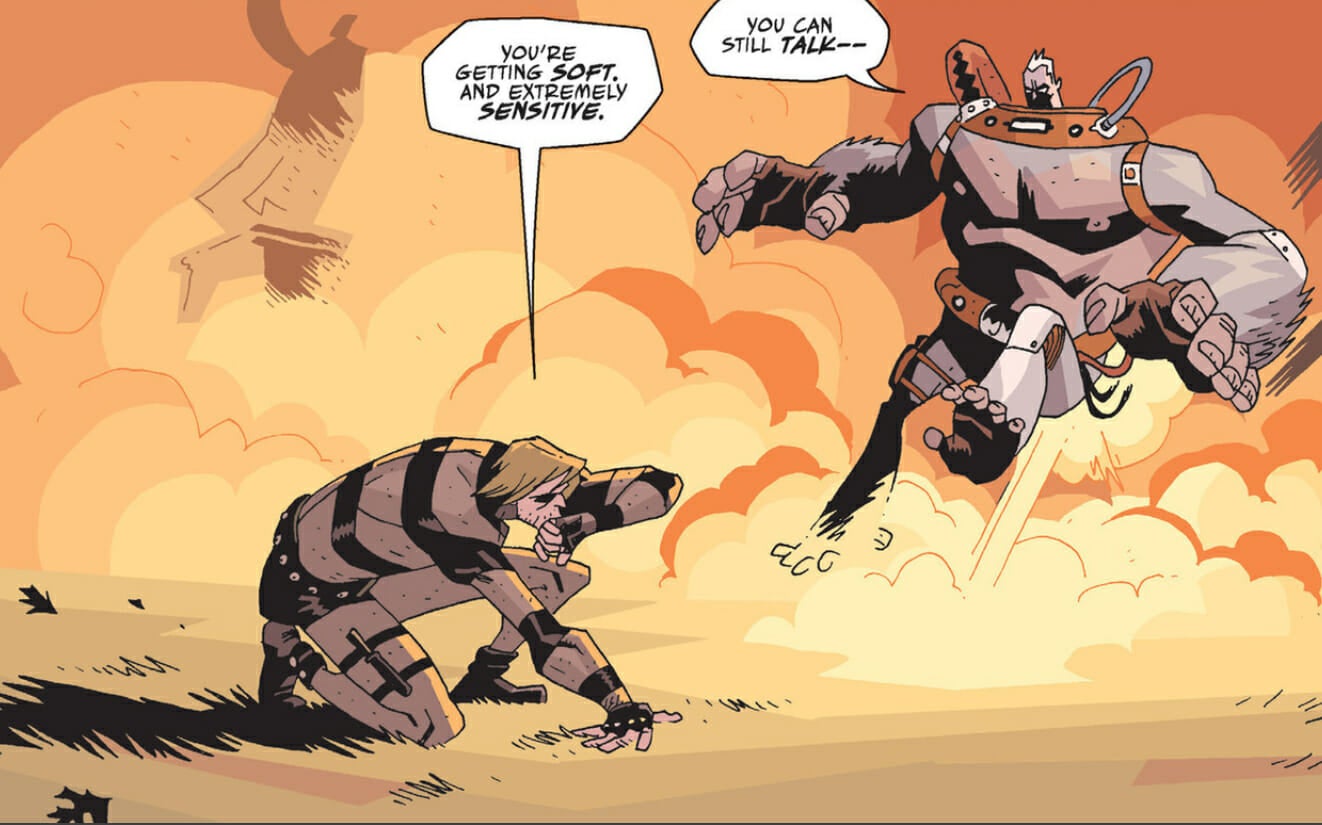 The Kraken has the ability to hold his breath underwater for a very long time. But since the kinds of situations he gets into doesn't necessarily call for that particular skill, he's also trained in knife-throwing. Out of everyone in his family, he's the only one who's still doing anything remotely related to fighting crime these days.
Number 3: Allison Hargreeves, aka the Rumor
The Rumor has the power of persuasion—literally. She can make anything she wants to come true, and all she needs to do is suggest it with a simple "I heard a rumor." Prior to the start of The Umbrella Academy, the Rumor had a husband and daughter, but she lost both of them in the divorce.
Number 4: Klaus Hargreeves, aka the Séance
The Séance is kind of a mess. He can talk with and channel the dead, use telekinesis, and float. And while the Monocle experimented on all of his children, the Séance got the brunt of it. Don't expect something like death to stop him.
Number 5: The Boy, aka Number Five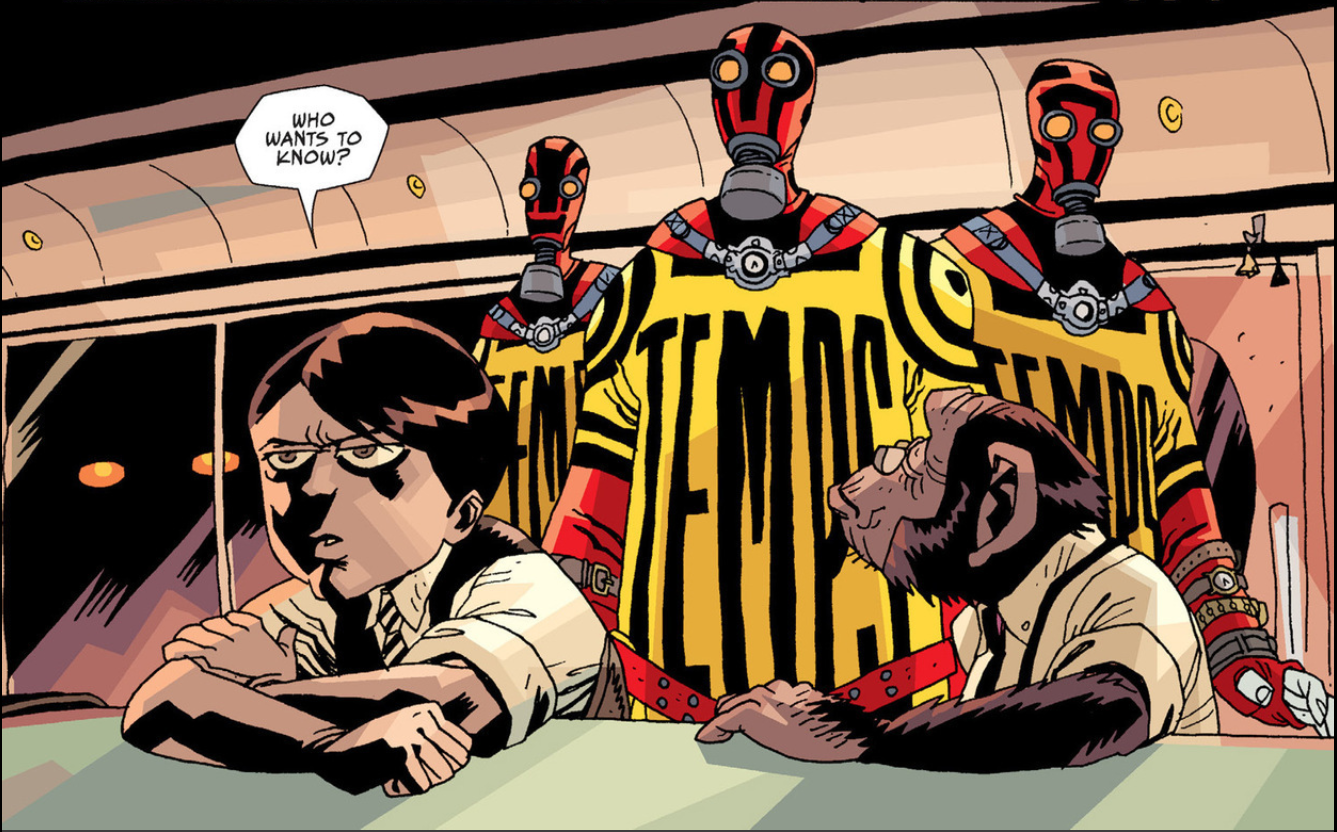 Although most of the Umbrella Academy kids ended up with a name of their own, that was never the case for Number Five. He can travel to the future, but his efforts to do so led to his disappearance. In his efforts to return to the past, he's stuck in the body of his younger self. He is also a skilled assassin, having had his DNA mixed with that of serial killers before he returned to present-day.
Number 6: Ben Hargreeves, aka the Horror
The Horror is dead at the beginning of The Umbrella Academy, although it's unclear how he died. He had the ability to bring out monsters through his chest via a portal, which can often look like tentacles coming out of his body.
Number 7: Vanya Hargreeves, aka the White Violin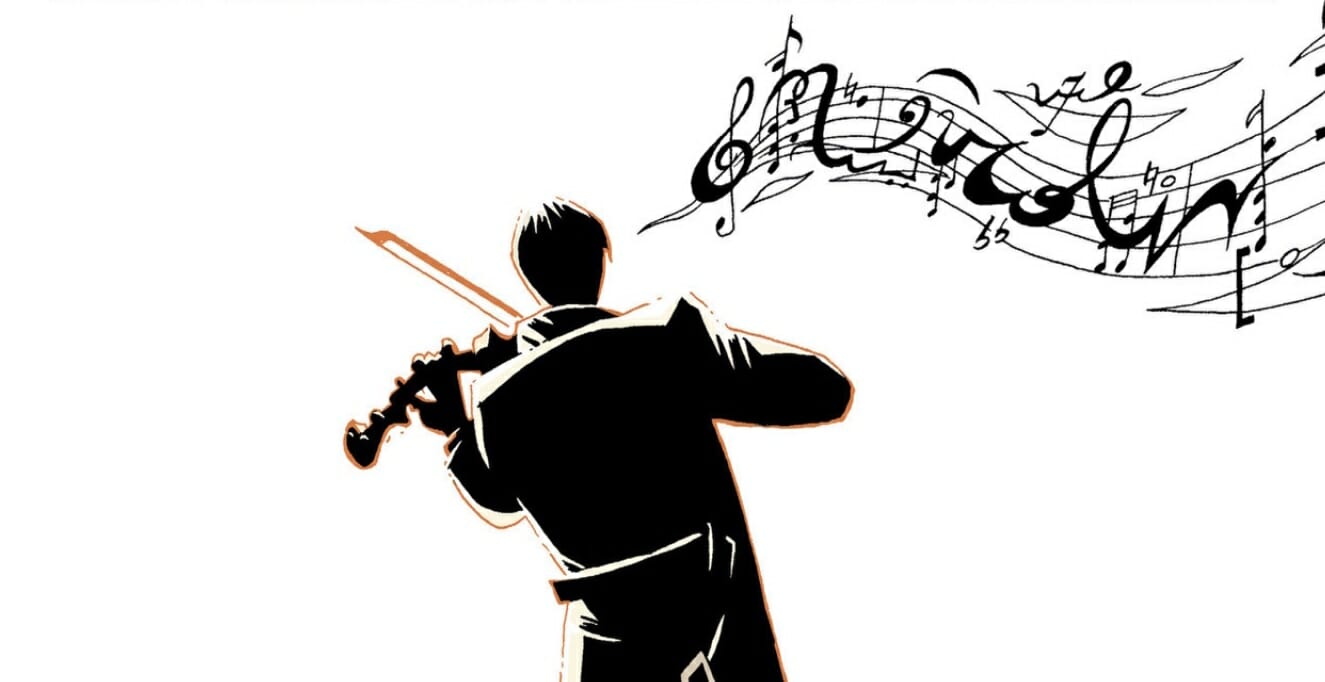 Although she grew up with the rest of the Umbrella Academy, Vanya Hargreeves was the only child who didn't grow up showing any powers. This was something that the Monocle reminded her of constantly as he told her on multiple occasions that she was completely ordinary and not special. Naturally, this led to Vanya becoming a completely normal adult. (Just kidding: Vanya wrote a tell-all memoir that led to an estrangement amongst the family.) She also is a musician who plays the violin, which becomes very important later.
The Umbrella Academy plot
The Umbrella Academy has consisted of two complete arcs that can mostly stand on their own while a third is in progress. Netflix's Umbrella Academy has aspects of both.
Apocalypse Suite kicks off, just like the show, with the death of the Monocle bringing the family back together as Number Five returns after being gone for decades. He comes with a warning: The apocalypse will happen in a matter of days and he has to stop it. The only problem? It starts to form right under his nose.
Dallas, on the other hand, brings in even more time travel as Number Five is forced to go back in time and assassinate John F. Kennedy while Spaceboy and the Séance try to stop him. It also introduces the assassins Cha-Cha and Hazel (played by Mary J. Blige and Cameron Britton, respectively), who are on the hunt for Number Five.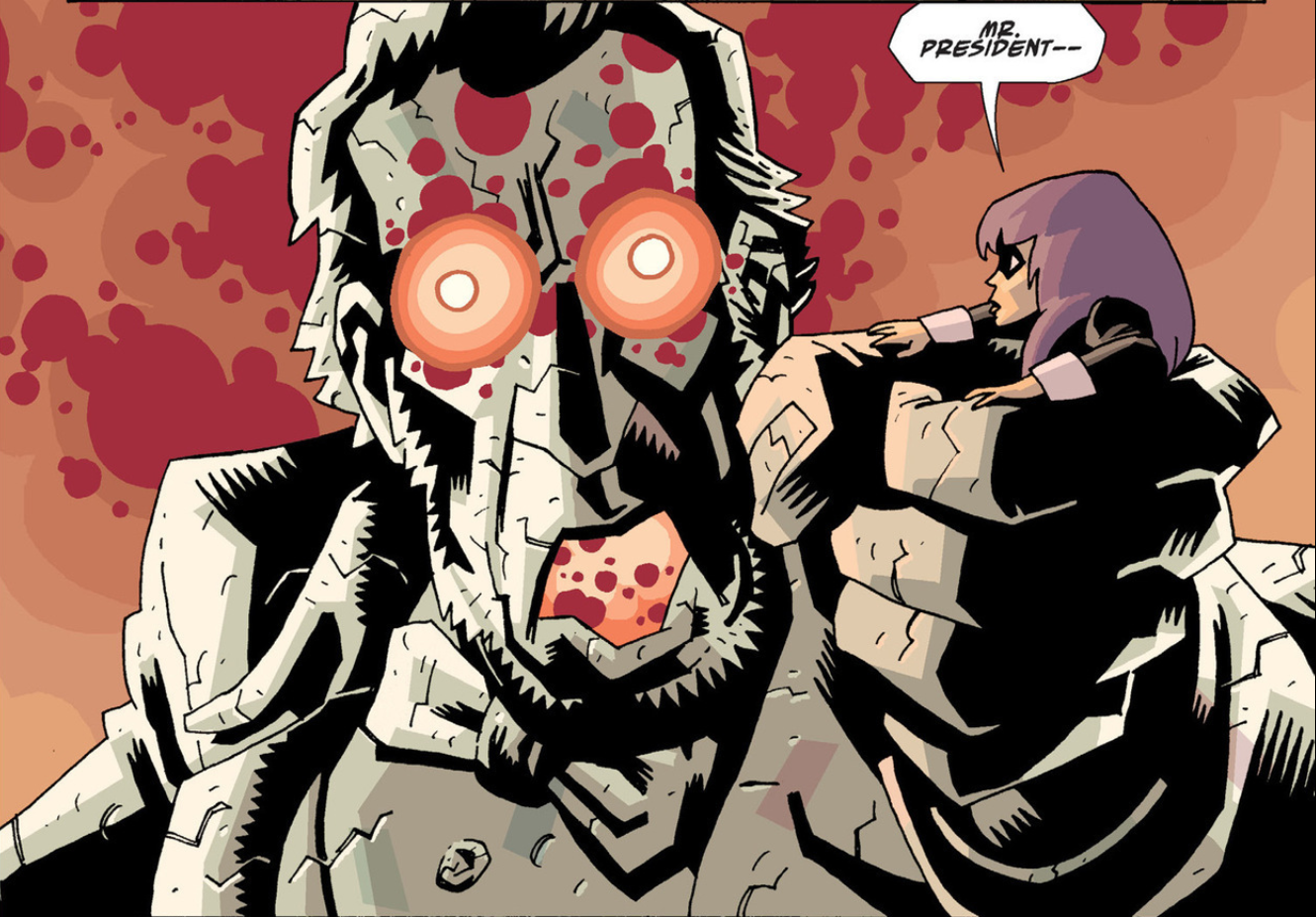 At times, The Umbrella Academy is violent and funny and often mixes the two with ease. They'll have to stop the apocalypse and their own siblings but their antics also include sillier missions like stopping a zombie Gustave Eiffel and the statue of Abraham Lincoln. The characters are forced to face how messed up their lives are and reconcile with the fact that superpowers won't be able to solve anything. There's love but also plenty of resentment among the Umbrella Academy, and as things come to a blow at the end of Apocalypse Suite, it becomes even more pronounced.
But diving into the comics not only allows you to pick up on some of the show's Easter eggs, it also gives you an idea of where the show might be going. It's too soon to know if we'll get a second season of The Umbrella Academy, but if the comics are any indication, it's gonna get even weirder.