A man was killed by police Thursday night in Wichita, Kansas, when officers responded to a false report of a hostage situation. The online gaming community is saying the dead man was the victim of a swatting prank, where trolls call in a fake emergency and force SWAT teams to descend on a target's house. If that's true, this would be the first reported swatting-related death.
Wichita deputy police chief Troy Livingston told the Wichita Eagle that police were responding to a report that a man fighting with his parents had accidentally shot his dad in the head and was holding his mom, brother and sister hostage. When police arrived, "A male came to the front door," Livingston told the Eagle. "As he came to the front door, one of our officers discharged his weapon." The man at the door was identified by the Eagle as 28-year-old Andrew Finch.
Finch's mother told reporters "he was not a gamer," but the online Call of Duty community claims his death was the result of a gamer feud which Finch may not have even been a part of.
READ MORE:
On Reddit's competitive Call of Duty community, posters claim that two gamers—named in numerous Reddit and Twitter posts as "miruhcle" and "baperizer"—were playing on the same team in a Call of Duty match, with a $1.50 wager on the line. Their team allegedly lost, setting off a feud between the two. Miruhcle allegedly "doxxed" Baperizer by posting his home address, which further angered Baperizer.
"Please try some shit. I'll be waiting," Miruhcle posted, according to screenshots that have been passed around the Call of Duty community on Twitter. He included a Wichita address, implying it was his own.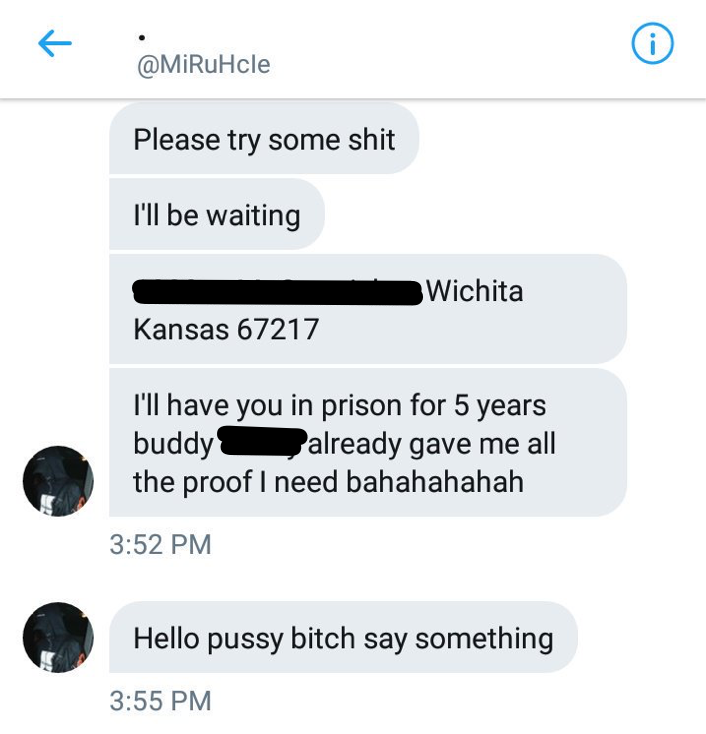 It wasn't his, though. It was Finch's.
Baperizer, after being dared to "try some shit," allegedly enlisted a third person, who had a reputation as a swatter, to call in the false report that resulted in Finch's death. One professional Call of Duty player claims the alleged swatter has been threatening him, too:
The same kid who swatted Dallas, threatened to swat NOLA, threatened to swat my girlfriend and I all day, swatted an innocent family today and someone was killed. Here are screenshots of the kid tweeting me. He changed his @ and I found it. I'm tired of this shit, he needs…

— ZooMaa (@ZooMaa) December 29, 2017
At this point, rumors of the Miruhcle-Baperizer feud are just that—rumors. Law enforcement hasn't yet confirmed that any Call of Duty players were involved, let alone their names or online handles. Wichita police have only said that officers were responding to information that a father had been shot in the head—information that turned out to be false.
The victim's mother, Lisa Finch, told reporters that the police "did tell me a message that had come across that said 'come to [address redacted], I'll be there.'" She also said she believed the incident was a swatting.
Gamers who claim to have more information on the incident have been tweeting at the Wichita Police Department account since the incident, asking the department to get in touch with them. Miruhcle and Baperize have both deleted their Twitter accounts, and the alleged swatter goes by several different handles.
Wichita PD will hold a press conference at 4 p.m. local time Friday on Facebook Live, a police spokesperson told the Daily Dot by email. This story will be updated as more information becomes available.
Update 2:51 p.m. CT: According to cybercrime reporter Brian Krebs, the screenshot below shows tweets from the person the gaming community blames for swatting Finch. Among other things, the person (who went by @swautistic before his Twitter account was suspended) wrote, "I DIDN'T GET ANYONE KILLED BECAUSE I DIDN'T DISCHARGE A WEAPON."
Here's a few tweets from the (now suspended) twitter account of the player who's being blamed for the SWAT that killed a man in Kansas. Swatter went by the nick "swautistic". Guess we know what the defense will be. https://t.co/NsRBwfHcOA H/T @Mattcarries

— briankrebs (@briankrebs) December 29, 2017
https://twitter.com/Mattcarries/status/946737358480859136
Update 4:30pm ET: At a press conference, Wichita police confirmed the shooting was the result of swatting and played audio from the 911 call. The caller claimed he had his mom, brother, and sister in the closet at gunpoint, and that he had poured gasoline on the house in preparation to set it on fire. Authorities did not name a suspect in the swatting and did not mention gamers or Call of Duty. They did, however, say that investigators were following up "prominent leads" from social media. Federal authorities are assisting in the case.
Update Dec. 30, 9:27am ET: In an interview with YouTube star Keemstar, a swatter by the name of "Swautistic" claimed responsibility for the false homicide report to police. "Yeah, the call was made by me, but as far as the whole incident," he said. "You could point the finger at the cop who killed someone, you could point the finger at the person who made the call, you could point the finger at the person who provided the address, who said, 'oh look this is where I live, go ahead and swat me, if you do you're going to go to prison for five years.'"