The ink is barely dry on Marvel's finalization of new director Peyton Reed to helm Ant Man, but the studio is already looking forward to another high-profile film project: Doctor Strange. The studio just announced a director and screenwriters for the project, Sinister's Scott Derrickson and duo Thomas Dean Donnelly and Joshua Oppenheimer (Conan).
But who should tackle the complex title role? Tumblr faves Benedict Cumberbatch and Tom Hardy, according to early reports.
Inside sources at Marvel have told Deadline that the two current British it-men are both on Derrickson and producer Kevin Feige's wish list to play the titular hero, whose character undergoes a massive transformation from greed and hubris to humiliation on his way to becoming a master of magic.
Both Hardy and Cumberbatch have proven magical with audiences: After winning critical acclaim in early roles like Bronson, Hardy sprang to international attention in 2010's Inception, following it up with the meaty role of Bane in The Dark Knight Rises. Meanwhile, Cumberbatch shot straight to international stardom of a more low-key sort, playing the BBC's titular Sherlock before giving a respectable turn as Khan in last year's Star Trek: Into Darkness. Both actors have proven adept at the kind of onscreen physical transformation and needed depth to give this classic superhero modern resonance.
Created in the '60s, Doctor Strange follows the tale of Dr. Stephen Strange, whose life as a brilliant but greedy neurosurgeon is upended when a car accident leaves him unable to use his hands. His search to restore his abilities leads him to become a mighty sorcerer, through a journey of self-discovery that should thrill audiences at the box office. The character also opens up numerous possibilities for the Marvel Cinematic Universe, not only because he's one of the only non-Avengers to make the jump to the big screen, but because he's also one of the most actively magical. And for die-hard comic fans, the surrealist magic sequences and art style that paid homage to Salvador Dali and made the comic a cult hit should be in ready supply.
Previously, Johnny Depp and Jared Leto have been bandied about as contenders for the role, but we find Hardy and Cumberbatch far more realistic names as far as speculation goes. Both Hardy and Cumberbatch have the kind of niche geek appeal that Marvel loves: Hardy is currently riding a wave of critical acclaim for his most recent film, Locke, and Cumberbatch is basically the Harry Styles of geekdom right now. Plus, after each playing high-profile villains, this would make a great breakaway.
And let's face it, it's going to take an actor with a special something to match this guy's flair for the dramatic: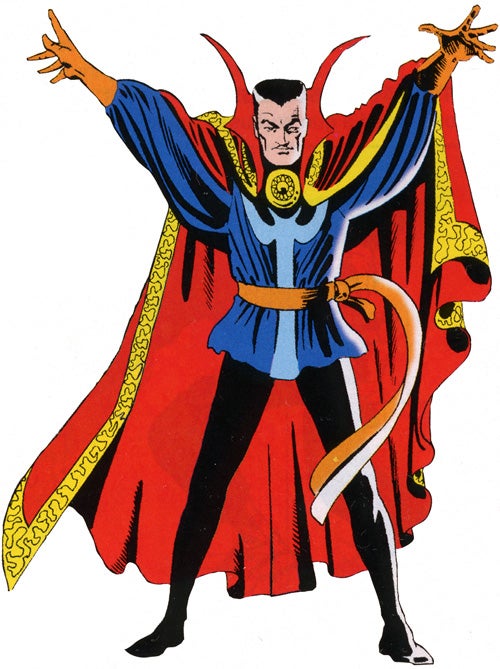 Photo via Wikimedia Commons
While we wish there were some way to have them both play the title role, we'd be happy to see both of them cast in the MCU. The two have acted onscreen together twice before, in the touching early film Stuart: A Life Backwards and 2010's critically acclaimed Tinker, Tailor, Soldier, Spy.
Here's hoping Marvel adds "caped superhero" to that list for one of them soon.
Photo via Iconosquare