Warning: This story contains spoilers for Thor No.1.
Marvel went big when they announced this summer that a woman would be becoming Thor for a new comic book series. It shared the news on The View and revealed an impressive cover for Thor No.1. Now the new woman wielding the hammer has arrived on our shelves, or at least an introduction to her taking the Thor title has.
Written by Jason Aaron with art by Russell Dauterman, Thor No.1 opens with some underwater action in the Norwegian Sea where people are investigating an anomaly. Of course as the suspense builds, it's clear the anomaly—as anomalies tend to be—isn't anything good. Even with their attack sharks, people can't stop the familiar frost giants that appear.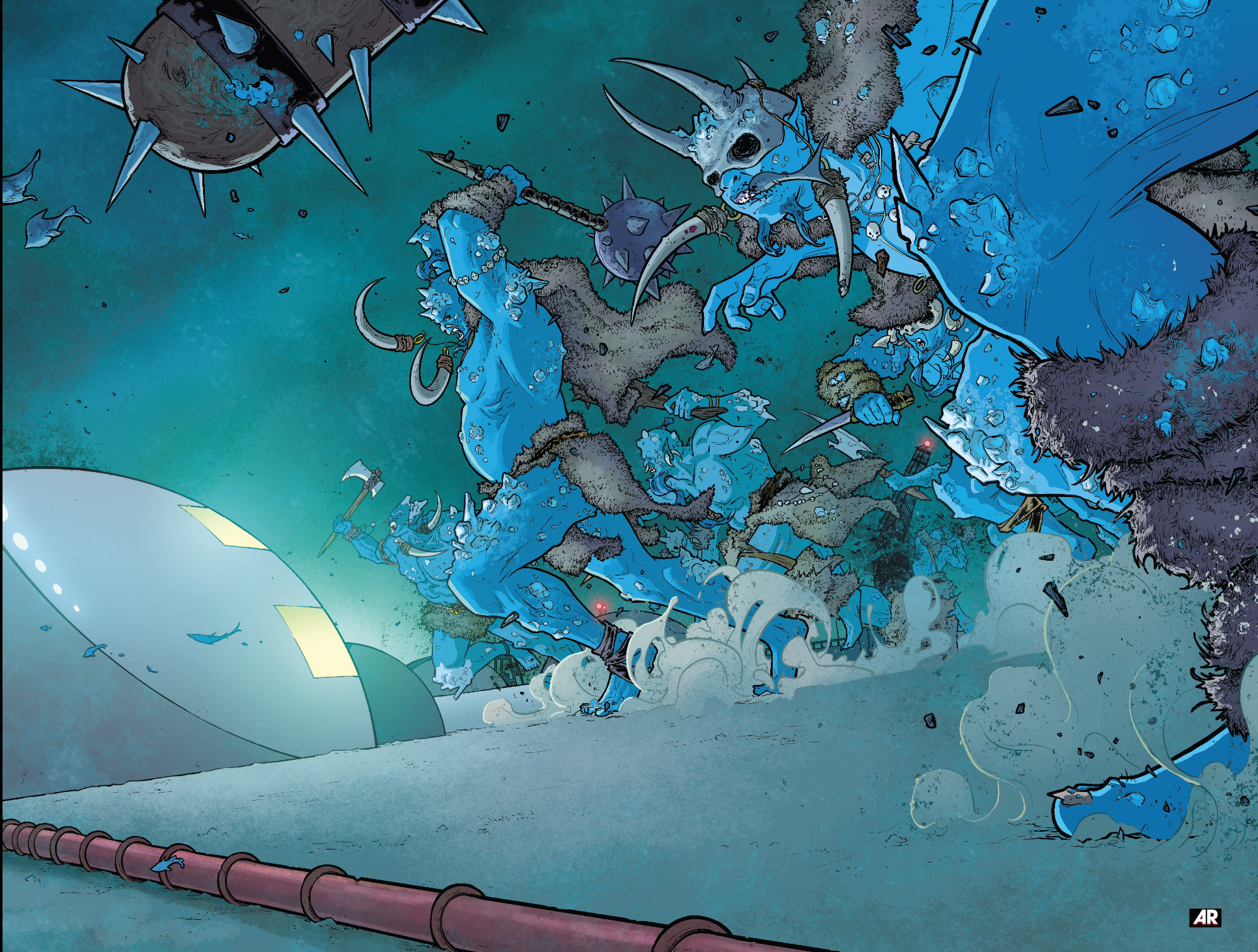 It's after these scenes that we see the Thor we all recognize in a bit of a dilemma. Something happened during his last battle alongside the Avengers that made him unworthy to wield the mighty hammer Mjölnir. The hammer sits immobile on the moon, no matter how hard Thor, his father Odin, or anyone else tries to pick it up. (Mjölnir can only be brandished by those deemed worthy, which acts as a plot device in many of Thor's adventures.) 
As a reader you can't help but feel bad for Thor as he desperately pleads with his hammer. The idea that something like a whisper could reduce the hero to this is intriguing, though we don't come any closer to learning more about the incident that got him here. If Thor's anguish isn't enough, he has to deal with bickering between Odin and Freyja too. The All-Father has just returned from a self-imposed exile and while he was away the All-Mother was in charge. This leads to some confusion about who is in charge now that Odin is back. Odin's easy dismissal of Freyja and his demanding that she remember her place in a world where Odin is "alone above all" brings up the first possible candidate for the new Thor. Is it Freyja?
It's a question many readers are asking, not just because of Odin's demand that she remember her place, but because of how Dauterman's wonderful art portrays her expression as she looks at Mjölnir on one particular page.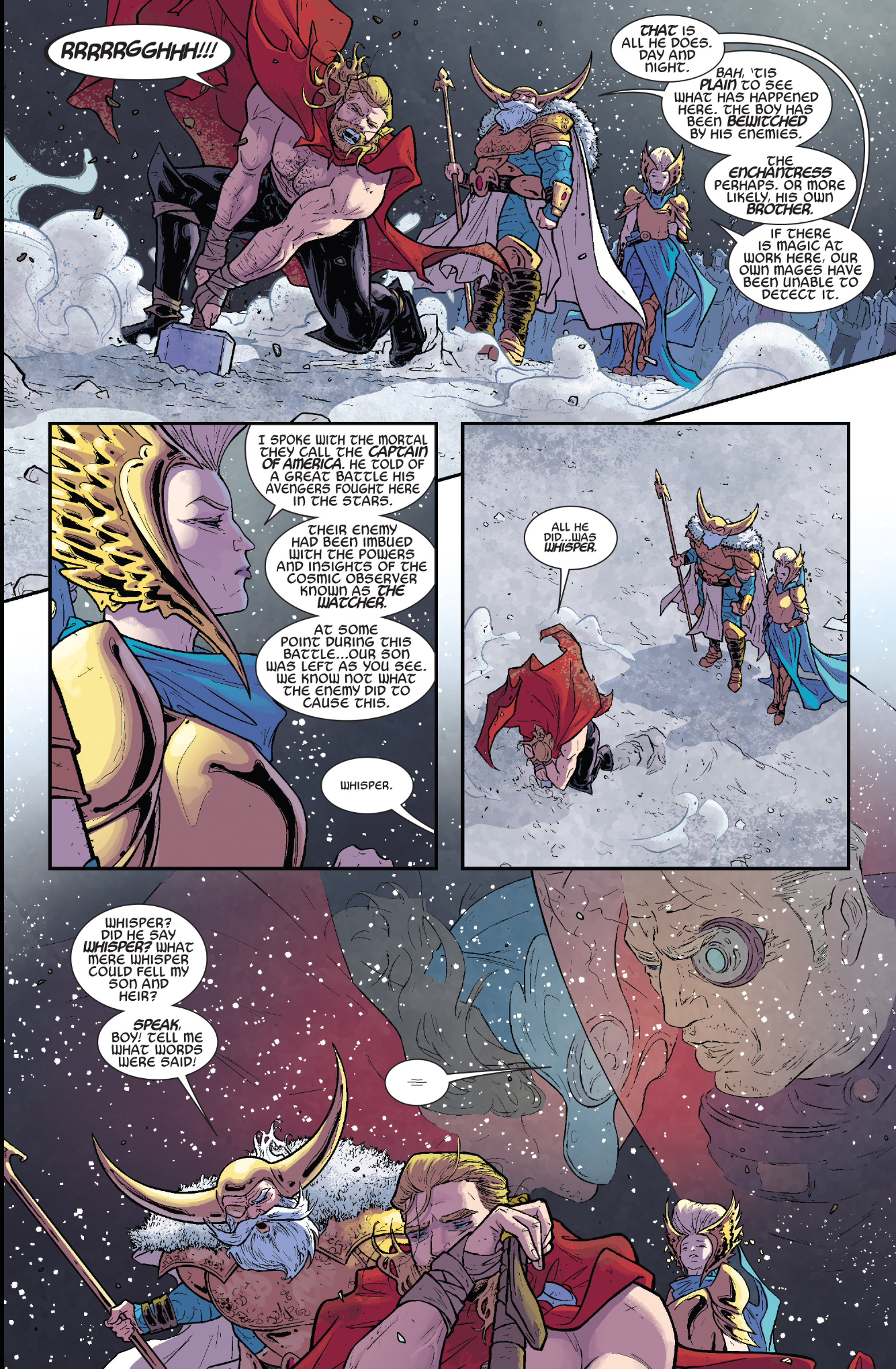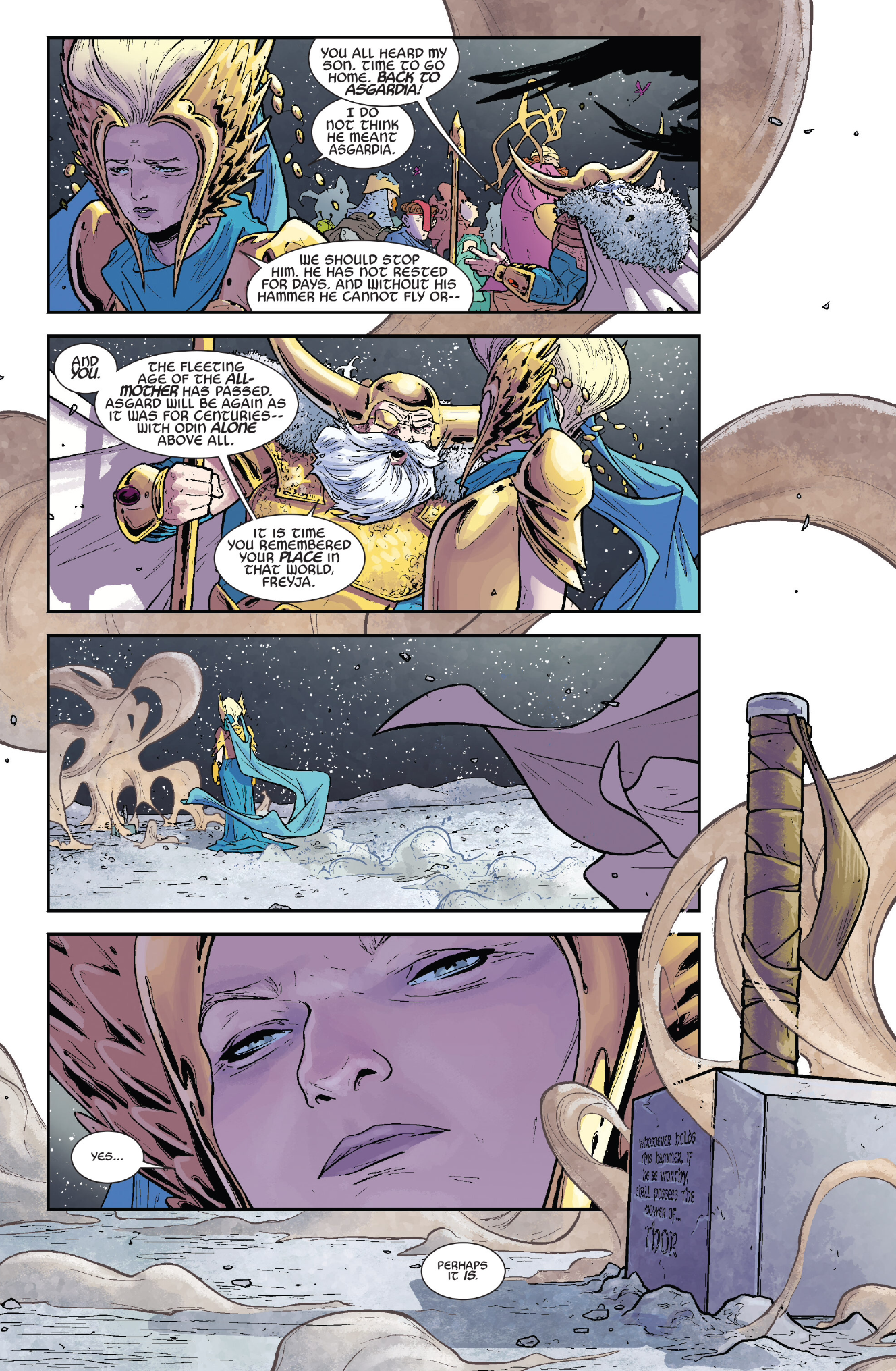 If she's the new Thor is a question you'll keep asking yourself throughout the issue, because not even at the end do we learn the identity of the woman now wielding Mjölnir. Instead we see Thor going down to deal with the frost giants, facing Malekith the Accursed without his hammer, and being met with defeat. All of it does a good job of showing how the Thor we're familiar with loses his place, leaving a spot open for his replacement. 
Still, it's disappointing to have so much set up without a reveal or further clues about the new Thor. It's only on the last two pages that we see the wording change from "he" to "she" on Mjölnir. Awoman proclaims "There must always be a Thor" before picking up the hammer and emerging in all her glory.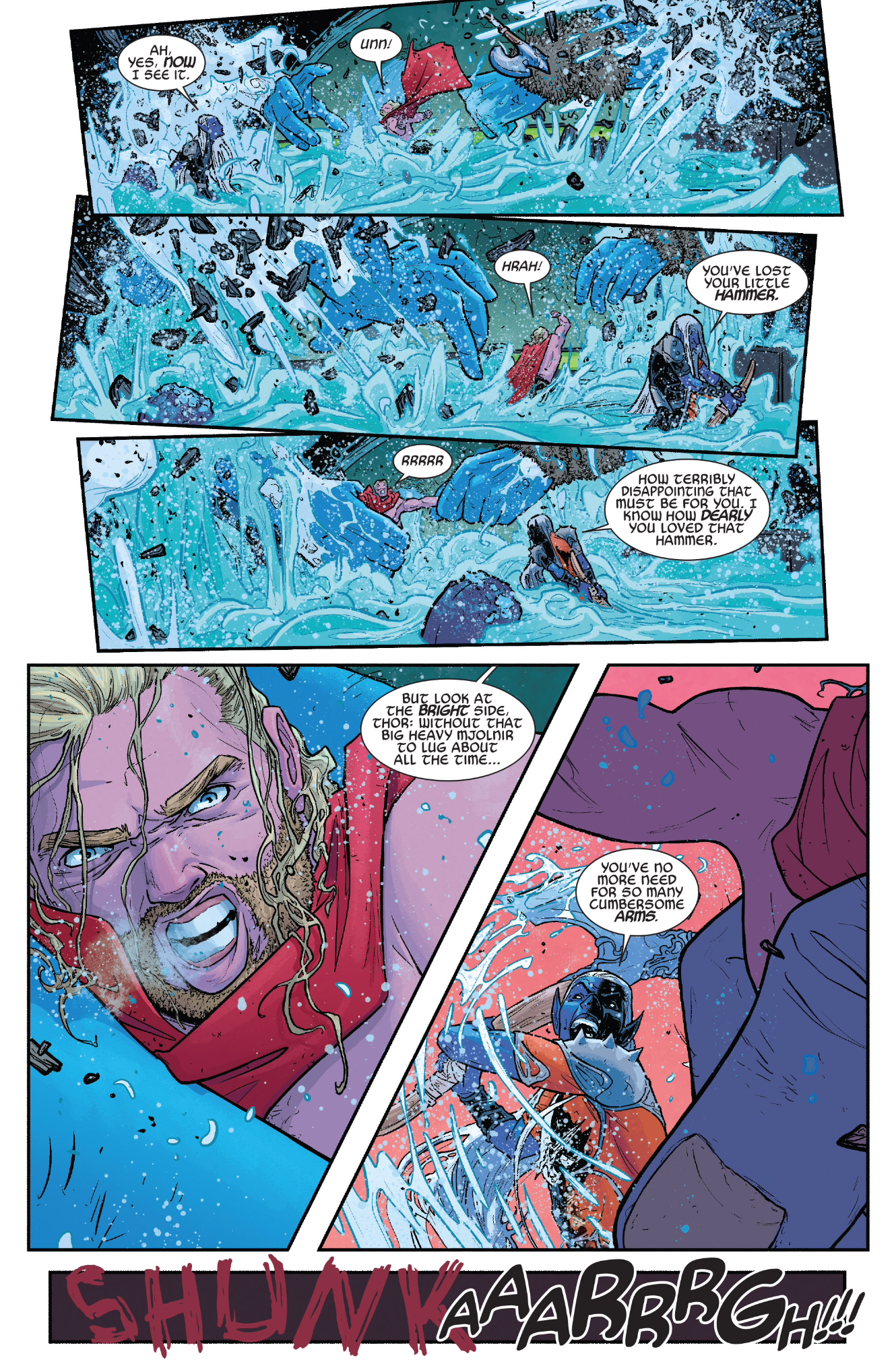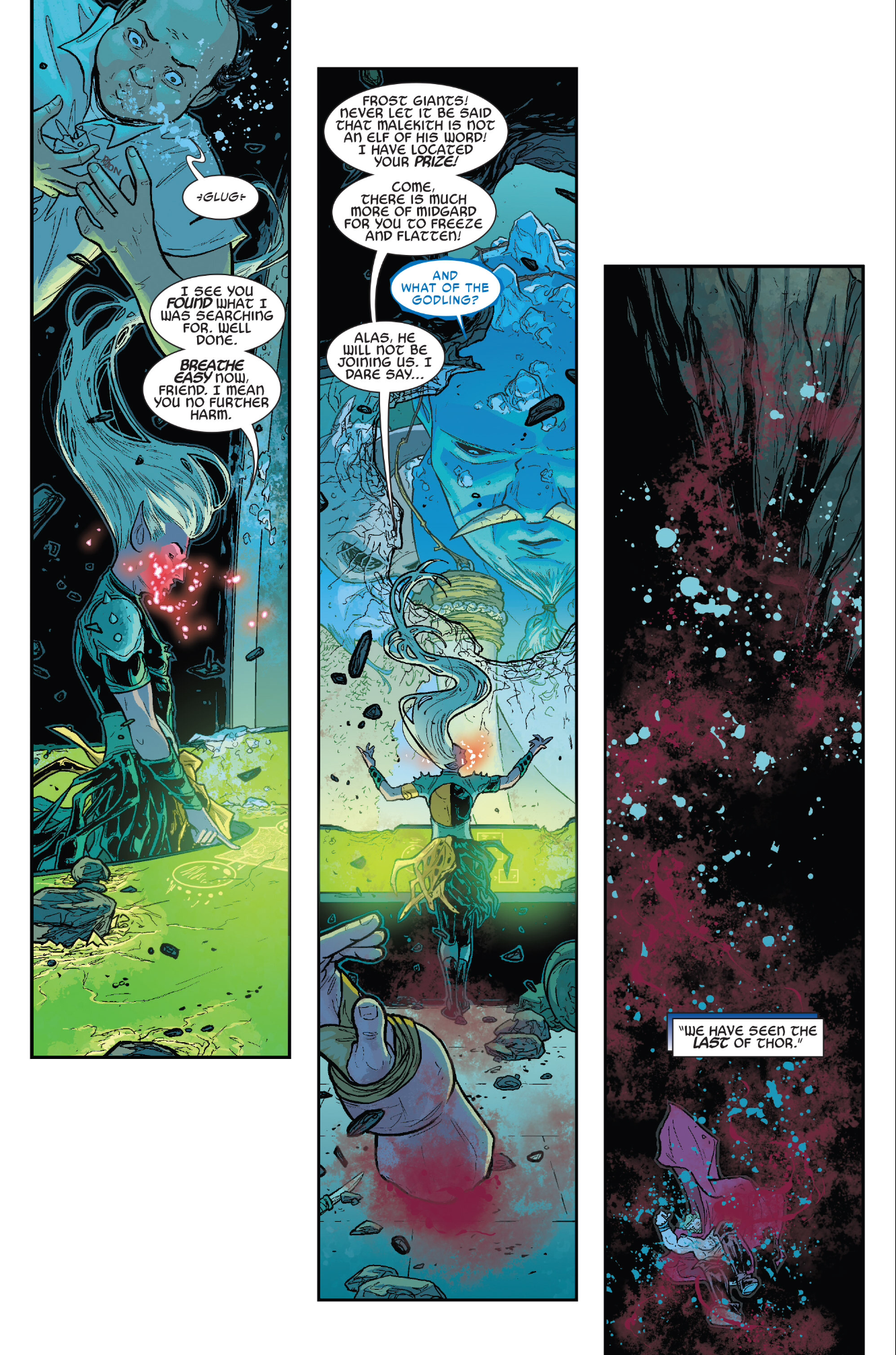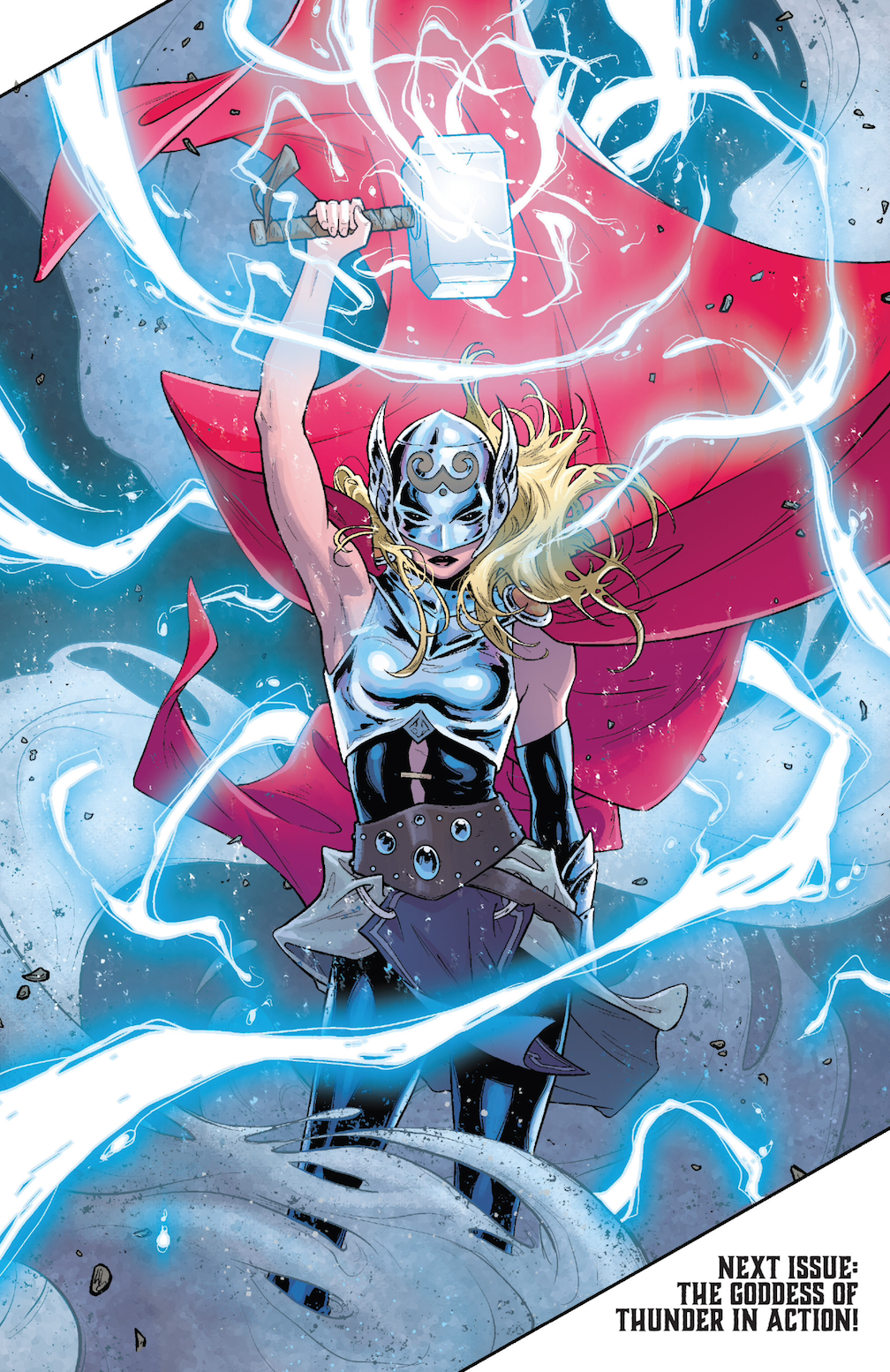 Marvel's big leadup to the new Thor makes not revealing her identity in the first issue a risky move. It expects fans to be caught up in Thor's fall and the mysterious figure at the end enough to return for issue 2. The heavy implication of Freyja as a possible new bearer of the title had many fans talking on social media. Some were happy with the possibility—but not everyone agreed.
@onlymapaches SHE ONLY SHOWED UP RIGHT AT THE END BUT OH MAN, ODIN'S WIFE FREYA, I LOVE IMPORTANT LADIES. i am so sad about 1st thor tho :'0

— Man Strong (@lacypastry) October 9, 2014
Finally read the All New Thor… Not sure if who they implied it is is actually the wielder. Hoping it isn't.

— Trin (@jaenne) October 11, 2014
However Freyja might not be the only woman who could be the new Thor in coming issues. Aaron told The Wall Street Journal right before the comic's release that it will "be an ongoing mystery for a bit as to who she actually is" and that "there'll be multiple 'suspects.'" Aaron wouldn't say exactly when we'd learn who Thor is now, though it sounds like it will be at least four issues before her identity is revealed.
Fans disappointed with the few appearances of the new Thor in this issue probably won't take kindly to learning that they might have awhile to wait before they learn the identify of their new hero. Still, the guessing game may hook some fans.
So yeah, the first issue of the new Thor was LAME. I hope keeping the identity of new Thor secret isn't going to be a "thing"

— Daniel Kaszor (@dkaszor) October 2, 2014
Not cool @jasonaaron making us wait to reveal new Thor's identity till the next issue. Well played good sir, well played indeed.

— Isaac Cisneros (@IsaacDCisneros) October 11, 2014
Even if you were disappointed by the lack of the new Thor in this issue, there's no denying Aaron's writing makes the book work. Readers are sucked into Thor's troubles, and whether it annoys you or intrigues you, everyone will be asking "Who is she?!" by the last page. So while fans teeter in the middle of how they should react to this highly anticipated book, it's clear many will probably pick up future issues eager to answer that question.
Of course for those of us eager to see another female superhero in comics, we hope they don't keep her identity under wraps too long. There's a difference between suspense and stringing readers along, and we hope Marvel and the Thor team can successfully straddle that line.
Thor No.2 will be released Nov. 12.
Art by Russell Dauterman, screenshots by Lisa Granshaw via the Marvel Comics iPad app