Frozen was the queen of tonight's animated films at the Academy Awards. A shoo-in for Best Animated Film, it also nabbed an Oscar for Best Original Song—even though it didn't exactly get the best original performance.
Let's face it, the only question on the minds of everyone listening to tonight's performance of "Let It Go" was this: Would Idina Menzel be able to hit that high E at the end?
When she was introduced, that note was the last thing anyone cared about.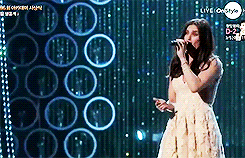 GIF via oscarperformeridinamenzel/Tumblr
Idina Menzel, the Broadway vocalist whose starring roles in Rent, Aida, and Wicked have earned her a huge cult following, caused a stir when she was chosen to sing the hit song "Let It Go" from Frozen at tonight's Academy Awards. Although she voiced the song in the film, Demi Lovato fans were none too happy that Lovato, who recorded the studio version of the song, wouldn't be performing it onstage.
Menzel was always the obvious choice; Lovato's version of the song is less dramatic. Picking Menzel meant going after that high E, something few earthlings could reasonably be expected to deliver.
Menzel has showed off her belting chops plenty of fimes before, particularly in Wicked's "Defying Gravity." But in practical terms, a Broadway vocalist going after a high note is a lot like a gymnast landing a triple axel in competition. When you're doing it live, it's not always perfect.
And tonight, Menzel wasn't. But the odds were stacked against her. First presenter John Travolta butchered her name, inexplicably, as "Adele Dazeem." (It's Ah-DEEN-a Men-ZEHL," in case you needed the lesson.)
Then the song was cut due to time constraints, and the orchestra seemed to be rushing to keep up with her in performance. Oh, and she had to perform under the threat of impending death by chandelier, straight out of another musical:
Over 164,000 crystals dazzled the #Oscars set for the #Frozen performance #HollywoodSparkle pic.twitter.com/keouAfPIL6

— Swarovski (@swarovski) March 3, 2014
Menzel forged her way through the ordeal. She did fine. But did anything matter but that last note?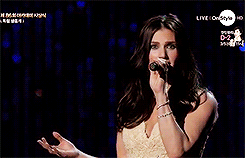 GIF via oscarperformeridinamenzel/Tumblr
Tumblr immediately launched into sympathetic cries of "poor baby" as well as a few sour criticisms, but it couldn't sour anyone on their love of Frozen. It lost to Gravity for Best Score but took away the prize for "Let It Go," in part due to Menzel's lungs of steel:
#Let it Go, Let it Go…Idina Menzel shrieked it like nobody's business..and they won best song #takethatpharrell #Oscar #Oscar2014 #Disney

— Mitchell Ralston (@MrLefou) March 3, 2014
And the Oscars audience weren't too bothered by it either: they gave Menzel a standing O.
Idina killed it don't trip. At the end of the day she still has a Tony and performed at the Oscar's. A lil crack can't stop #IdinaMenzel

— IG:BroadCastSwagg (@BroadCastSwagg) March 3, 2014
Meanwhile, Travolta's gaffe with Menzel's name seems to have overshadowed her performance. Variants of "Adele Dazeem" and "Adele Dazim" are already popping up on Twitter:
Travolta never bothered me anyway.

— Adele Dazim (@AdeleDazim) March 3, 2014
And there's even this BuzzFeed post, "If John Travolta Had To Pronounce Everyone's Name At The Oscars":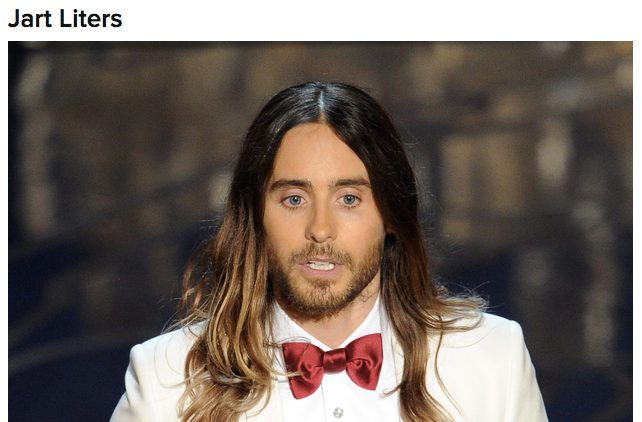 Even comedian Retta—Donna on Parks and Rec—weighed in:
I literally (Chris Traeger voice) can't stop laughing at the hot mess that was Jorm Tramolta's intro 2 Adele Dazeem 4 the film Brozen. 😂😂😂😂😂

— Retta (@unfoRETTAble) March 3, 2014
Photo via melanie_englood/Twitter