Exclusive Pornsite Deals: Join now for $1
Finding sites like Tumblr to replace NSFW Tumblr
Erotic Tumblr once ran aplenty. If you've ever hastily typed the phrase "Tumblr porn," "lesbian Tumblr," or "sex GIFs" into your browser on private mode, you're probably in search of reliable Tumblr porn alternatives. It's a sad day when a lifetime archive of artful black-and-white NSFW GIFs disappears into oblivion, leaving their followers to search for sites like Tumblr.
You've probably heard that Tumblr effectively banned all adult content on the platform starting Dec. 17, 2018. And while that does mean you've lost your favorite BDSM blogs or NSFW lesbian Tumblr pages, it also means Tumblr is banning things like "real-life human genitals," "female-presenting nipples," and anything that "depicts sex acts." These categories disproportionately affect not only porn content, but adult artists, queer users, kink communities, and sex workers whose livelihoods depend on Tumblr as a welcoming platform.
Alas, the light in the dark that was Tumblr porn has been effectively put out. Thankfully, there are some brilliant Tumblr porn alternatives that have been around for quite some time. And now, they're picking up steam not only as platforms for adult content but as safe spaces for artists and online communities that lost a home on the internet. Here are the best apps and sites like Tumblr porn in lieu of erotic Tumblr content.
Tumblr porn alternatives: The 5 best NSFW Tumblr replacements
Pillowfort is a small but mighty blogging platform that most closely resembles Tumblr when it comes to site capabilities, design, and user interaction, making it feel the most seamless among Tumblr porn alternatives. The difference is that it's private and currently requires a "key" to access. Pillowfort keys are sent out via invite only and give users access to a feed that much resembles Tumblr's dashboard. You can like and reblog posts, reply to and save other posts on your bottomless homepage, follow accounts and categories you love, and send private mail to other users. Best of all, Pillowfort has a lax policy when it comes to NSFW content and gives users more overall control.
Users can request an access key by donating $5 to Pillowfort, or can use an invitation key from a current user. While the site has closed registration in December in order to "improve performance and add necessary features," registration is open as of June. If you do make it past Pillowfort's protected beta borders, you'll find a ton of NSFW spaces, including: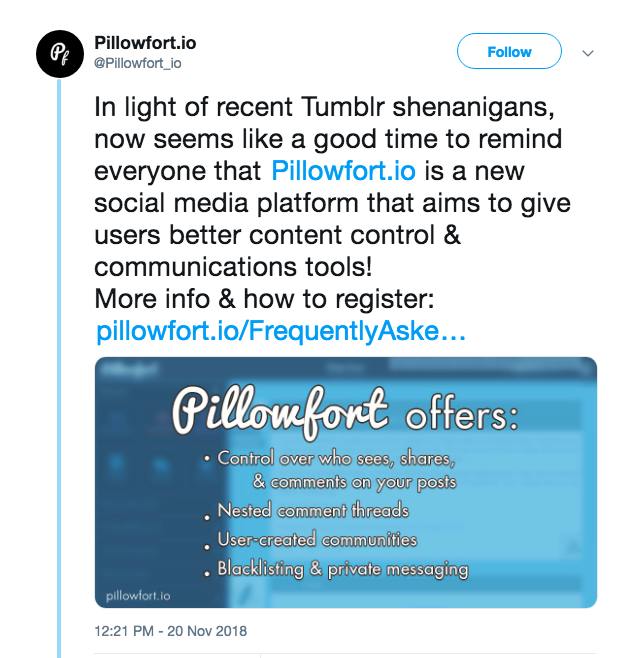 Mastodon is good for Twitter alternatives much like Pillowfort is good among Tumblr porn alternatives. That is, if Twitter were conceptualized as free open-source software. Mastodon is a social network software that forms a part of the "Fediverse," which is a decentralized network of servers that host various mini-servers, or Mastodon "instances." Users looking for erotic Tumblr alternative content can connect with each other, even across these instances, and form communities. Unlike tweets, Mastodon users can post "toots" that can be private to the user, just a user's followers, public on a specific instance, or public across various Mastodon instances.
It can sound convoluted from the outside, but it's a way for users to have more control and privacy when it comes to their content. This is especially helpful when it comes to NSFW content. There are a ton of Mastodon instances out there, but some of the best on the NSFW front include: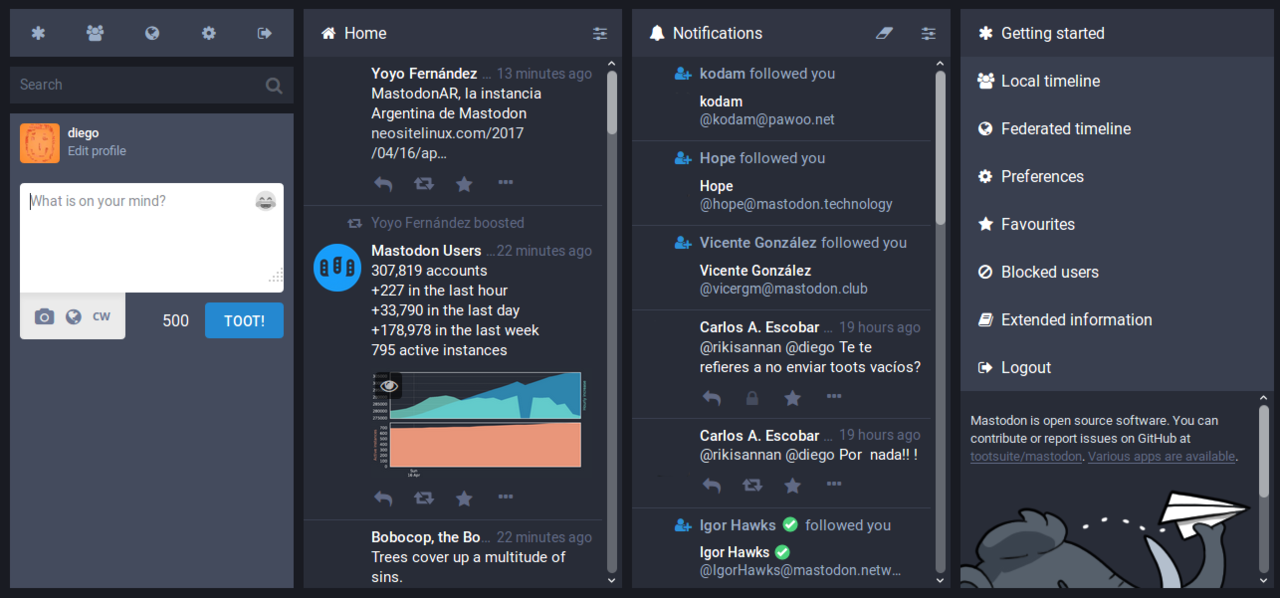 READ MORE:
3) Reddit
We've sung the praises of NSFW Reddit for some time now, whether you're looking for straightforward Reddit porn, GIFs, Reddit Gone Wild, or BDSM content. And as far as NSFW Tumblr replacements go, Reddit may even be better than the real thing.
In the wake of the Great Tumblr Exodus of 2018, user-driven spaces like Reddit are even more valuable for creators, consumers, and community-seekers alike as far as Tumblr porn alternatives go. Moderators of these porn subreddits set strict guidelines for submissions, and if you're following some of our Reddit porn recommendations (or at least paying close attention to those guidelines) it's not difficult to find ethical porn communities on Reddit without having to wade through offensive content or revenge porn — a great quality for sites like Tumblr to have.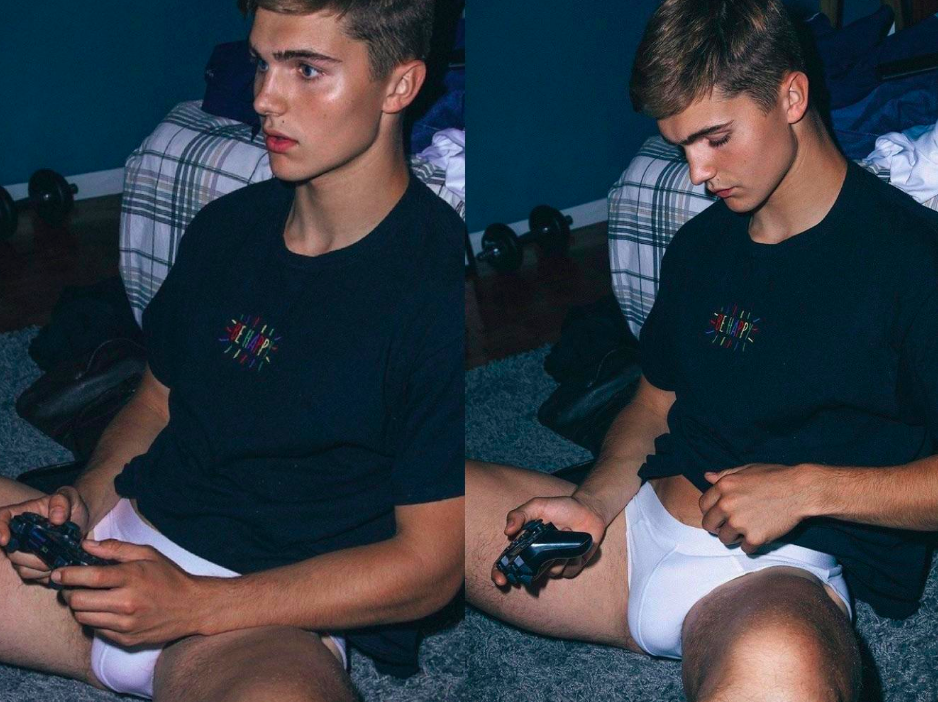 In its earliest days, Snapchat was a bit of a feared platform, largely by parents of teens and other critics who were (rightfully) concerned about the haphazard sending/receiving of disappearing nudes or unsolicited dick pics. The platform has seen some massive expansion, however, and it's not all about NSFW content anymore. But even if you typically use Snapchat solely to maintain a streak with your BFF, Snapchat is for flirting. And you most definitely can send pornographic content via Snapchat — good news for those searching for alternatives to erotic Tumblr.
Adult stars have taken note, starting up paid Snapchats to cater directly to their fans. If you search for a specific performer's name, you'll likely come across a list of porn stars on Snapchat. Sure, you can watch free porn tube videos of the same performers. But by paying to subscribe to their private accounts, you're supporting their work directly (and fairly discreetly). Many NSFW Tumblrs and erotic Tumblr posters were successful because they had a personal appeal or were run directly by sex workers, performers, or kink bloggers. In searching for sites like Tumblr, following and supporting sex workers on Snapchat is much the same.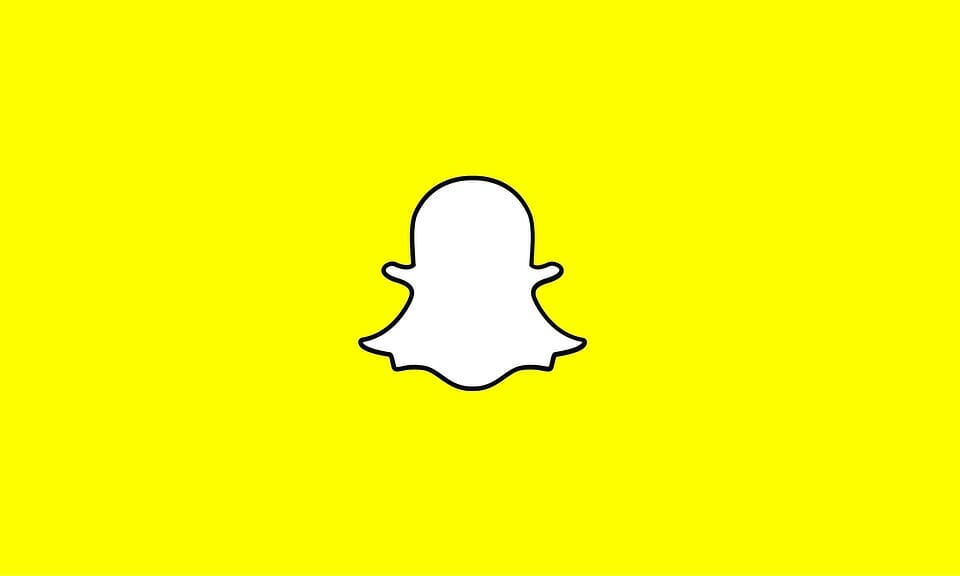 READ MORE:
5) Twitter
For many NSFW artists and adult content producers, Twitter is the go-to NSFW refuge. Twitter has some notably lax rules in place when it comes to nudity (among other things). If you conduct a quick search, you'll find that a ton of mainstream porn stars and cam performers have public accounts on Twitter where they frequently post full clips of porn content.
Keep in mind, however, that Tumblr placed restrictions on NSFW content because of the proliferation of child porn and sexual exploitation. Just as perfectly legal adult content artists are migrating to other platforms that will host their content, there has been some discourse about abusers and pedophiles migrating to Twitter. In the past, Twitter's "lax" policies have also allowed white supremacists to use the platform freely with little to no consequence. Be conscious of who you choose to follow, and as always, report anything that is offensive, racist, or seems like revenge porn.
---