If you were one of the Tumblr users impacted by the Tumblr porn ban, then chances are you've heard of Pillowfort, an up-and-coming Tumblr alternative, at one point or another. The site itself is largely inspired by Tumblr, although it touts several new improvements that make the service stand out compared to Automattic's microblogging platform. These include an improved home feed layout, better filtering capabilities, and a lax policy on NSFW content.
Although Pillowfort initially launched its free public registrations in January, the site chose to go offline last month to address numerous security issues. Pillowfort is expected to reemerge in April once it has completed a full overview and investigation.
When Pillowfort returns, newcomers will be able to sign up and meet new friends, build followings, and join a wide range of communities dedicated to everything from Homestuck to BDSM. If you want to join in on the fun, here's what you need to know.
What is Pillowfort?
Over on the service's staff blog, Pillowfort calls itself "a hybrid of Tumblr, Twitter, and LiveJournal," ideally "keeping the strengths of these sites while compensating for their weaknesses." The site functions very similarly to Tumblr, complete with likes, replies, private mail, reblogs, and a bottomless home feed, making it the perfect home for Tumblr refugees.
That said, Pillowfort sports numerous improvements that give users more control over how they view, access, and hide content. For one, users can join a wide range of user-run Communities, where Pillowfort members can chat with each other through a Discussion board and reblog posts to a communal home feed. There's also a filter and blacklist section on the home screen's sidebar where users can customize their news feed for NSFW content or blacklist certain tags or words.
Additionally, NSFW material is not visible by default, and users must activate this feature under the Filters & Blacklist tab in the sidebar. Users who are under 18 cannot view NSFW communities and posts.
In the future, Pillowfort plans to add a mobile app, post queueing, Tumblr and Dreamwidth blog imports, and custom user lists for privacy filtering, among other options.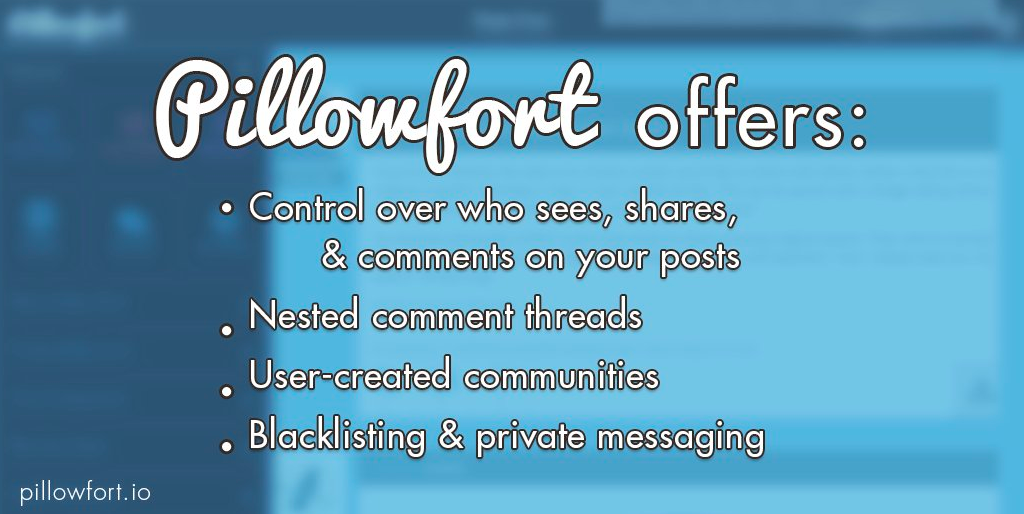 READ MORE:
How does Pillowfort work?
Like Tumblr, users largely interact with each other through their home feed, each account's main homepage. Users can either follow individual blogs or join Communities. Posts will regularly populate their news feed. From there, Pillowfort posts offer three options: comment, reblog, or like.
Unlike Tumblr, Pillowfort does away with long, threaded reblogs. Instead, discussions happen under a post's comment section, keeping users' home feeds tidy. Meanwhile, each post's comment section features reply threads for an accessible and easy-to-use discussion system, mirroring those found on Reddit, Facebook, and Twitter. Pillowfort Communities also host their very own forums, where users can get together and post threads independent from a given Community's feed.
Pillowfort also has design improvements that bolster users' privacy. Unlike Tumblr, Pillowfort reblogs are not copies of an original post, but rather redirections that point back to the original author's post. "What this means is that when an original post is deleted/edited, all reblogs of that post will be deleted/show the edits," Pillowfort writes in its FAQ. "This is to ensure that users maintain total control over their content and how it is viewed."
Users can also decide whether each individual post is viewable publicly, by fellow Pillowfort users, by followers, or solely by mutuals.
Otherwise, Pillowfort works similarly to Tumblr. Users can follow each other, send mail, and make text, picture, video, and audio posts. The site features a tagging system, blocking, and a page for each user's blog. Oh, and there are plenty of fandoms already on the site, from Homestuck to Steven Universe. For many, it's home sweet home.
For more information on using Pillowfort, visit the site's 101 guide.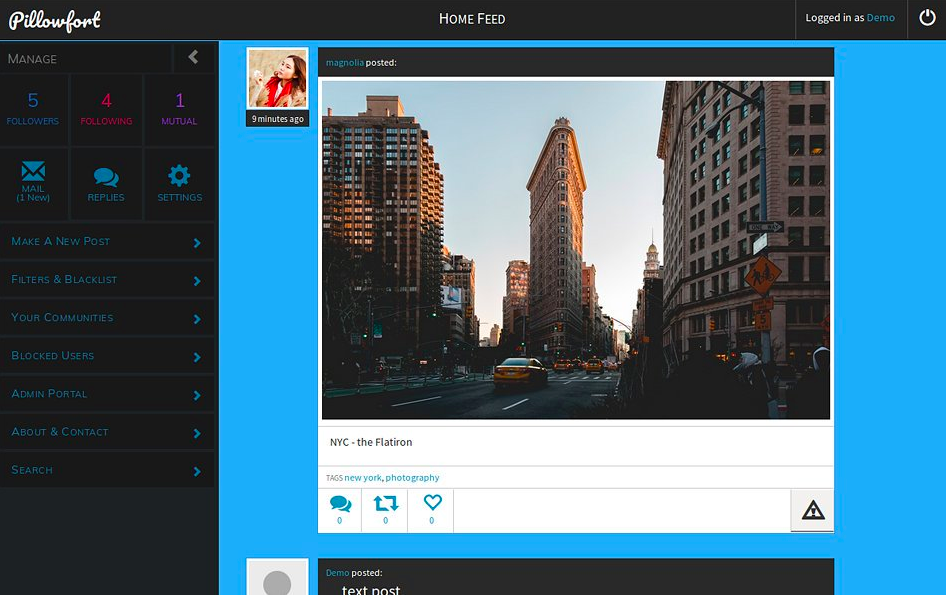 What is Pillowfort's NSFW content policy?
Pillowfort has a clear message to NSFW creators: you're welcome here. The site's public release FAQ states that Pillowfort allows NSFW content and believes in "creating a safe environment for our creators to have the freedom of creative expression" and values "sex workers performing legitimate work for adults."
Pillowfort's terms of service does not include any bans on material depicting adult models or characters. The site only bans illegal content and material that "encourages or incites illegal activity."
Sexually explicit artwork depicting pre-pubescent characters are banned, as well as artwork with characters that "can be definitively and reasonably identified as minors," as long as this material "lacks legitimate artistic, political, literary, or scientific value." For more information, read the Pillowfort Staff's blog post on NSFW content moderation from December 2018.
Pillowfort has historically stood up for adult content creators. The site switched from pillowfort.io to pillowfort.social in order to avoid the .io domain's rules against sexual content. Pillowfort also stood behind its NSFW-friendly stance after PayPal cut ties with the site.
Pillowfort does not seek funding from venture capitalists and investors, according to its business plan. Instead, Pillowfort will be introducing premium accounts and user-to-user advertisements. Theoretically, this would prevent outside influences from dictating Pillowfort's policies on NSFW material.
Granted, platforms regularly alter their NSFW content policies after their rules are put to the test. It also remains unclear how Pillowfort will navigate content moderation for full-service sex workers connecting with clients, given full-service work is largely criminalized around the world.
READ MORE:
Best Pillowfort Communities
Communities are one of the best ways to quickly populate your home feed, find new blogs, and get to know other Pillowfort users. While Pillowfort is relatively small, there's an enormous number of Communities already established and waiting for relaunch. The most popular Community, BetaUsers, sports over 7,000 members, followed by PillowArtists with approximately 4,000.
LGBTQ
If you're looking to meet up with queer folks on Pillowfort, LGBT sports over 2,700 members and features discussions on everything from TV series with LGBTQ representation to blog posts about growing up queer. Then there's Transgender and AroAce for individual groups within the letters. For more specific interests, users can also check out ~Queers on TV~ and femslash, the latter of which dedicated entirely to "ships and fandoms" of queer women in love with each other.
Geek
There's already an enormous selection of Pillowfort Communities dedicated to video games, comics, and more. Popular choices include Pokemon, Marvel, Overwatch, dragon-age, DnD, and Star Trek. Then you'll find Fanfiction and ArtistAlley for the more artistically-inclined fans out there.
NSFW Pillowfort
If you're looking for adult content, Pillowfort hosts a ton of NSFW blogs and communities. NSFW is one of the biggest communities around, and LewdDraws hosts illustrated adult content. For something a little kinkier, BDSM – Adults Only focuses specifically on fetish content, and Tumblr NSFW Art, BDSM, Kink and Sex-Work Refugees features 18-plus content of all kinds. There's also Teratophilia for monster-lovers, which lets users share 18-plus stories and pictures within the Community.
For more SFW and NSFW artists, visit AModestMouse's and MrPeculiar's blog posts documenting Pillowfort's illustrators.
Make sure to keep an eye out for Pillowfort's official relaunch this month.