One of the train conductors held responsible for the deaths of 78 people in Spain has an incriminating online history. Notably, he's (allegedly) posted photos to Facebook detailing his affinity for going way, way faster than the Spanish railway system's speed limit.
In a Facebook post that's since been deleted along with his entire account, Francisco José Garzon, 52, reportedly boasted about pushing a train's speed up to 200 kilometers per hour last March, a speed that equates to roughly 125 mph in America's units of measurement.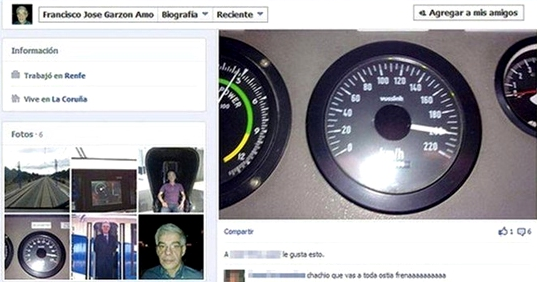 In a comment attached to the post, Garzón allegedly wrote, in Spanish, "What fun it would be to drive side-by-side the police and then pass them by, triggering the speed radar. Haha, bit of a fine for Renfe, haha!"
Spanish authorities are currently investigating the cause of the accident, which killed 78 and injured another 140, but it's widely believed, based on video taken of the derailment, that the root of the crash was the fact that the train was going twice the speed limit when it caromed off the track. 
Garzón was taken into custody Thursday while being treated at an area hospital. He and the train's other conductor could face charges in the deaths of the 78 passengers.
Photo vía kstp/Flickr