A popular concealer advertised as a "clean" alternative to products containing mineral oil, parabens, and ingredients consumers prefer not to have in makeup, may be causing some unpleasant reactions for some.
Revealer Concealer, a makeup product that promises the benefits of both an undereye concealer and eye cream, was released by makeup brand Kosas in 2020. In the following years, the product has drawn claims of spoilage and mold. Many users with such complaints have pointed to an alleged lack of preservatives, but the brand has since refuted this claim, sharing via its frequently asked questions page that all of the brand's products do include preservatives to extend their shelf lives.
Still, the packaging for the concealer indicates that it expires six months from opening.
One customer who purchased the concealer says she spent over $1,000 on specialists only to learn that the mysterious rash she had developed was caused by the concealer. TikTok user @xsarosex, whose slideshow documenting her experiences of hives and rashes she claims were caused by using this product has drawn over 1.8 million views, advised viewers to be cautious when using it.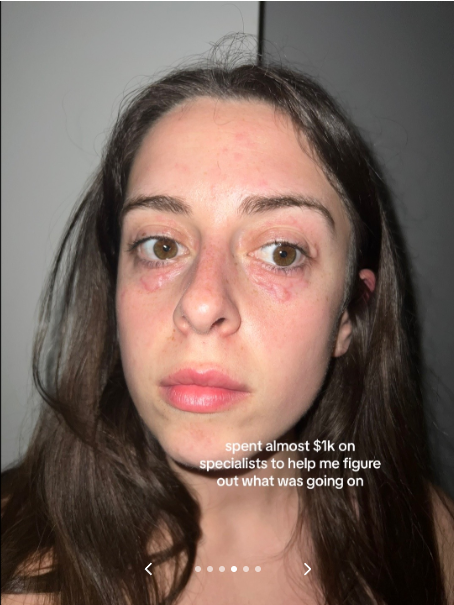 "Bought this concealer thinking nothing of it," a text overlay on the slideshow reads. "Started to get random rashes/hives everywhere for months not knowing where they came from. Literally everywhere. Spent almost $1k on specialists to help me figure out what was going on. Turns out it was the concealer. So just a PSA if you start developing this for months after using the concealer."
The Daily Dot has reached out to both @xsarosex and to the brand Kosas via email.
Reactions to @xsarosex's claim were mixed, with many viewers sharing they had used the product for years without any reaction. However, a few wrote that they did have reactions similar to the TikToker.
"I was using the concealer/ foundation and kept getting swollen eyes that looked like pink eye," one commenter wrote. "Finally found out it was their product."
"This happened to me too. I'm a boy literally I have no idea where this came from," another user said. "It's all over my back, my neck arms stomach spent over 600 on creams."
"Same think happened to me," another echoed. "My eyes were extremely dry and cracking with blood for months."
Some viewers suggested it might be an allergy to ingredients used in formulating the concealer.
"This is an allergy issue!" a commenter wrote. "Allergies are super personal and you can literally be allergic to anything, this is why it's so important to patch test."
"Bro i love the kosas concealer it's prolly not that the concealers bad you're just prolly allergic??" one shared.
"I was also allergic to this concealer," a commenter wrote.


We crawl the web so you don't have to.
Sign up for the Daily Dot newsletter to get the best and worst of the internet in your inbox every day.