Issac Kappy, who played roles in numerous offbeat comedies, died Monday after jumping from the Transwestern Road bridge onto Interstate 40 in Arizona.
The Thor and Beerfest actor was confirmed by Arizona police as the man who took his own life at 7.26am MT. The 42-year-old penned a final letter, which he posted on Instagram before his death. In the letter, Kappy admitted that he was "a pretty bad guy throughout (his) life."
After falling from the bridge, Kappy was struck by a Ford pickup truck on Interstate 40, according to Bart Graves, a spokesperson for the Arizona Department of Public Safety.
Kappy, an admitted drug user, has made headlines in the past few years for his controversial behavior. In 2018, he accused fellow actor Seth Green of pedophilia. The threat management unit of the Los Angeles Police Department opened an investigation into Kappy for allegedly stalking and harassing the Robot Chicken actor. In the same year, Kappy was accused of assaulting Paris Jackson—Michael Jackson's daughter—at a party, according to Metro.
Kappy also had ties to the QAnon "movement," a conspiracy theory claiming a secret government plot exists against President Donald Trump. He mentioned the movement at one point in his Instagram post, also bringing it up in a rambling video he posted several days ago.
Several bystanders tried to restrain Kappy from jumping, according to TMZ, but couldn't manage it. The actor's increasingly erratic behavior over the last several months had friends and officials concerned. Police opened their investigation into Kappy following a threatening tweet in early August 2018, according to the Daily Mail.
In his Instagram post, Kappy noted the multiple pedophilia accusations he's made. "And while it's true I have outed many pedophiles who were former FRIENDS, I remained in their sphere for much longer than I should have, and attempted to gain from them AFTER I knew about their actions," he said. The actor also wrote about his ties to the QAnon conspiracy theory. "To the Q movement I am so sorry I've brought shame upon the greatest military operation of all time," he wrote.
He also made direct mention of Trump at several points. Early in the letter, Kappy mentioned his desire to "make America great," and later said, "I have told people in the Trump administration that I am willing to admit to my many crimes in a public setting, and committed to execution, in a public setting."
In the second page of the letter, Kappy directly addressed the president.
"President Trump, I have betrayed you and squandered good will, and I now shall forever be known for my actions," he wrote. Throughout the letter, the actor noted that his own "arrogance" blinded him to his being "the bad actor all along."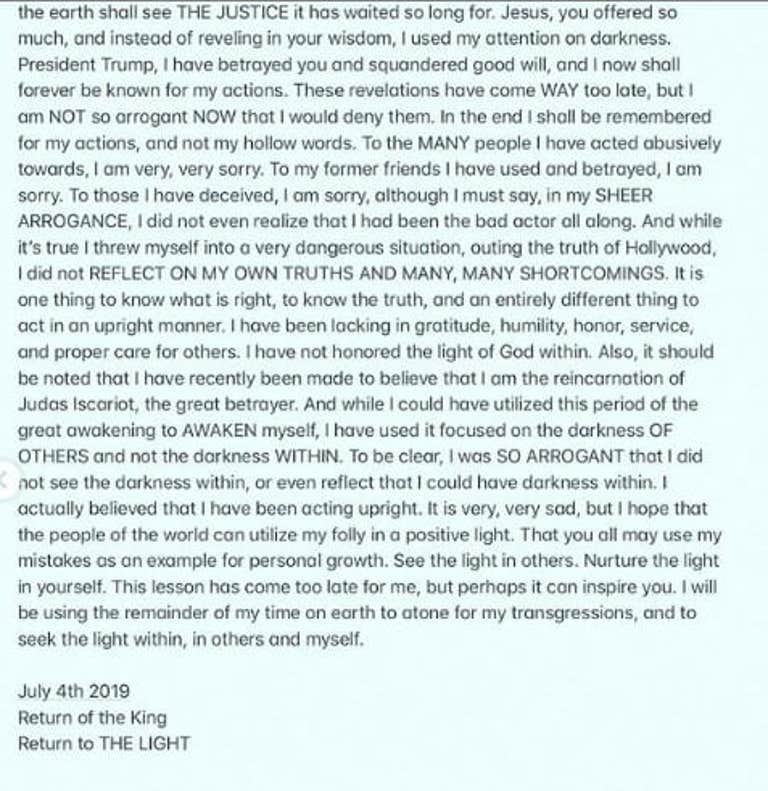 Kappy's letter also veered into religious territory. "It should be noted that I have recently been made to believe that I am the reincarnation of Judas Iscariot, the great betrayer," Kappy wrote. "And while I could have utilized this period of great awakening to AWAKEN myself, I have used it focused on the darkness OF OTHERS and not the darkness WITHIN."
The conclusion of the letter was strangely labeled with the future date of July 4, 2019. Kappy signed off by saying "Return of the King Return to THE LIGHT."
The post was captioned "Beware the man that has nothing to lose, for he has nothing to protect."
For more information about suicide prevention or to speak with someone confidentially, contact the National Suicide Prevention Lifeline(U.S.) or Samaritans (U.K.).
READ MORE: