Women online are sharing how they don't feel safe when walking alone at night after the kidnapping and murder of Sarah Everard, a 33-year-old marketing executive from England who was walking home from a friend's place when she disappeared.
Everard reportedly left her friend's place on the evening of March 3 and begin her walk home about 50 minutes away, according to Heavy. She was spotted on security camera footage while on her walk.
After a days-long search, Everard's body was found on Wednesday in a wooded area. She was reportedly identified using dental records. Wayne Couzens, a 48-year-old Metropolitan Police officer, has been charged with her kidnapping and murder. Surveillance footage, according to the Daily Mail, led to Couzens becoming a suspect.
Everard's death is bringing attention to the violence women face in the U.K. Jess Phillips, the shadow minister for domestic violence and safeguarding, told Radio 4's Today, that since Everard first went missing, six women and a girl were killed by men in the country.
Even though she shouldn't have to, Everard did everything by the book. She wore bright clothing, walked down a main road, and called her boyfriend on her way home. Andrea Simon, the director of End Violence Against Women told the Independent that while a woman being killed by a stranger is rare, their fears of walking the streets at night are not unwarranted. Almost all young women in the U.K. have been sexually harassed in public places, according to a recent UN Women UK survey.
Several online movements, including #TooManyWomen, #SheWasWalkingHome, and #ReclaimTheNight, were spurred by Everard's death. Women online, under the hashtags, are sharing how they are afraid when walking the streets alone, the attempts they make to stay safe, and the harassment and abuse they have been subjected to.
Twitter user @coldbrewedtool said the case caused her to "think about all the times that I crossed the road to shake off a man following me or text my friends the name, address, description, and duration of a Tinder date."
"The fact that it's normal for me to carry mace and a knife when I'm commuting across town alone because I'm preparing to be followed and harassed by a man who thinks he's entitled to my time and body is so fucked I can barely believe it," @coldbrewedtool continued.
One TikToker revealed all the precautions she takes when walking home from a friend's place just down the road: "keys in hand, cover up, walk fast, but don't run."
"And after all that, it could not be enough. And there's still people saying that the problem is us?" she said. "So yeah, I'm sad, and I'm mad, and I don't understand why there are people saying I shouldn't be because if it happened to her, it could happen to me."
Others are sharing times they were attacked by men and railed against victim-blaming.
"I wore baggy sweaters, long skirts, hair in a bun. My boss still violently sexually assaulted me. So don't blame short skirts, alcohol, walking alone at night, promiscuity," user @DorianHazel2 wrote. "THE CAUSE OF RAPE IS RAPISTS."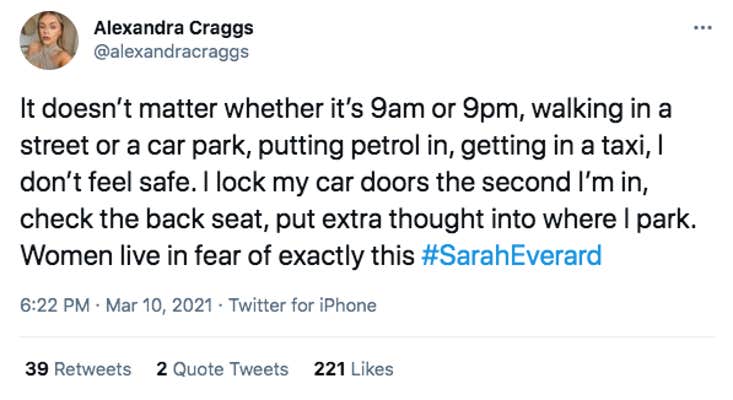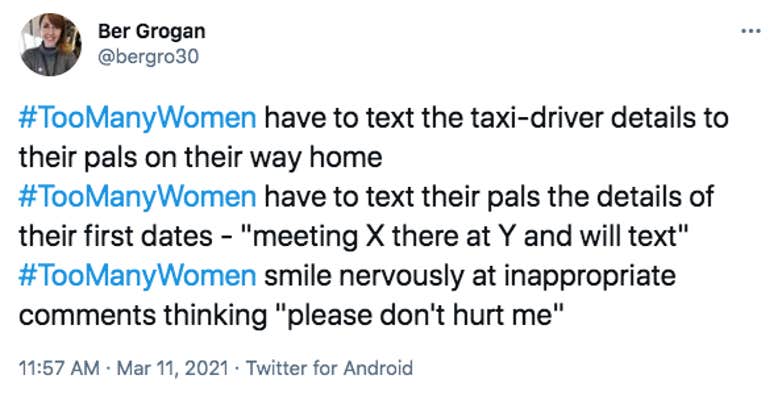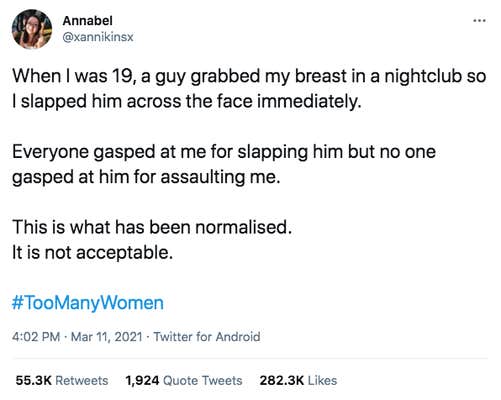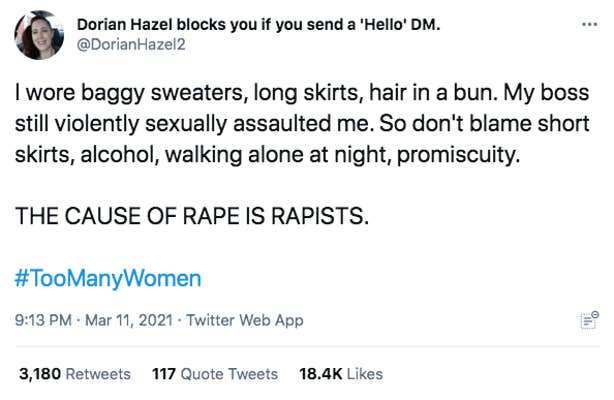 A series of vigils were held for Everard on Saturday night. Citing coronavirus concerns, officers with the Metropolitan Police reportedly forcefully broke up the main vigil. The London police chief is now facing calls to resign.
The government and its leaders are also under scrutiny for their handling of the issue of violence against women. While some believe Everard's death is a "turning point," others, like Phillips, are more skeptical, pointing to how little has changed since the start of the "Me Too" movement, which was also supposed to be a turning point regarding legislation in the country.
"When the minister says this is a turning point, when Priti Patel says this is a turning point, when Boris Johnson says this is a turning point – they have an enormous majority in the House of Commons – they can turn their rhetoric into action," Phillips told Sky News.
If you are a victim of sexual assault or want more information on sexual assault, contact the Rape, Abuse & Incest National Network at 1-800-656-HOPE (4673).
If you are a victim of domestic abuse or want more information on domestic violence and resources for victims, contact the National Domestic Violence Hotlineonline or at 1-800-799-SAFE (7233).
---
Today's top stories