A self-described YouTube journalist was arrested on Thursday in Utah after videos he filmed allegedly showed him participating in the Capitol riot on Jan. 6. In one video, he allegedly said "let's burn this shit down."
John Sullivan, 26, wore a bulletproof vest and gas mask as he recorded nearly 90 minutes of the riot, documenting people climbing the Capitol walls and the shooting of Ashli Babbitt.
Despite his claims that he was there only to document and report, Sullivan was arrested and charged by complaint, including counts of violent entry and interfering with law enforcement during civil disorder. 
In a video Sullivan filmed of rioters climbing the wall to the entrance plaza of the Capitol Building, he can be heard saying "you guys are savage" and "let's go." He also offers a hand to someone climbing the wall. 
An affidavit from the Department of Justice states Sullivan "knowingly and willfully joined a crowd of individuals who forcibly entered the U.S. Capitol."
"For any misconceptions on why I was there in the first place, I was there to document this event… If you fucking knew about that shit, would you not be there as well?" Sullivan said on a YouTube video Q&A he live streamed on Jan. 12.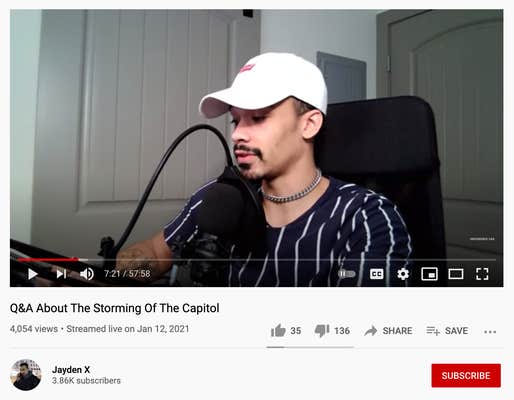 Despite his claims to be a video journalist, the affidavit states that Sullivan admitted to not having "no press credentials and the investigation has not revealed any connection between SULLIVAN and any journalistic organizations."
According to the affidavit, Sullivan says in the video, "We did this shit. We took this shit … Let's burn this shit down."
Once inside the Capitol, Sullivan tells law enforcement officers inside to stand down and go home so they don't get hurt. He also claims to have a knife that in an interview later he denies having.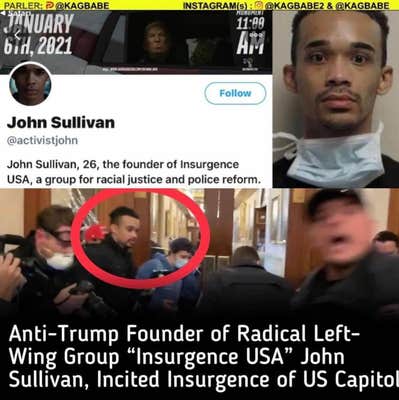 A Facebook post from Jan. 7 "that was flagged for spreading misinformation says Sullivan is "anti-Trump" and "incited (the) insurgence of (the) US Capitol." Sullivan says in his Q&A that "blending in is the key…to not getting fucked up" and those who organized the riots are "definitely terrorists."
After George Floyd's death, Sullivan founded Insurgence USA, a self-proclaimed "media company" and group for racial justice and police reform in Sandy, Utah, according to its website. He has been active in protests, and in June, he faced charges for a protest in Provo, Utah, for rioting and criminal mischief. 
Sullivan, who has 3,800 YouTube followers, crowd-funds using the donation service Buy Me a Coffee and accepts contributions through Cash App and Venmo.
According to the Spectrum, Sullivan is scheduled to appear in court in the District of Utah on Jan. 15.
---
Must-reads on the Daily Dot