A now-viral video shows about five New Jersey police officers tackling and then detaining a Black man over what a bystander said was an open can of beer.
Instagram user Nia shared a video of the incident, which she says took place on Sunday at Point Pleasant Beach in Ocean County, New Jersey. 
Nia said she was not allowed to enter the beach because wristbands at the time were sold out, but she was waiting for food by the beach when she saw the incident and began filming.
She saw at least five officers approach a Black man and talk to him for "an extended period of time" for "publicly drinking."
"One had a ticket book out & I couldn't understand why they wouldn't just write him a ticket and send him on his way," she wrote in the post.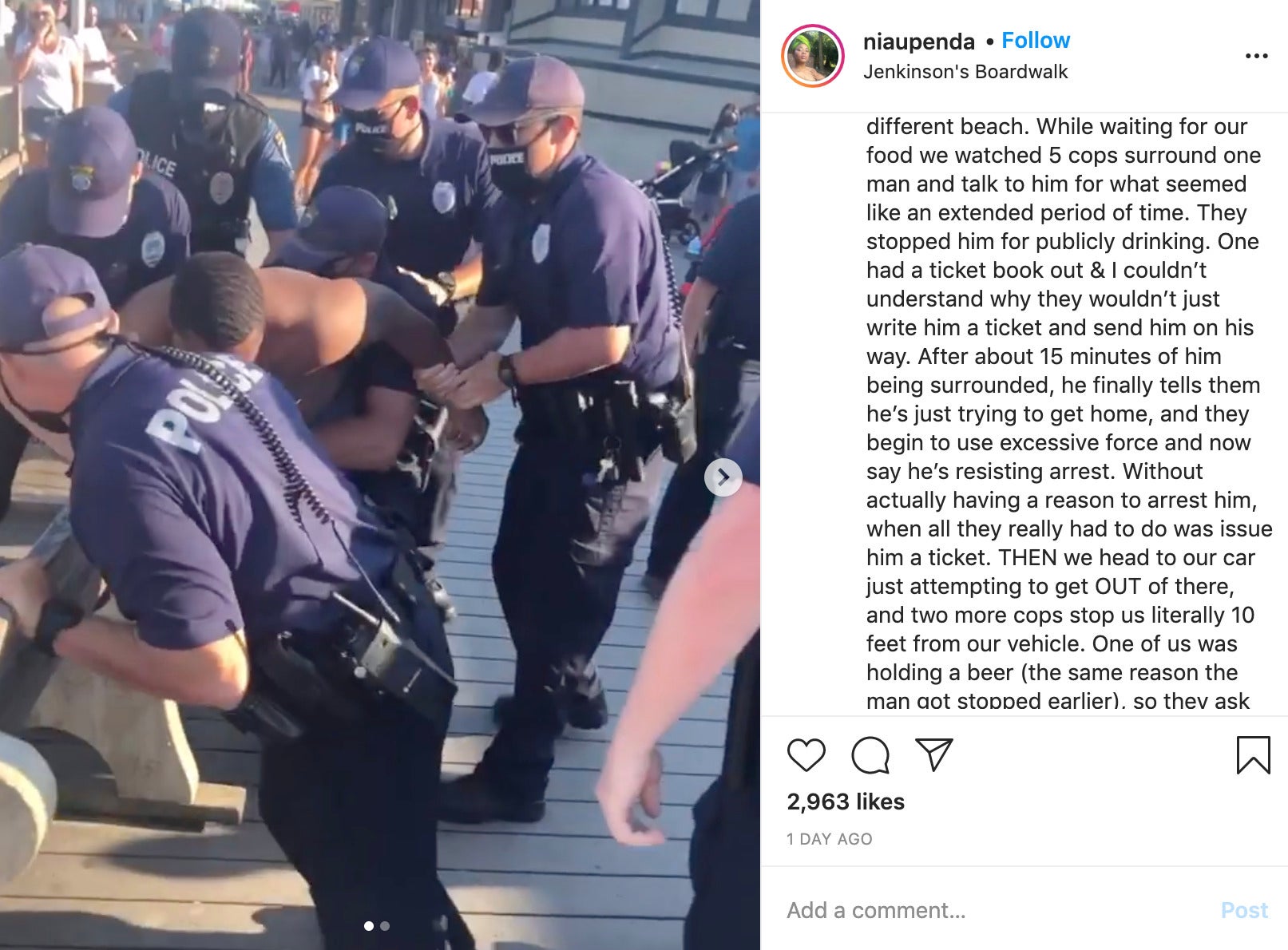 "After about 15 minutes of him being surrounded, he finally tells them he's just trying to get home, and they begin to use excessive force and now say he's resisting arrest," she continued. "Without actually having a reason to arrest him, when all they really had to do was issue him a ticket."
The video starts with five officers approaching the man, surrounding him. 
"Why y'all bothering him," Nia is heard saying from behind the camera.
The officers all grab the man from various parts of his body.
"Why y'all doing that to him?" Nia says repeatedly.
"He did nothing—what the fuck," a man says from behind the camera. 
The five officers then tackle the man to the ground. They then turn him face down and handcuff him.
People are seen gathering around the scene, with many protesting the behavior of the officers and asking why it takes so many of them to detain one man.
"Use your verbal commands," a woman is heard screaming, as the officers are seen huddled on the man on the ground. 
"You guys aren't saying anything!" says another bystander. 
"'Cause they're bullshit; they dont have the fucking training," Nia says from behind the camera. 
"Look," Nia says as they handcuff the man. "It takes 10 of them to put on one handcuff—y'all pieces of shit!"
"Literally the highlight of your fucking day," a man says to the officers.
"Y'all should be fucking ashamed of yourselves," Nia says. "Embarrassing. Fucking embarrassing!"
"He did nothing, literally nothing," the man says. "Congrats you did something for your fucking day dickheads."
The video was also shared to Twitter, where it was viewed more than 256,000 times.
According to Nia, as they were leaving, two cops stopped her and her companion. 
"One of us was holding a beer (the same reason the man got stopped earlier), so they ask for his ID and name and try to run his information," she wrote on Instagram. "When nothing comes up for him, they call at least 6 more backup cops, though we're literally feet from our car and all we want to do is leave peacefully."
Nia also said there were at least 25 cops on the beach in the one hour they were there, "all strapped, all looking for something to make their day more interesting."
According to a statement shared by a Twitter user, the Point Pleasant Beach Police Department identified the man as 29-year-old Zakee Murphy and said he was arrested for "failure to give his proper name," not for drinking openly in public. 
The statement further alleged multiple officers were present to "ensure safety and security of all patrons" because of the "volatile crowd shouting obscenities at officers." According to the video, multiple officers were already present at the scene before any "obscenities" were heard.
The Daily Dot was not able to independently verify the statement's authenticity and has reached out to the Point Pleasant Beach Police for confirmation.
Some commenters on Nia's Instagram post tried to claim this was a routine procedure and had nothing to do with the man's race.
"Y'all don't realize that this is standard procedure right?" commented one person. "You are making a big deal about absolutely nothing. Just because the color of his skin, you think it's police brutality. Anyone that saw this was thinking the same thing, if this man was white, you all wouldn't even bat a fucking eye."
But not everyone agreed.
"I'm from point pleasant beach, have been drunk on this boardwalk countless times and I can tell you I've never been treated this way. I've never seen any white person on the boardwalk treated this way," wrote another. "People keep saying it's not a race thing but it MOST definitely is. These cops are racist. Ocean county is racist."
READ MORE: