A video surfaced showing two men invading an Asian-Australian family's home with a machete. They reportedly injured the family's teenage son.
Surveillance footage shared by Instagram user @rvsali, whose name is Rose, shows two men enter the backdoor of a home and are seen discussing something. There is no audio in the video.
One of them looks at the surveillance camera and turns to his partner, who then also looks at the camera.
In another video, the two men are seen approaching the front porch of the home, where Rose's father is at. He jumps up after seeing the men. One of the men runs up to him and starts punching him, and the dad tries to fight him off.
In the next slide on the Instagram post, one of the men can be seen holding a machete. According to Rose, the men attacked her brother, who had just come out of the bathroom, after he heard their father yell out for help.
"The guy came saw my brother and attacked him viciously as my brother tried to reach for any weapon possible, he swung at my brothers neck but he guarded with his arms resulting to severe injuries on both arms and hands. his right tendons and nerves have been damaged," Rose wrote, adding that the attackers tried to stab him in the stomach "after making eye contact."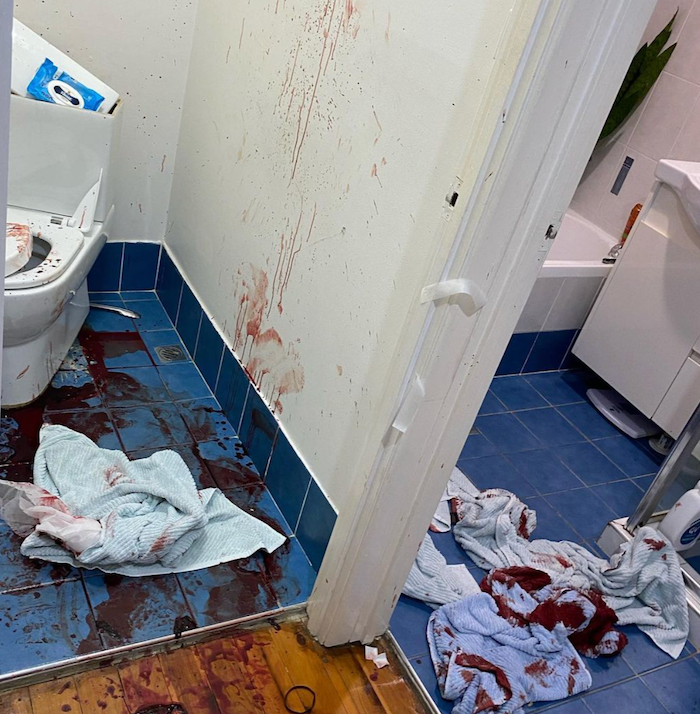 The incident reportedly took place at 1am on Wednesday, Feb 24. Rose shared videos of the incident as well as updates on her Instagram account.
Her brother underwent surgery after the attack, and his condition is improving. Rose told 7News that the men attempted to slit the boy's throat but ended up hitting his arm instead.
In a heartfelt Instagram post about her brother on Wednesday, Rose said, "I will never be able to describe or explain how my family and i have been impacted by this."
"My dad and I had to scrub my own brothers, his own sons blood off the walls, doors and floors," she added. "The hallways we once walked through to continue our days as normal human being have become hallways of trauma and paranoia."
Rose's implied on Twitter and Instagram that some are blaming her brother for what happened to him. "People who don't know my brother seem to have a lot of shit to say?? how about you figure out who did this and let the police know?" she tweeted on Wednesday.
She said her brother usually stays home and plays games, only going out to go to the gym.
"I want to make it fucking clear that my brother has done absolutely nothing to deserve this shit," she wrote in a story on Instagram last week. "Keep your inconsiderate comments to yourself if you have nothing good to say about my brother and my family, my brother would never do anything to put his family in danger."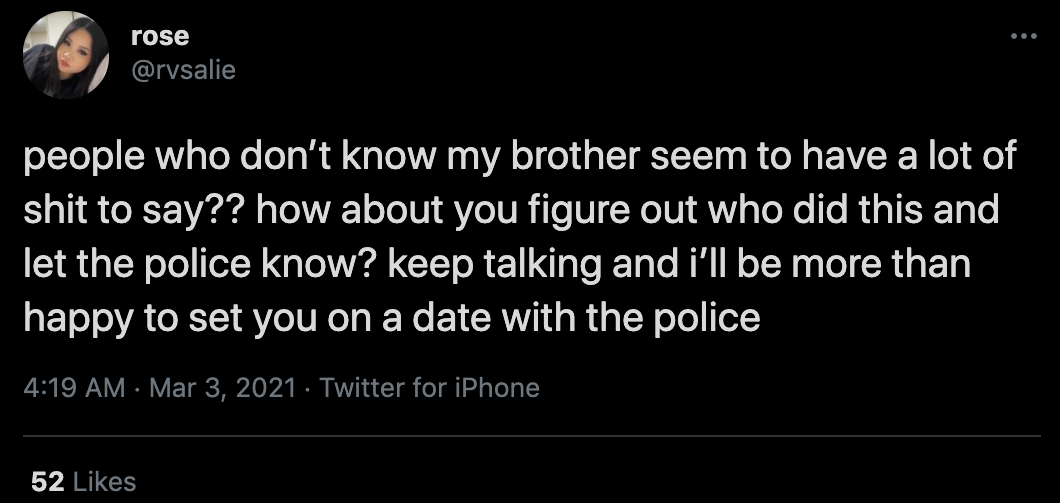 The attack comes amid a massive spike in crimes against people of East Asian descent around the world. However, this incident doesn't appear to be racially motivated. According to 7News, law enforcement is considering this "clearly a targeted attack" but is not sure what the motive behind the attack is.
---
Today's top stories