Videos have emerged showing evangelical Christians without masks attending a concert for the homeless community in California, despite repeated pleas from counter-protesters for them to wear masks so as not to expose the community to the virus. 
A series of videos shared by Daily Sun Dial journalist Emily Holshouser on Wednesday shows masked counter-protesters at times pleading with and at times demanding unmasked groups of people to put on their masks. 
The incident comes as hospitals across California are inundated with patients and the state recorded the first two cases of the new strain of the virus that's supposed to be highly infectious and spread faster.  
In one video, a woman is seen without a mask with her hands raised preaching something that's inaudible, while a group of masked protesters yells at her: "Jesus, put on a mask!"
According to Holshouser's tweet, the event was organized by evangelical Christian Sean Feucht. 
"Anti-maskers say they are offering aid to the unhorsed people here," Holshouser wrote. "There's a counter protest organized w/ people asking them to mask up."
In another video, a masked counter-protester is seen asking a maskless woman to put on a mask before another protester demands that over a megaphone. 
The woman at first ignores the group, typing on her phone, before looking up and saying she's "dealing with it" and that she's "claustrophobic." She is standing in the middle of a packed crowd as she says this. 
Another follow-up video shows a crowd of dozens walking in a procession, unmasked, and without any social distancing, their hands raised and singing. Organizers have expressed concern that this is a super-spreader event that would expose the homeless community to the virus.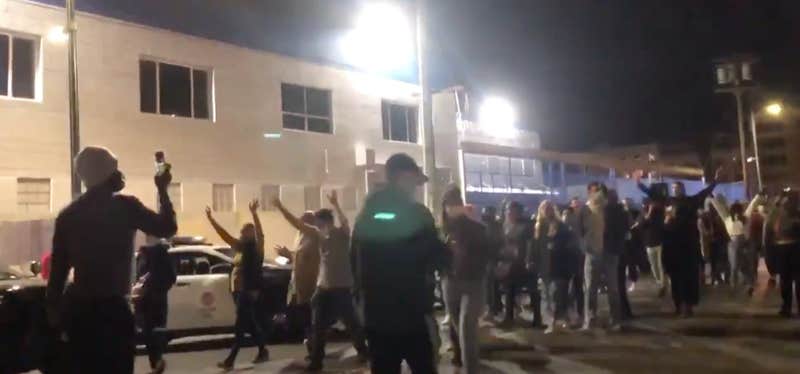 In another video, a man is singing loudly for the crowd while, according to Holshouser's description, a local man is heard shouting at the crowd. The shout is not audible in the video. The video shows a series of encampments on the sidewalk, likely of the homeless community.
It's not clear from the video who is singing. According to CBS Los Angeles, Feucht himself did not show up to the event. He is reportedly planning another similar event for Thursday evening and a New Year's Eve party outside a church. 
Feucht has reportedly held similar concerts around the country throughout the pandemic protesting coronavirus restrictions.
The Daily Dot has reached out to Holshouser and will update the report if she responds. 
---
Today's top stories