People were outraged after Carolina Bovi appeared to secretly film her date as he slurped down spaghetti with a fist grip around his fork. But Bovi and the man featured in the video, Taylor Schleich, later explained that the video was filmed as a joke.
"So this video of me eating pasta like a four year old or like a caveman kind of went viral," Schleich said. "But I just want to make one thing clear. This was filmed as a joke. I don't actually eat like that. We were just trying to be funny and recreate a viral video."
However, most people online didn't realize that it was a joke and blasted Bovi for posting the video.
"This man took her to a nice ass candlelit dinner with delicious ass food, phone on down, dressed up, and she's not dazzled???" Twitter user @mariamgunderson wrote. "That and her recording him secretly honestly makes me sick."

Others acknowledged his sloppy eating but pointed out that it wasn't funny to embarrass him online.
"He's a sloppy eater, but at least he didn't try to embarrass his date just for clicks," @TheKhaldoon tweeted. "Class of her."

Some people on Twitter also made fun of Schleich's dinner manners.
"Judging by his eating skills, I would wager he leaves skid marks on the sheets," @hassia tweeted. "She was most likely shocked beyond belief that she needed it on video."

After the video went viral, Bovi explained that it was filmed as a joke in response to another TikTok. A video shared by @ceciliasilvestri_ is captioned "Someone please save me from this tinder date" and shows her date enthusiastically licking his lips over a similar bowl of pasta.
Schleich, @taylorschleich4 on TikTok, said he gave consent to being filmed and made a follow-up video clarifying that the two were just having fun recreating the original video.
The video ends with Schleich stuffing a piece of bread in his mouth as he says, "I have manners, guys, OK? I wasn't raised in a barn. My mom taught me well."
The original video has now been taken down, but a repost of the clip on Twitter has 5 million views.
TikTok user @iammalxolm commented, "Lmao why were people having WHOLE debates abt this on twitter." Bovi replied, "Because no one bothered to check the comments before making it viral."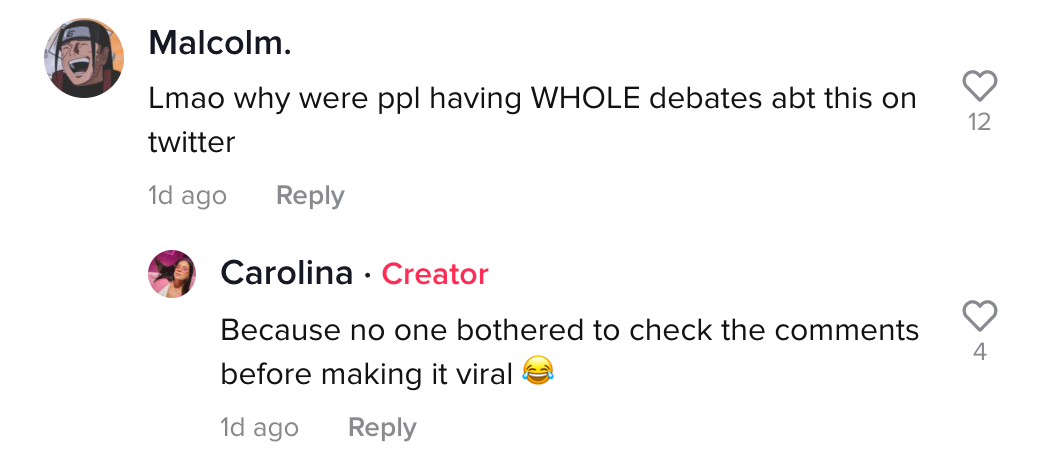 ---
Today's top stories