A TikTok video exposes a Georgia college student who made racist and transphobic comments. The viral video was recorded from a now-deleted account, and people are admonishing the college student and her university for her remarks. 
The TikTok video was initially posted by Dalton College student Ardyn Weaver, who deleted it following the backlash. DeMahja Knowles (@Demahjak) reposted the video on her TikTok and added #beefoftheweek.
Knowles provides a brief rundown leading into the video before Weaver says, "I'm not gonna apologize for it. If God made you a boy, you're a boy. If God made you a girl, you're a girl. No ifs, ands, or buts, about it."
Weaver then says, "I'm going to say the N-word if I wanna say the N-word. You're not gonna tell me I can't. I don't believe it's a racial slur. I believe if you participate in activities that an n-word does, then I'm gonna call you an N-word."
"I don't believe the N-word is a racial term, and that's my beliefs," she says. She doesn't actually say the slur at any point.
Knowles follows up the footage by showing viewers Weaver's social media handles and says she must be held "accountable." Dalton College's social media accounts have been inundated with comments criticizing Weaver's video.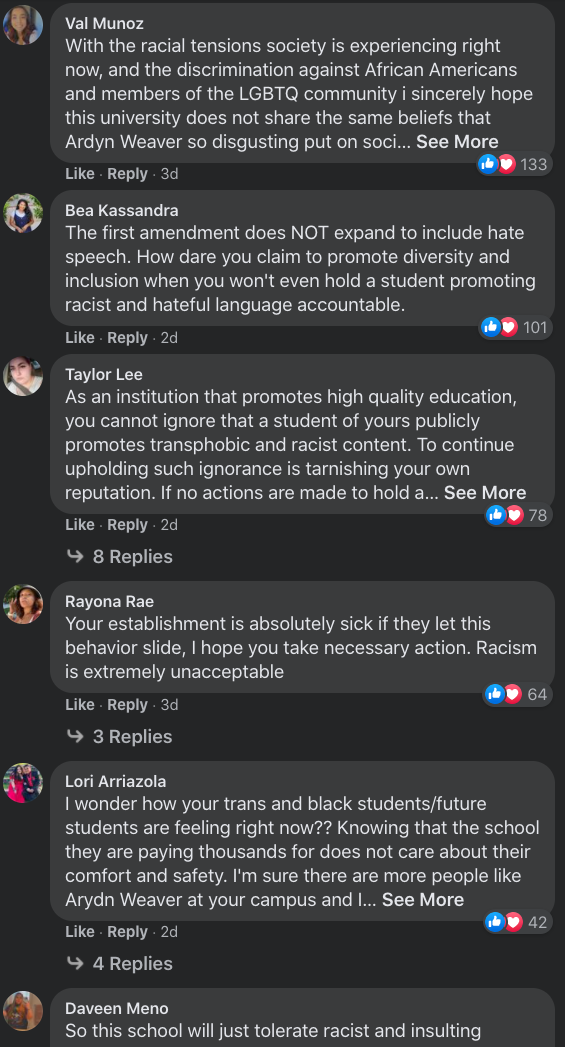 Jami Hall, dean of student services at Dalton College, responded to an email by a concerned party and said the university did "not condone language that goes against our mission to create a safe, diverse environment for all student."
Hall also writes that the institution "must uphold the First Amendment to U.S. Constitution, which prohibits us from punishing protected speech," suggesting Dalton College would likely do nothing about Weaver's comments.
The Daily Dot has reached out to Dalton College for comment.
---
Today's top stories