Opinion
Given how much of a slog last year's Super Bowl was—a 13-3 bore between the Patriots and Rams—any bit of entertainment would have been considered a marked improvement.
But this year did one better, delivering a genuinely enjoyable game, with the Chiefs mounting an impressive fourth-quarter comeback. And it also had halftime show that was unfathomably better than Adam Levine's tired dancing.
Jennifer Lopez and Shakira put together a truly thrilling performance, invigorating and well-paced, that received almost universal praise online.
Except for the folks at Breitbart, the center of conservative media, who deemed it too horny, and called it a "strip show."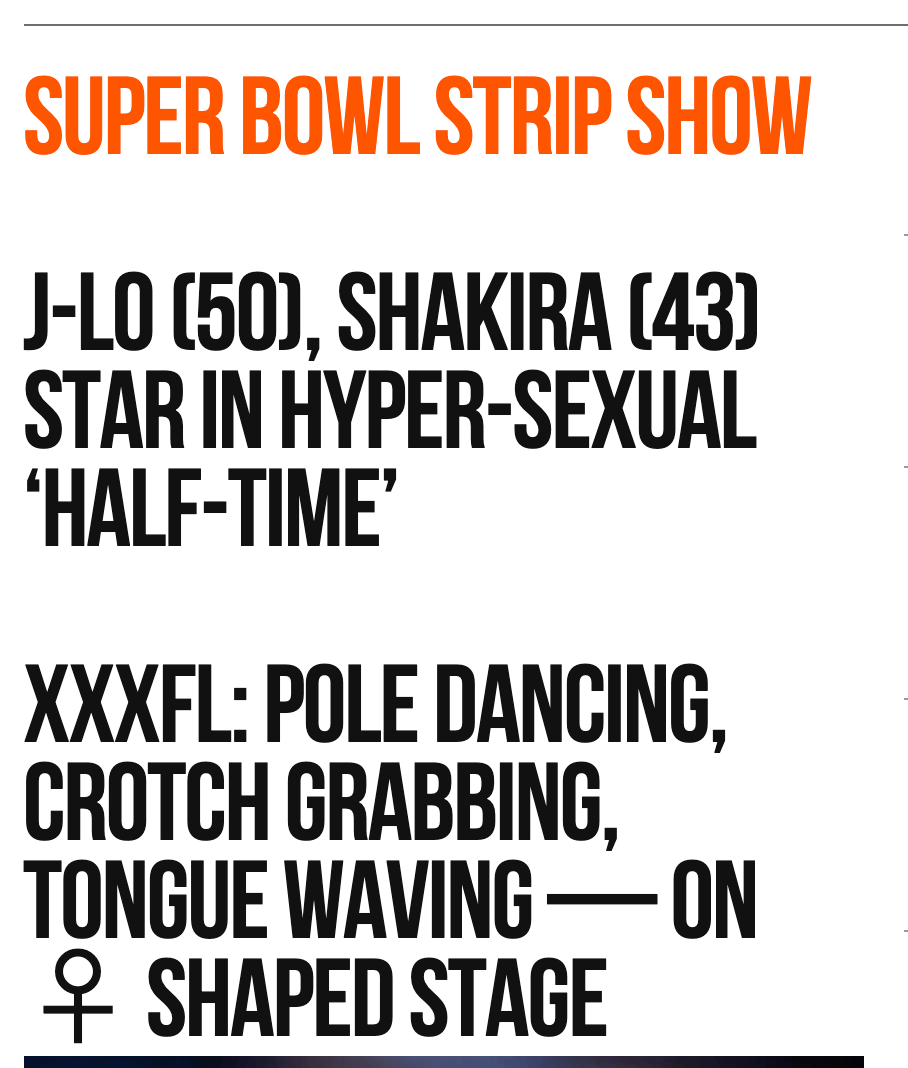 Highlighting the age of Shakira and J-Lo for some reason, Breitbart deemed the show the "XXXFL" thanks to its "pole dancing, crotch grabbing, tounge waving" and having the audacity to do it all on a Venus symbol.
Heavens to Betsy.
That these folks couldn't handle a little hotness from some adult women at halftime made them the target of internet mockery.
"Breitbart seems pretty worked up over the halftime show yet it supports a known sexual assailant famous for paying off porn stars he's shagged," wrote Tia Barracini.
lmao pic.twitter.com/BMfUcBIZz1

— John Whitehouse (@existentialfish) February 3, 2020
https://twitter.com/TiaBarracini/status/1224335793117913088
So conservatives are pivoting from "Why do Muslims FORCE their women to cover up?!" to "Look at these jezebels showing all that skin!!"

Cool, cool, you guys just hate everything. https://t.co/7VUDxjP8jH

— Asteroid Hopeful (@RCSez) February 3, 2020
They don't support "hyper-sexual" entertainers, but they sure are ok with "grabbing them by pussy" and sexual assaulting little boys and little girls. https://t.co/1OQnZOvPED

— Shawn Richardson (@never_mind2019) February 3, 2020
Another conservative site, the Gateway Pundit, called it "Pole dancing and porn," adding that it was "trashy," saying "the pole dancing and crotch shots during the halftime show on Sunday left viewers in shock."
However, there was one leading conservative voice who was willing to declare the show to his liking.
"Best Super Bowl half time show ever," wrote former presidential hopeful and former Florida Gov. Jeb Bush.
Best Super Bowl half time show ever.

— Jeb Bush (@JebBush) February 3, 2020
READ MORE: