When adult performer Espi Kvlt discovered alt porn site SuicideGirls, they were immediately hooked. Kvlt, who is nonbinary and uses they/them pronouns, was 14 years old and fascinated by tattoos, piercings, and Playboy models. They came across the site in 2009 and were taken with the tattoo-sleeved, nose-pierced, nude models. For Kvlt, an aspiring model with long black hair, tattoos, and a lip ring—all unlikely to land them a gig posing with a mainstream porn site—seeing SuicideGirls was a revelation. 
"Finding SuicideGirls was like this 'Hallelujah' moment," Kvlt told the Daily Dot. "Finally, a place where someone like me could belong. I thought it was the most beautiful thing I had ever seen. It is the reason I am in the porn industry today." 
SuicideGirls ostensibly harbored a safe space for alternative performers like Kvlt. But recent cultural conversations about the importance of safe, ethically made porn have raised questions about performer safety and fair business practices in the industry—issues that have followed SuicideGirls for years. In 2005, a group of models left the site and took to LiveJournal, raising allegations of exploitative practices against SuicideGirls' reportedly male-dominated corporate structure. The site stayed in business in spite of the early public scrutiny, but former models say its policies regarding prospective models and compensation for nude photo sets haven't aged as well. Post-#MeToo, the business of SuicideGirls deserves a closer, more critical look. 
…
Launched in 2001 during the early years of internet porn and personal blogs, SuicideGirls is a members-only platform and online community where models submit artful, fully nude photo sets and interact with fans through blog posts, videos, and comments. Explicitly pornographic images and videos including penetration, spreading, or "money shots" aren't allowed, and models are encouraged to play up their unique, natural beauty in their photos—like an edgier, tatted-up Playboy. The name SuicideGirls refers to the idea that women who deviate from conventional beauty standards with tattoos, piercings, and brightly colored hair commit a form of  "social suicide." The site began as a place for sexy misfits with names like Midnight, Annasthesia, and Fishball to celebrate their differences. "What initially attracted me to the site is their brand of 'inclusivity' and feeling like anyone and everyone could do it, so I felt less anxiety about putting myself out there," Kvlt said.
Unlike other relics of early aughts internet nostalgia, SuicideGirls is going strong. The site has 7 million followers on Instagram and a live touring burlesque show, all made possible by a devoted fan community looking for a chance to interact with their favorite models, plus a constant stream of user-submitted content. In order to appear on the site, prospective models must fill out an application and a release outlining the process in detail, then provide two official forms of ID and a nude photoset shot in accordance with the site's aesthetic and technical guidelines. 
Once the site approves their materials, models become "Hopefuls," and their photo sets are posted for member review, where paying subscribers and models share comments and feedback. Hopefuls whose photo sets are featured on the front page as "Set of the Day" become official SuicideGirls and receive $500 in exchange for perpetual rights to the images. Those who aren't selected for "Set of the Day" can opt to remove their photos from the site after the required 90 days for member review. At that point, they've already been naked on the internet for 90 days—for free.
According to SuicideGirls model and photography coordinator Rambo, more than one-third of the photosets the site purchased in 2018 were from Hopefuls, though few ever make it that far.  Currently, there are 3,460 official SuicideGirls and about 10,000 active Hopefuls who want to be but may never get paid for the work they submit.
The site's distinctly '00s alt-girl aesthetic now veers slightly more Instagram model and less social outcast, though most models remain fully tattooed, face-pierced, and rainbow-haired in keeping with the site's original ethos. Models are selected based on member votes, and it's possible that thin, white, cis women apply and upload application photos in larger numbers. Regardless, the demographics of the models on the site hardly represent a departure from conventional beauty standards. "Tattoos alone do not make someone alternative," Kvlt said.
Tia Wood, a former aspiring SuicideGirls model, feels this "safe place" for self-identified misfits tends to favor a select few who fit a fairly conventional mold. "I tend to notice a theme in who they pick to be SuicideGirls—thin, white women," Wood told the Daily Dot.
…
Artist and performer Courtney Trouble applied to be a Suicide Girl when the site first launched in 2002. At that time, the site only had about 100 models and either accepted photo sets from models who would then become official SuicideGirls, or rejected them outright. Trouble uses they/them pronouns and believes SuicideGirls' decision to reject their photos was rooted in fatphobia and homophobia. "They told me once that I was too large for the site," Trouble told the Daily Dot, "and then in practise seemed to encourage models to pretend they were straight and open or available to flirting with the members, who were all being told through marketing that you could interact with the models." Meanwhile, the site encouraged models to "represent themselves," Trouble said. "That is two really different things."
All Hopefuls and SuicideGirls identify as women, and according to Rambo, the site has never distinguished between cis and trans models. "Trans women are absolutely welcome to apply for SuicideGirls and to submit sets," Rambo told the Daily Dot. "We are always happy for more awesome ladies to join us in redefining beauty." Still, Kvlt suspects the site's trans-inclusive policy comes with a bottom surgery caveat, pointing to a series of Tumblr comments they captured from 2011. "One must have breasts and a vagina to be a Suicide Girl," a SuicideGirls page administrator wrote in one Tumblr comment. "Due to the fact that SuicideGirls sets are fully nude, models must have female genitalia." 
Kvlt, who now has years of experience in the adult industry, believes SuicideGirls' business model is unique—and deeply flawed. "I have never experienced another website that does this," said Kvlt, who submitted multiple sets once she turned 18 that went unselected and unpaid. They ultimately pulled all their photos from the site. They later went on to model for alt porn site GodsGirls, where prospective models follow an application process similar to SuicideGirls' and must reach a member approval rating of at least 65% in order to receive payment. But on GodsGirls, photo sets that don't make the cut are rejected and removed rather than continue to appear on the site. 
Kvlt also modeled for softcore porn site XtremePlayPen and its hardcore sister site, MyNaughtySelfies. On those sites, approved models sell their photos through a digital storefront, and members pay for individual photo sets. "This is all pretty normal in the porn world," said Trouble, who runs the indie porn site NoFauxxx.com. There, paying subscribers and non-paying viewers alike can purchase individual videos through the site, which includes a clip store with additional downloads and DVDs sold through umbrella site TroubleFilms.com.  All models are paid for their photo sets and may also earn an additional 40% commission for promoting their content on affiliate sites. 
(Disclosure: After the reporting for this story was complete, the Daily Dot learned that Courtney Trouble's production company, TroubleFilms, does business with the Daily Dot. Learn about the Daily Dot Bazaar team's affiliate program and its ethics here.)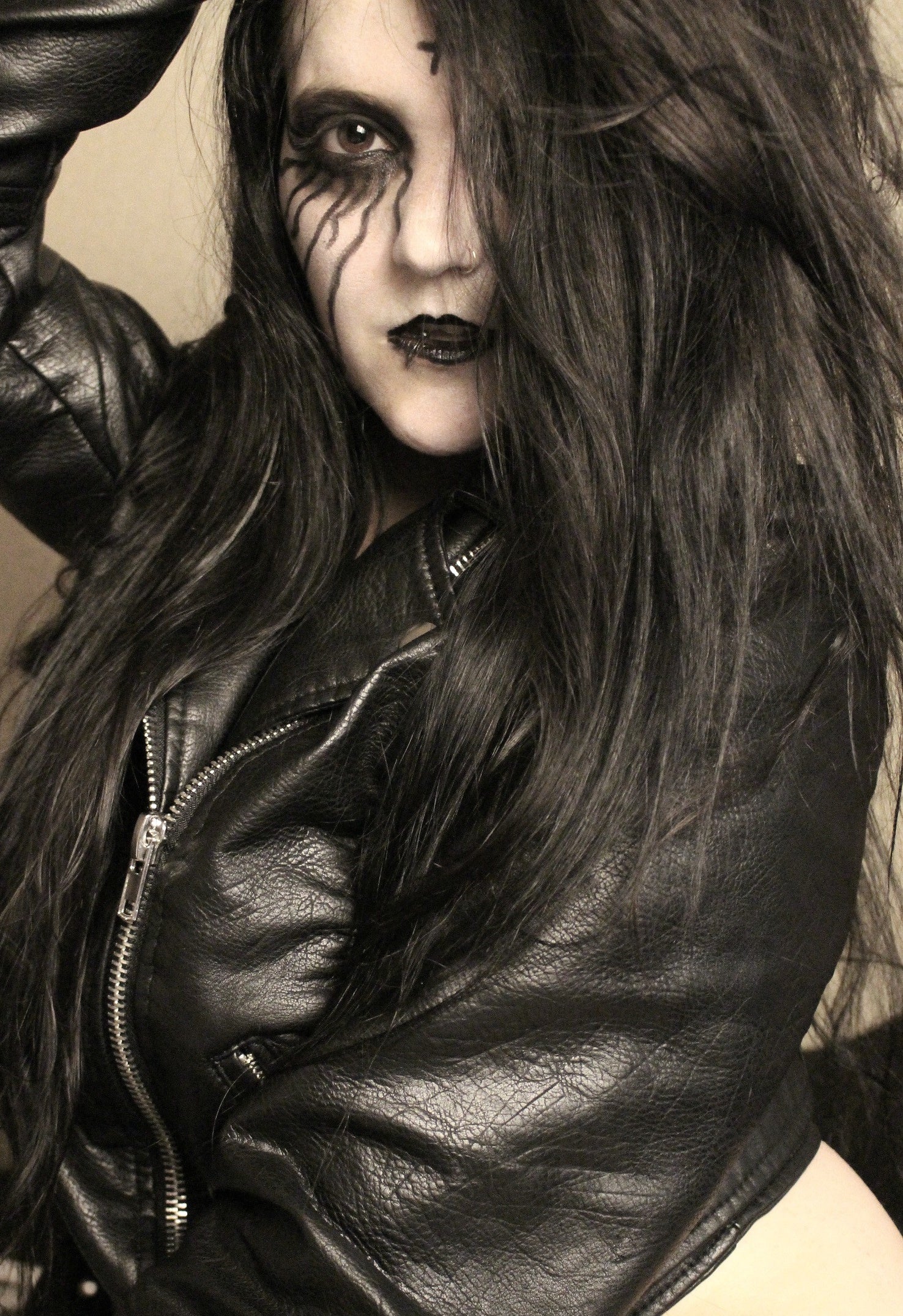 Trouble believes SuicideGirls' current business model is an uncommon, potentially exploitative response to the site's growth and popularity over the years. "Most of us site-owners would respond by saying, 'You know, we only have so many spots in our budget for buying sets, but please do not give us free content, it is unethical of us to promote you without buying a set from you.' Instead they were just like, 'Wow, we are so "cool" that girls will do this for free. Why bother?'" Trouble said. "That's gross."
SuicideGirls' paying members have the option to tip any model who appears on the site, including Hopefuls, but tipping models is just that—an option, not a guarantee of compensation. "I have seen some Hopefuls who have been trying for 10 years, have about 40 free sets just sitting there on the website, and they will never see a dime for any of them," Kvlt said. "It's a slimy business model, and the entire thing is specifically targeting people who are new to the industry and don't realize they're being taken advantage of." 
…
In a YouTube video posted in 2017 called "Why i stopped modelling for Suicide girls," former Hopeful Harmony Nice said the cost of hiring a photographer alone can mean many Hopefuls actually lose money from their work. They're essentially paying to be featured on the site with no guarantee of ever being chosen. "I'm paying for a photo shoot, I'm paying for the travel to go do this, and after a year I'm going to actually have to pay to be a member of SuicideGirls," Harmony said. 
"Their entire site model is based on getting people to submit as many sets as humanly possible for free in the hopes of one day becoming a Suicide Girl, or maintaining status on the website," Harmony continued. Status, Kvlt explained, is part of the appeal for many aspiring models looking for a chance to break into the adult industry and join an elite community of extremely popular women with massive social media followings. 
"The ladies get together for brunches, sleepovers, local SG events, and even put together their own shoot fests," Rambo said. "When asked what their favorite thing about SG is, most girls reply that it's the friendships they've made and the experiences they have had being a part of the community."
Wood appeared on the site as a Hopeful in 2017. She understood the site's policies regarding payments for photo sets and believed the process would eventually prove her talent, even if she didn't get paid right away. As a young model new to the industry, Wood thought exposure on a site like SuicideGirls with a built-in social platform could launch her career and open doors to modeling gigs, media appearances, and friendships outside the site.
But shortly after her photo set went live, Wood gradually started to feel more uncomfortable with the site's policies regarding compensation, and she was curious about other models' experiences. On YouTube, she found videos from former SuicideGirls and Hopefuls, including Kvlt, describing the ways they felt the site treated them unfairly. Wood later posted her own. After a few months on SuicideGirls, Wood took a closer look back at the stipulations in her contract and decided to remove her photos. Her profile is still up. Hopefuls' free membership to the site expires after a year, so Wood can't log in to fully delete her account without paying. 
Wood said the site's method of collecting user-generated content in the form of photos and blog posts is exploitative, especially when it's couched in the language of community and belonging. "I think it's very deliberate, because there are young women like myself who see this as an opportunity, who might not understand the modeling industry, and who believe this is what they need to do to 'prove' themselves," Wood said. "Although they are up-front about their policies, I think it's unethical, manipulative, and just shows how much they really don't respect the people who provide free content to them."
Outside of the porn industry, social media platforms like Twitter and Instagram raise questions about the ethics of user-generated content, as do sites like deviantArt and Giphy, which also operate solely on user submissions. The difference between creating a GIF and posting a series of nude photos, however, is that being naked on the internet can't be undone. Doing so can permanently affect women's personal and professional lives, and it's a risk that many agree shouldn't come for free. 
Rambo maintains that the site truly stands by its community-oriented ethos. A Suicide Girl herself, Rambo said being part of the site has changed her life for the better. "Most of us on the site have felt like an outcast our entire lives and SuicideGirls is our safe place; a magical little corner of the internet where we are free to be ourselves, surrounded by love and respect and encouraged to celebrate our quirks," Rambo said. "I'm pretty confident we have the nicest community on the internet."
In spite of their many frustrations with the site's questionable business model and brand, Kvlt credits SuicideGirls with launching their career. "I don't think I would have ever become a sex worker if not for SuicideGirls, and honestly, despite all my qualms with it, I do have to say that I owe the site that much. It really did change my life for the better," Kvlt said. Still, they believe the site's pay structure reveals an alarming lack of consideration for their models. "If they truly cared about their models, they would pay every single one," said Kvlt. "If they don't believe work deserves compensation, simply don't put it on the site."
READ MORE:
Got five minutes? We'd love to hear from you. Help shape our journalism and be entered to win an Amazon gift card by filling out our 2019 reader survey.