International reggaeton superstar Bad Bunny took the mic during a rally in Puerto Rico's capital on Thursday after the crowd started chanting "Benito," his real name.
"Young people listen to trap music. They think we're not socially aware," Bad Bunny said. "Puerto Rico's youth is clear about what they want. And we are going to work for a better future. I believe in you."
Bad Bunny's speech encouraging young Puerto Ricans to keep fighting in a national resistance movement was one of several by pop stars at the "Somos Más" march, which translates to "There's More of Us" in English.
The event was loosely organized on social media by Puerto Rican rapper Residente of Calle 13 fame. Residente had for weeks been helping rally people to call for the resignation of Ricardo Rosselló, the governor of Puerto Rico.
Rosselló announced on Wednesday that he'd be stepping down. His announcement came via a recorded message on Facebook Live at midnight after pressure from demonstrators had mounted in the U.S. territory for nearly two weeks. Some protesters wish Rosselló had held a press conference.
"By transmitting via Facebook, he didn't have to answer any questions by the press. It was a political stunt," said Claudia Odiot, a 22-year-old student from Guaynabo who took part in the wave of demonstrations. "He should have faced his people who had been protesting peacefully and calling for him to resign for nearly two weeks."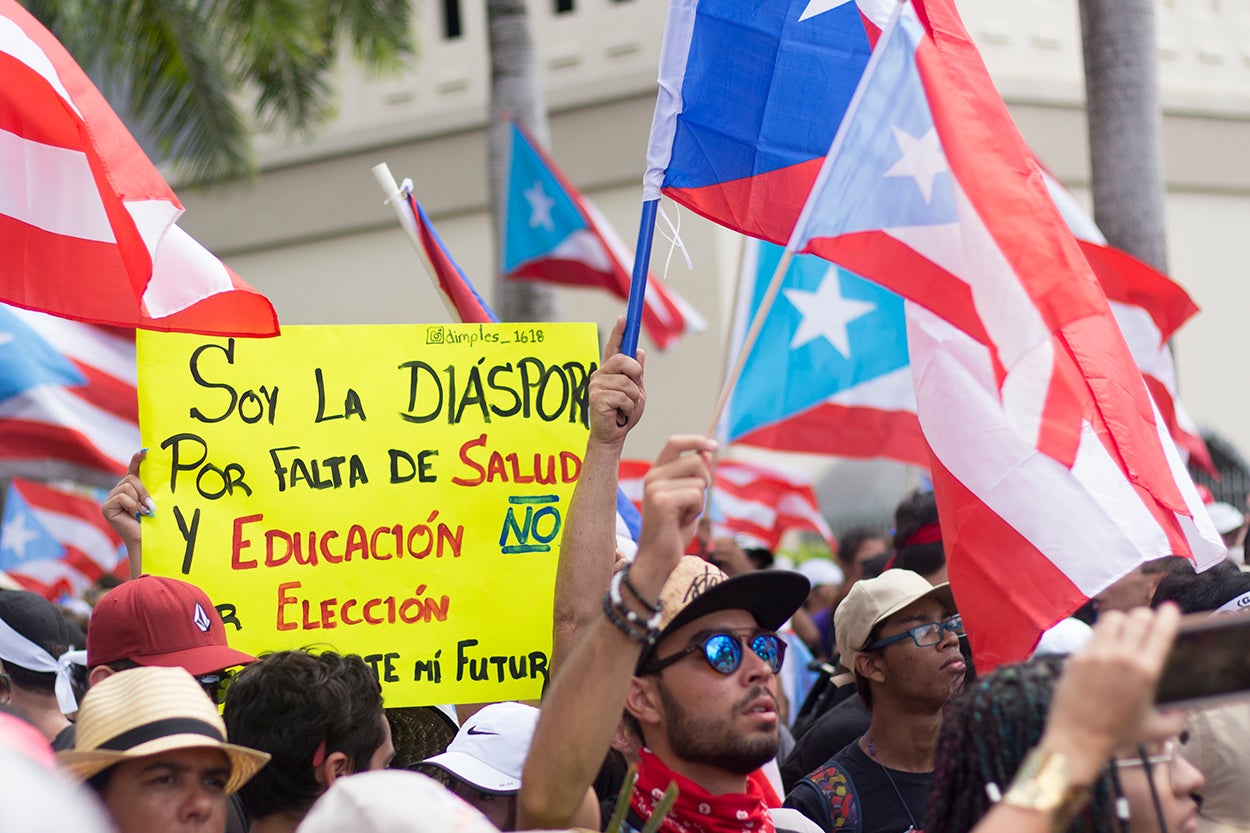 But it's no coincidence that Puerto Rico's soon-to-be ex-governor picked social media as the platform for his big resignation announcement. Social media has been driving this political uprising from the beginning. It's where rumors begin, like unconfirmed reports spreading on the internet about when Rosselló would resign or speculation about why there was a delay or who the next governor would be. But it's also where Puerto Ricans have gone to feel heard, to feel empowered, and to connect with one another ahead of protests.
Thursday's demonstration, originally planned as another massive protest calling for Rosselló's ouster, began near the island's banking district. Protesters celebrated history being made, as Rosselló is the first governor to ever quit, but vowed to continue fighting government corruption and the political establishment.
Justice Secretary Wanda Vázquez, one of Rosselló's closest allies, is slated to take Rosselló's place on Aug. 2. But she's already facing backlash over her handling of cases involving the administration, including the one that ignited the movement calling for Rosselló's resignation.
Protests erupted following reports on July 13 of leaked chatroom messages between Rosselló and his advisers that revealed sexist and homophobic language and jokes about victims of the deadly Hurricane Maria. Following the leak, Vázquez issued a statement saying that she was "profoundly affected and saddened" by the remarks. "I recognize that the frustrations and pressures of the day-to-day can be expressed in an incorrect way within the privacy of a friendship," she said.
Local media reports have also asserted that Vázquez tried to protect Beatriz Rosselló, the first lady of Puerto Rico, after accusations that Rosselló mishandled federal funds in the aftermath of Hurricane Maria (Ricardo Rosselló has denied the allegations). 
The hashtag #WandaRenuncia (which translates to "Wanda resign" in English) started trending on Twitter immediately after Ricardo Rosselló's announcement. Protesters sprayed graffiti in Old San Juan reflecting the same message, including one that said, "Wandita, you're next."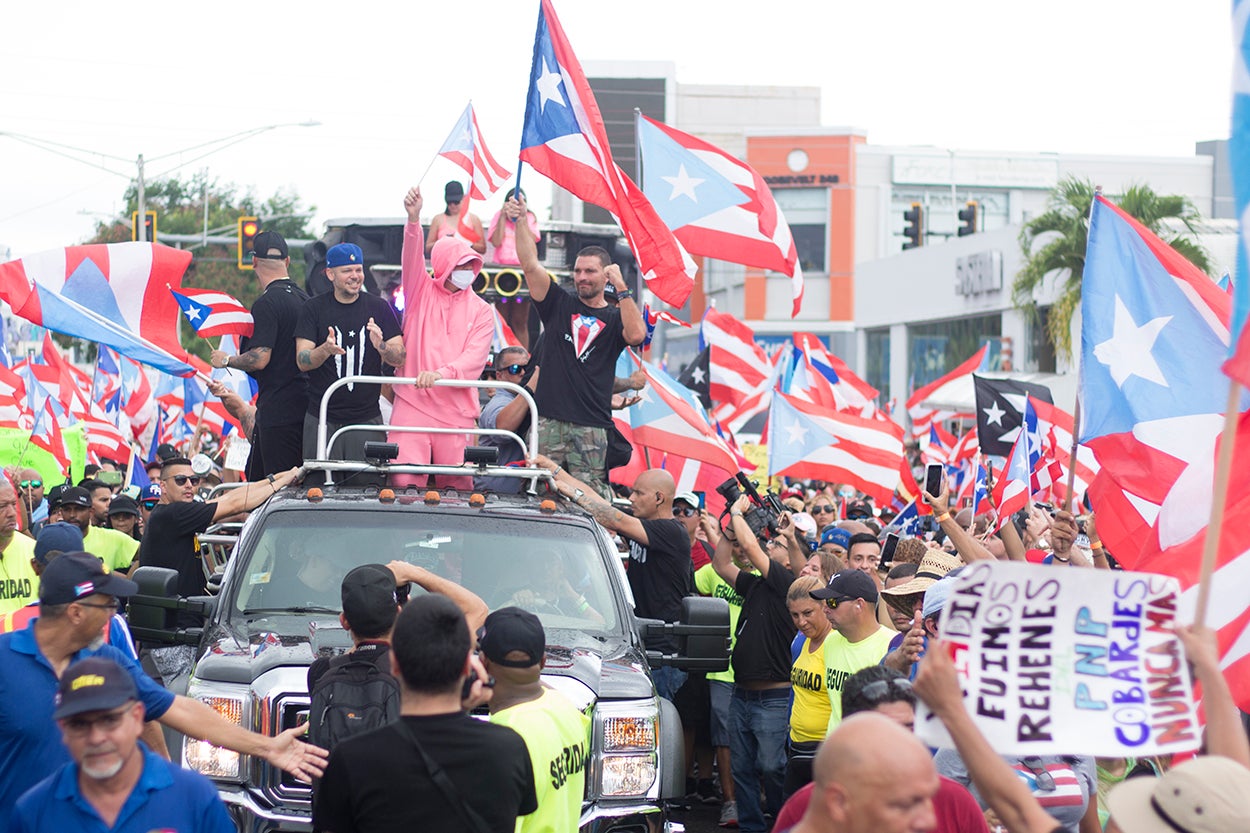 Meanwhile, Residente, who is an outspoken social activist, mobilized support with the help of other Puerto Rican stars including Ricky Martin, Bad Bunny, and Nicky Jam to get their message of resistance out to followers on Twitter and Instagram. Puerto Rican celebrities have become the face of the protest movement, many of whom have paused their careers to take part in demonstrations.
At the march on Thursday, Residente, who says he feels inspired by protesters, gave a special shout out to Puerto Rico's feminist movement, Colectiva Feminista, and women who helped shape the island's history for "teaching all of us how to fight."
Residente called Rosselló's resignation one of the happiest days of his life and praised protesters.
"We did it without violence, without guns, even without fighting physically…we were there protesting, marching and because of that that he resigned," Residente said in his first interview since the resignation.
Residente asked the thousands who attended the march to continue to keep protests peaceful, including the change in leadership. Puerto Rican actor Julián Gil echoed the sentiment.
"Instead of using guns we used social media," Gil said. "This couldn't have happened without the help of social media."
Bad Bunny told the crowd he realized how global the movement had become when he was on tour in Europe. 
"There was a sign that said '#RickyRenuncia' and it made me feel very proud to be Puerto Rican," he said.
https://twitter.com/sanbenito/status/1154252409629237248
https://twitter.com/Residente/status/1154391449254977536
Puerto Rico is seeing a generational shift, but protesters included people from all walks of life, including farmers, professionals, trans women and elderly folks, who are especially grateful to the younger generation for changing the course of history.
"In 12 days we showed the world who Puerto Rico really was and what you can accomplish when people unite," said rapper-singer Nicky Jam.
Residente urged demonstrators at the march to continue fighting against the two-party system to create new political parties.
"It is important that we are aware of what we want," Residente said. "We want change. We don't want these political parties with the same things. We want new people, new faces. That's what Puerto Rico is asking for."
Puerto Rico, along with the rest of the world, is waiting to see what happens next.
READ MORE:
Got five minutes? We'd love to hear from you. Help shape our journalism and be entered to win an Amazon gift card by filling out our 2019 reader survey.